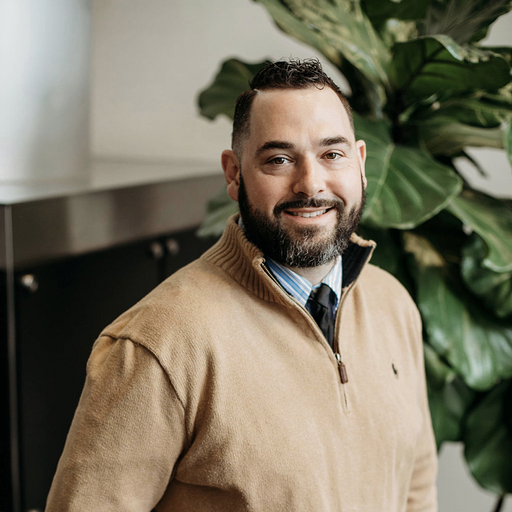 Daniel was born and raised in a small town in northwest Iowa. Coming from a close-knit community that is very prideful about putting in a hard days work. He grew up loving athletics, and played football, basketball, baseball, and participated in choir. After graduation, he moved to Minnesota to attend Hennepin Technical College for music production/engineering. He's had music featured on MTV, ESPN, VH1, USA network, and multiple video games as well.

Before receiving a scholarship to join the Kris Lindahl team, Daniel worked in social services, assisting individuals with developmental disabilities. He also most recently was a Service Operation Specialist with Schwans Home Service for almost 10 years. His passion to help people, clearly communicate, and focus on all the small details will help make your experience as smooth as possible.

In his spare time Daniel enjoys spending time with his family & two children, Atlantis (16) & newborn Luka. Getting outside hiking, biking, playing basketball, or going for walks with his dog Bruce. Can't wait to meet you & assist you in finding your dream home!
Reviews for Kris Lindahl Real Estate
We are moving out of state. Thought about selling our home ourselves. We heard about the Guarantee Offer program and reached out to the Kris Lindahl team. Josh MacDonald was the agent that came to meet with us in our home and explain our options. He was personable and professional. He explained the Guarantee Offer program and also explained that we had many options and levels of service that we could get by listing our home with him. We were very pleased that he had a free cancellation policy. We felt we had nothing to lose by engaging him as our agent. We could still try to sell our selves, or rent out our home, etc. if we did not get an offer that we wanted, or if we changed our minds for any reason. Thanks Josh!
Ruth Calabro
10 months ago
I love my home!!!! After months with a realtor and not getting the attention I needed to buy my 1st home. Donna and I just briefly talked about my experience and she showed me a house and it was a done deal from there. Since Donna took over as my realtor it was like night and day. Any think I needed she was there. It did take time to find my forever home, but Donna was so patient and she fought side by side with me day by day to make sure I get what I wanted. I can't explain how happy I am with my forever home and how happy I am she came into my life when she did. Thank you Donna Dahl for all that you did for me.
Cicero McGee
6 months ago
We recently bought our first home and the experience was amazing. We called Kris Lindahl Real Estate after working with two other brokers. The level of service and expertise was unmatched. We made an offer at 2pm on a Friday and our offer was accepted the same day! This was our first time buying a house, so we needed to be guided every step of the way. Kris Lindahl Real Estate did just that; from the initial showing to the closing, we always felt we were well-informed and in control. We could not be happier with our decision to call Kris Lindahl Real Estate and our family is happily settling in and enjoying our new home. Thank you Kris Lindahl Real Estate! We will certainly be calling you again when the time comes for our future real estate needs.
Steve Solberg
8 months ago