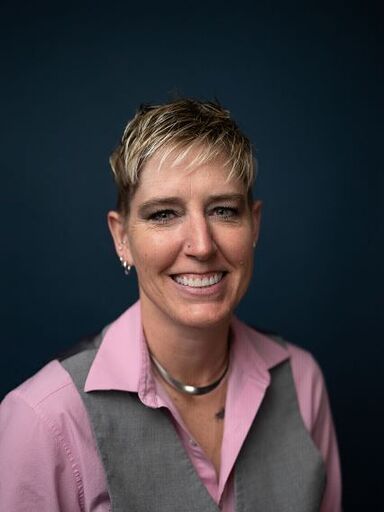 Tracy Feran was born and raised in Faribault Minnesota. There she attended Faribault Senior High School specializing in automotive and woodworking. After graduation Tracy moved to Lakeville Minnesota and attended Dakota County Technical College in Rosemount Minnesota.
Graduating with an ASE degree Tracy set off to become an Automotive Technician. After working for just a short time, Tracy realized that working with customers was her real passion vs being in the back shop under a car hood!

Tracy spent the next 20 years at a large Automotive Dealership in Apple Valley Minnesota honing her customer service skills. With a wide range in departments Tracy was able to grow and develop into a successful customer service advocate, she earned a management role and was a true dedicated team leader. During these years is when Tracy realized that to be truly successful you need to follow a solid set of Vision and Values.

The minute Tracy heard the "BE GENEROUS" vision of Kris Lindahl Real Estate she was extremely anxious to learn more! The Kris Lindahl Real Estate scholarship set Tracy on a clear path to becoming not just a real estate agent but part of a movement! The core values of Kris Lindahl Real Estate fit perfectly in what Tracy was looking for in career purpose.

" Being able to provide top notch customer service is not something I just do, it is something I live." Tracy has said she now can wake up everyday and say "Who can I help today!" Whether it is their first home, an up/downsize home, a second home or their ultimate dream home Tracy could not be more happy to help our next clients. "Home is where the Heart is, and to be able to help clients find that is truly epic." On the Kris Lindahl Real Estate team, Tracy looks forward to "empowering clients in building their real estate future and building relationships that are meant to last"

When not selling real estate Tracy enjoys camping, ice fishing, cooking, hosting get-togethers with friends and having a few cocktails on the deck all with her beautiful wife Niki. They are known as the Fun Havers of their friend group and are ALWAYS willing to help friends out and have a good time! In between playing softball or trying to play golf Tracy stays busy watching their 5 children play basketball, baseball, softball, football and lacrosse.
Reviews for Kris Lindahl Real Estate
Carmen was a key part of our project. She showed us multiple properties and offered her knowledge about the pros and cons of each property. She brainstormed with us on the property we purchased and we ended up using some of her suggestions when we remodeled the home. As we got close to finishing she was right there for photos and staging as well as encouragement to finish up and get it listed again. She was right on the money with her market knowledge. We will definitely work with Carmen again on our next flip.
Lawrence Pinnock
a week ago
Great service! Great team! Amanda Rose has helped me on multiple real estate properties. She handled the listing and sale of a residential property for me and everything went perfectly. Amanda's attention to detail, her integrity, and her effective negotiating skills are top notch. It was a stress free experience working with her. She will always be my first call when I need a realtor.
Sam Spiva
a month ago
Gregorio spent so much time walking through houses with us (including creepy cellars!) so we could see every part of a house during our virtual showings. He worked non-stop for the two days we were in town to see as many houses in person as possible. Once we chose our home and our offer was accepted, Gregorio kept us up to date on everything and when we hit snags, he was always quick to respond. He really went above and beyond in making sure we were taken care of. 100% recommend!
Jessica Lowe
a month ago