5 Best Lakes Near St Paul: Boating & Fishing in the Twin Cities
Posted by Kris Lindahl on Friday, February 25, 2022 at 8:42:44 PM
By Kris Lindahl / February 25, 2022
Comment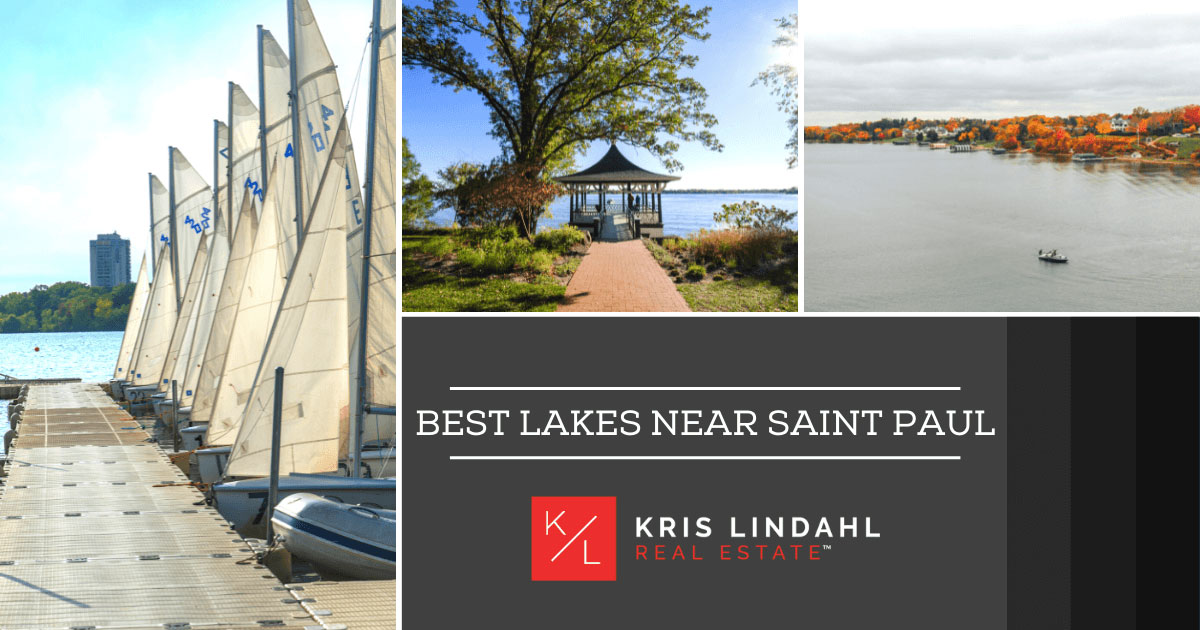 Buying a home near a lake is a rewarding experience. Not only do waterfront homes often come with an amazing view, but there are many other more tangible benefits as well. Nearby lakes or rivers often interrupt dense development or concentrated traffic patterns, which can be positive for people looking for a more relaxed, slow-moving experience. Being closer to the water means greater access to fun watersports like skiing, boating, and fishing. Because these activities happen in the fresh air, they are likely to reduce stress and promote enjoyment in life. Fortunately, people living near the city of Saint Paul, Minnesota, have several bodies of water from which to choose. Keep reading to discover a few things to know about the best lakes in the Saint Paul area.
Great Fishing: Lake Como
Lake Como Amenities
68 acres
15 feet max depth
Well-stocked with fish
Fishing pier
Part of Como Park
About 12 miles northwest of downtown Saint Paul, Lake Como is one of the best places for fishing in the area. Found by traveling Como Avenue from the city's center, the lake is about 68 acres and 15 feet at its deepest. Anglers will love that the lake has plenty of bluegill, crappie, bass, catfish, pike, walleye, carp, and bullhead. The Minnesota Department of Natural Resources keeps the place full of delicious swimming morsels.
There are two types of fishing experiences available on the lake. In addition to standing on the bank, the south end has a fishing pier that is great for a relaxing day further out from the shore. The majority of watercraft allowed on the water are human-powered. However, boats with electric trolling motors are permissible.
Those who do not enjoy fishing can still find plenty of fun in the area. The lake is part of Como Park, which includes a golf course and zoo. Visitors can find restrooms, public parking, picnic grills, and a playground. Fitness enthusiasts will enjoy the nearly two miles of walking and running paths set against the beautiful scenery.
Sailing Welcome: Lake Phalen
Lake Phalen Amenities
200 acres
Average depth of 24 feet
Boating, fishing, swimming
Part of Phalen Regional Park
Periodic events
Lake Phalen, a 12-minute drive from downtown Saint Paul, is another local favorite. This lake has a surface area of just under 200 acres and an average depth reaching 24 feet. The more than three miles of shore provide great opportunities to find a quiet spot to relax. With more than 500,000 visitors each year, it is one of the more popular water destinations in the region.
Part of Phalen Regional Park, the lake allows boating, fishing, and swimming. Those who prefer to remain on the land have a wide variety of activities, including picnics, golf, hiking, and bike riding. Those with a competitive streak can gather a team for baseball, beach volleyball, soccer, softball, and tennis. There's also a recreation center.
Visitors can also take advantage of more formal hobbies. For example, during summer, the City Department of Parks and Recreation hosts Fitness in the Parks. The program is free and promotes physical activities like Zumba and yoga. Come Sail Away is another city program that provides instructions on wind-powered boating. Lessons include everything from tying sailing knots to learning about the safety and courtesy rules for the sport.
Waterfront Living: White Bear Lake
White Bear Lake Amenities
2,400+ acres
Average depth of 20 feet
Multiple fish species
Swimming and boating
Beaches and parks along side
Many waterfront homes
More than 17 miles from downtown Saint Paul, White Bear Lake is one of the largest bodies of water in the immediate area. At more than 2,400 acres and 13.5 feet of shore, it sits between borders to several other cities at the northern edge of Saint Paul. The depth of about 20 feet is more than enough for several popular fish species, including bullhead, crappie, bluegill, sunfish, bass, pike, and carp.
In addition to fishing, White Bear Lake is an excellent place for swimming and boating with a trolling motor. Because of the sheer size of the lake, there are several smaller beaches and parks located around its perimeter. The city of Mahtomedi has a beach along the eastern side, while the White Bear Lake community has three parks along the western edge.
However, what is most remarkable about the area is that there are many incredible waterfront homes with direct lake views. In addition to those along the shore, there are residential communities on two peninsulas and a land bridge with nearby Goose Lake. Houses near White Bear Lake usually have a median listing price of $350,000.
Swimming and SCUBA: Square Lake
Square Lake Amenities
950 feet of beaches
Scuba diving
Boat launch
Fishing
Trails
Picnic tables
Located in May Township to the northeast of Saint Paul, Square Lake contains some of the region's best swimming and scuba spaces. In part because of the exceptionally clear waters, scuba divers throughout the region gather to train and swim through the lake. Regular swimmers are also welcome, along with those who want to lounge along the 950 feet of beaches. Revelers may also take advantage of the biking trails, restrooms, and picnic tables with grills.
Of course, the waters also contain a public boat launch and plenty of stock for fishing. Those with enough patience can catch bass, pike, crappie, bluegill, trout, and perch. Fishing from the shore is only allowed near the county park.
Gorgeous Scenery: Lake Minnetonka
Lake Minnetonka Amenities
14,500+ acres
Max depth of 113 feet
20+ campsites
Fishing, boating, swimming, dining
Waterfront homes
Made famous by Minnesota-born musician Prince, Lake Minnetonka is the largest lake in the region at more than 14,500 acres and 113 feet deep. It is about 34 miles west of Saint Paul on the other side of the city of Minneapolis. The site is a series of interconnected lakes, bays, and areas. There are only eight larger bodies of water in the entire state, which is significant given Minnesota's nickname "Land of 10,000 Lakes."
Because of the size, nearly every possible waterside activity happens around Lake Minnetonka. Explore the expansive wildlife through more than 20 campsites. Enjoy fishing, boating, and swimming, or visit one of the many lakeside restaurants.
The vast area also fosters several neighborhoods with waterside residential areas. The city of Deephaven, the city of Shorewood, the city of Excelsior, and Lake Minnetonka Shores contain great opportunities to live beside the water. The sheer number of nearby towns also offers some variety in home prices. For example, median home values in Deephaven are around $800,000, while those in Shorewood are a little more affordable at approximately $600,000.
Experience Lakeside Living in Saint Paul
Water lovers, rejoice! Living near a lake can help to encourage healthy habits like hiking or meditating while viewing beautiful scenery. Luckily for residents or those planning to move to Saint Paul, the city is a haven for swimming, fishing, boating, or just walking a lakeside trail.