7 Best Master Planned Communities Near Saint Paul [2022]
Posted by Kris Lindahl on Wednesday, March 2, 2022 at 11:00 PM
By Kris Lindahl / March 2, 2022
Comment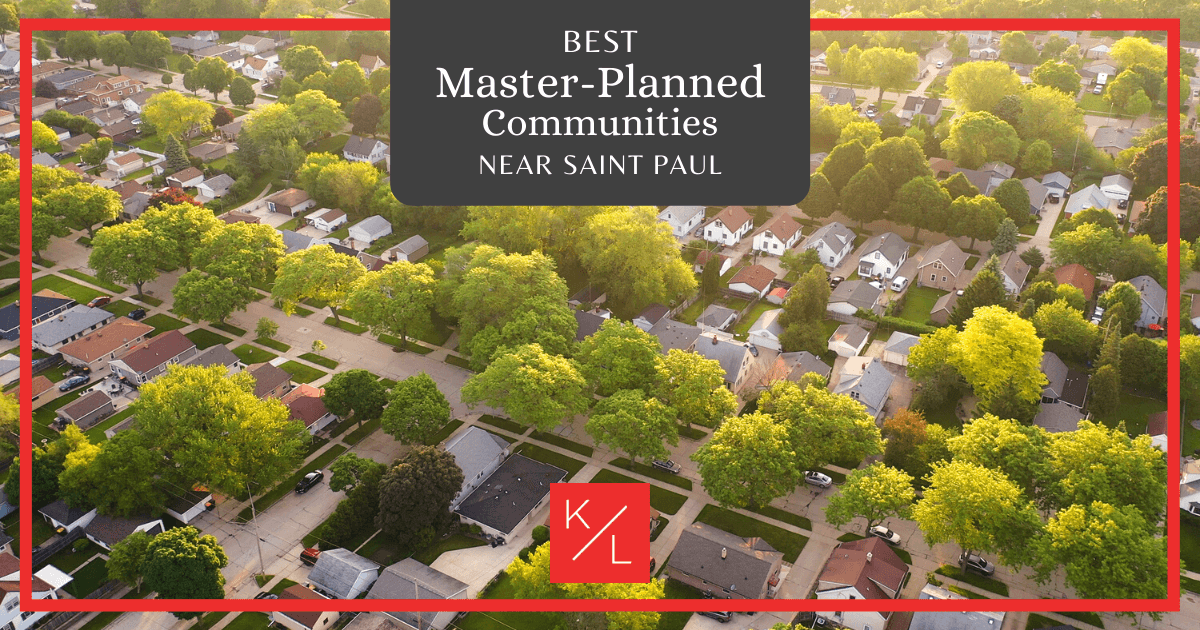 It can be challenging to find the right neighborhood, especially in a new city. Some may have great housing but lack the amenities residents need or vice versa. The good news is there's a solution: master-planned communities. For those who aren't familiar, master-planned communities are designed as a cohesive neighborhood by developers, with similar types of housing and where residents often enjoy shared amenities and spaces.
Master-planned communities can be one of the best options for those looking for a home in the city of Saint Paul. With so many developments available, keep reading to discover the seven best master-planned communities near Saint Paul, Minnesota.
Highcroft of Woodbury
Highcroft of Woodbury Amenities
Scenic views of lakes, parks, woods from homes
Community clubhouse
Community swimming pool
Walking trails
Close to Interstates 94/494/694
Located to the southeast of Saint Paul in the city of Woodbury, the beautiful master-planned community of Highcroft of Woodbury contains nearly 90 acres of parks, woodland, and lakefront property. With just over 150 home sites, it offers an excellent opportunity for those looking for a newer home in a medium-sized, neighborly community. Residents can enjoy several amenities like a community clubhouse, a swimming pool, and walking trails through nearby preserved forest and Bailey Lake. Still, the 94/494/694 Interstates are just minutes away, providing quick and direct access into Saint Paul, the city of Minneapolis, and throughout the region. The areas along these major roads also provide residents with all of the everyday shopping options they need, including popular chain stores like Walmart and Target.
Housing at Highcroft of Woodbury consists entirely of relatively new detached single-family homes built within the last few years. Those looking to buy in this Saint Paul master-planned community should expect to spend at least half a million dollars. However, most usually sell in the $600,000 to $800,000 range, approaching one million for larger homes or ones with better views. Homes typically include three to six bedrooms and three to five bathrooms.
Twenty One Oaks
Twenty One Oaks Amenities
Neighborhood park and walking trails
Resident clubhouse
Community swimming pool
Neighborhood events
Across Bailey Lake from Highcroft of Woodbury is the Twenty One Oaks community, another top choice among master-planned communities southeast of Saint Paul. Established in 2015, the 55-acre subdivision of 130 homes has quiet streets that end in cul-de-sacs. From the community park and walking trails to the residents' clubhouse with a swimming pool, there's plenty to do and plenty of places for neighbors to relax and get to know one another.
Twenty One Oaks is also just a short trip to the nearby HealthEast Sports Center, which offers outdoor sports fields, an ice arena, and more facilities. Just a bit further lies the shopping and dining options around Interstates 94/494/694, which also allow residents easy access to Saint Paul and elsewhere in the Twin Cities metro.
Twenty One Oaks homes typically include three to five bedrooms and a similar number of bathrooms, spread over more than 4,000 square feet of living space. These large, luxury homes tend to sell from the low $700,000s to more than $800,000. Homes often include high-end features like screened porches, deluxe kitchens, and large garages.
Gateway at McKnight
Gateway at McKnight Amenities
Customizable home features
Close to downtown Saint Paul
Access to Gateway State Trail
HOA-managed lawn care and snow removal
Those looking for a new construction townhome just a quick trip from central Saint Paul may find their new home in the Gateway at McKnight. With fewer than 100 homes, this intimate community offers a peaceful oasis just seven miles from all shopping, entertainment, dining, and nightlife in Saint Paul and only a bit further from Minneapolis, an easy trip along nearby State Route 36. Walkers, joggers, and bikers will love the adjacent Gateway State Trail, an 18-mile multi-use trail running from Saint Paul to Pine Point Regional Park. Residents are also only a short walk from local businesses and restaurants along 7th Avenue East, like Neumanns (Minnesota's oldest bar) or LUV Ice Cream Cafe.
Gateway at McKnight townhomes contain open floor plans, spacious kitchens, and customizable features like three-car garages and large rec rooms. Each includes three bedrooms and three bathrooms totaling approximately 2,000-2,500 square feet of living space. They usually sell over a relatively narrow range from the mid $300,000s to the low $400,000s, providing a more affordable option for those seeking a master-planned community near Saint Paul.
Wedgewood
Wedgewood Amenities
Extensive landscaping and green spaces
Miles of neighborhood trails and parks
Prestwick Golf Club
Playground
Tennis courts
One of the area's largest communities, the sprawling, 1,200-acre Wedgewood community is the site of nearly 1,000 homes. They're split between two broader neighborhoods-within-a-neighborhood, known as Wedgewood Valley and Wedgewood Heights, and then further into 20 subdivisions, each with unique architecture, community design, and lifestyle.
Wedgewood is a golfer's dream, with many homes situated just off the links of Prestwick Golf Club, an award-winning championship golf course. Those who like to stay active will enjoy a network of neighborhood trails. Edgewater Park and Colby Lake provide additional outdoor recreation opportunities outside Wedgewood's borders. Saint Paul's top attractions are less than a 20-minute drive, while Woodbury's fast-growing shopping, dining, and business districts are even closer!
Homes in Wedgewood can be somewhat diverse in their style and features, producing somewhat of a range in prices, typically starting just north of half a million dollars. The largest or most luxurious homes usually sell for $800,000 to $1 million. All will generally include four to six bedrooms and three to five bathrooms, with at least 4,000 square feet.
Pineview Meadows
Pineview Meadows Amenities
Wetland views
Green space and nearby walking trails
Community clubhouse
Swimming pool
Playground
Looking for a quieter, more rural new construction community? Pineview Meadows is in the city of Dayton, about 25 miles northwest of Saint Paul. These 85 freshly built homes on roughly quarter-acre lots include gorgeous wetland views as well as a variety of community amenities. Residents can enjoy a shared clubhouse, swimming pool, playground, walking trails, and more. Pineview Meadows is also a stone's throw from the Mississippi River and a short drive from the Elm Creek Park Preserve. Despite the peaceful setting, homeowners are still less than a 45-minute drive from Saint Paul, thanks to the extensive network of area highways.
With homes typically available from $600,000 to around $900,000, these three- to four-bedroom homes have between 2,600 and more than 4,000 square feet of living space. These brand-new homes include open floor plans and features like spacious kitchens with stainless steel appliances, ornate fireplaces, large garages, and other high-end comforts. Still-to-be-constructed houses also allow buyers to put custom touches on their new homes.
Highland Bridge
Highland Bridge Amenities
Mix of residential, commercial, and retail
Community parks and green spaces
Civic Square/Civic Plaza outdoor event venues
Close to the Mississippi River and downtown Saint Paul
Highland Bridge is unique among top-tier master-planned communities in the Twin Cities area for its diverse mix of housing styles and the integration of commercial and retail spaces directly in the community. Home choices include townhouses, condos, custom single-family detached houses, and affordable senior housing. This new construction neighborhood consists of 55 acres of city parks and green spaces. Residents can take care of all their needs right in their own community, from food shopping at Lunds & Byerlys to enjoying fitness centers, restaurants, and other local businesses. They may even end up working here, in some of the 250,000 square feet of office space.
Highland Bridge owners can also take advantage of their fantastic location along the Mississippi River and as one of the closest master-planned communities to downtown Saint Paul. Townhomes usually start in the mid $600,000s, with four three-bedroom, two-and-a-half bathroom designs. Custom home lots start around half a million, with riverfront properties generally selling in the $700,000-800,000 range.
Rice Creek Commons
Rice Creek Commons Amenities
Varied housing styles
Walkable, mixed-use development
Rice Creek Trail and other green spaces
Close to Interstate 35W for easy travel and commutes
Another quality mixed-use master-planned community, Rice Creek Commons is located in the city of Arden Hills. It's designed to be split equally between homes and business spaces and is the product of years of efforts to redevelop the historic site of a World War II-era factory. Residential space is split into three smaller subdivisions, including a mix of residential, retail, and office spaces designed as a walkable community.
The Creek takes advantage of the area's unique natural surroundings, including Rice Creek. Finally, The Hill includes many housing types on elevated and sloping sites. Meanwhile, 160 acres of commercial space is also in the master plan, including office space, retail, and other flexible business spaces.
The Rice Creek Commons plan also preserves plentiful green space and natural corridors through the area, including the Rice Creek Trail. The neighborhood is also located just off Interstate 35W, meaning residents will enjoy a quick trip to Saint Paul, Minneapolis, and elsewhere in the Twin Cities region.
There's A Master-Planned Community For Everyone Near Saint Paul
Not all master-planned communities are the same, especially in a region as diverse as the Twin Cities. Still, those moving to Saint Paul can guarantee a master-planned neighborhood the benefits of a carefully thought out community built deliberately to give residents the lifestyle of their dreams. Whether that includes luxuriously constructed homes, amenities like swimming pools and clubhouses, or a walkable design close to shopping and dining, the perfect Saint Paul master-planned community is out there waiting for new homeowners.
If Saint Paul is the city for you, contact Kris Lindahl Real Estate at 1-(855) 967-7653 to get in touch with a local real estate agent who can help you find your dream home today.