Best Neighborhoods in Saint Paul: 8 Communities in the Twin Cities
Posted by Kris Lindahl on Tuesday, January 4, 2022 at 1:47:27 AM
By Kris Lindahl / January 4, 2022
Comment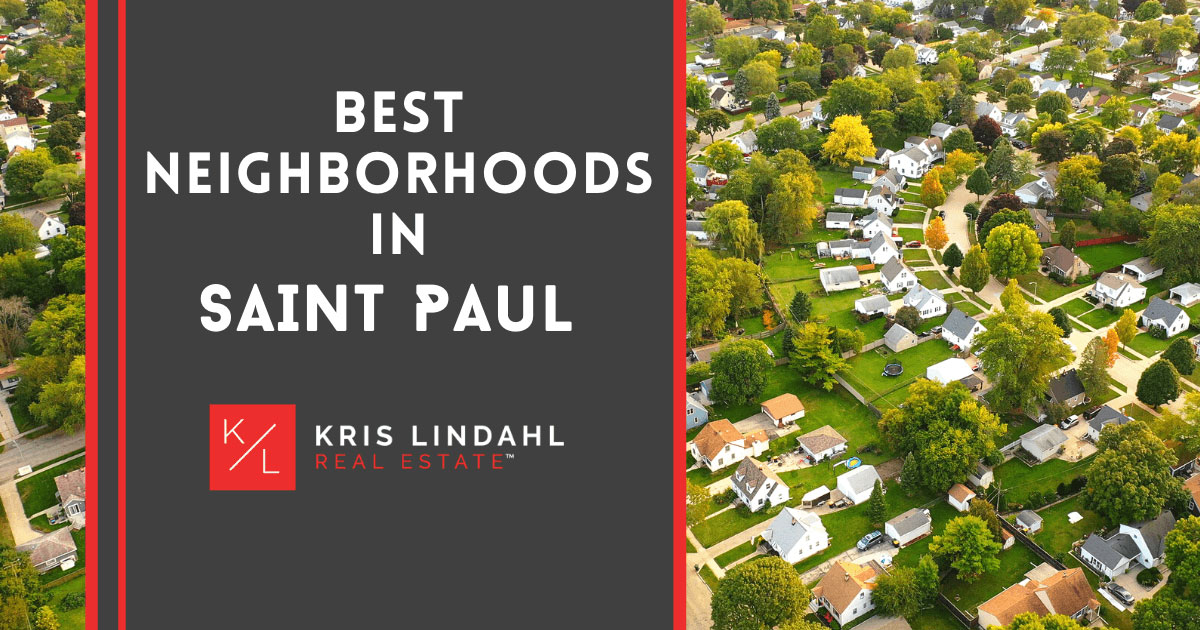 Located on the eastern half of the Mississippi River, Saint Paul is the capital of Minnesota and part of the Minneapolis/St Paul Metro area, colloquially known as "The Twin Cities." With over 300,000 residents, it is smaller than Minneapolis but has grown increasingly popular in recent years. St. Paul real estate attracts buyers to the area with a robust local job market and fantastic public amenities. While Saint Paul is a big city, one of the unique aspects is its distinctive neighborhoods, giving it more of a residential feel beyond its thriving downtown. Keep reading to learn about the best neighborhoods in Saint Paul.
Macalester Groveland
Macalester Groveland Amenities
Designated bike lanes
University of St. Thomas
Macalester College
Trader Joe's
The Mississippi River Bike Trail
Spyhouse Coffee
Located in western Saint Paul, Macalester Groveland has historical roots dating back to the 1850s, originally part of Fort Snelling. In 1887, it was annexed by the City of Saint Paul and became a residential neighborhood. In the early 1900s, it was one of the first Saint Paul neighborhoods to have a streetcar line, connecting it to the Downtown Saint Paul area. Today, Macalester Groveland real estate is desirable to commuters who need easy access by bike, public transit, or car to the city of Minneapolis or to jobs in Saint Paul. Its borders are Summit Avenue to the north, the Mississippi River to the west, Randolph Avenue to the south, and Ayd Mill Road. With over 20,000 residents, Macalester Groveland feels like a hybrid between a small college town and a suburb within an urban area. Macalester Groveland is home to two major universities: Macalester College and the University of St. Thomas.
Residents will find many coffee shops, bars, and shops in this highly walkable neighborhood. Some of the most popular restaurants in the neighborhood are Groveland Tap, Due Focaccera, and French Meadow Cafe. Not only is Macalester Groveland pedestrian-friendly, but it's also cyclist-friendly with its designated bike lanes and bike trails connecting it to Minneapolis.
Battle Creek Highwood
Battle Creek Highwood Amenities
Battle Creek Dog Park
Battle Creek Recreation Center
Downtown Saint Paul Airport
Pig's Eye Regional Park Archery Range
Battle Creek Waterworks
Located east of the Mississippi River, Battle Creek Highwood is one of the easternmost neighborhoods in Saint Paul. Battle Creek Highwood has a vibrant history. Today, the homes for sale in Battle Creek Highwood occupy a quiet, residential area with some of the largest concentrations of green spaces in Saint Paul. Bordering the Mississippi River, Battle Creek is most famous for its green spaces, such as Pig's Eye Regional Park and Battle Creek Park. Along with its parks, Battle Creek Highwood has many amenities for residents, including shopping at the Sun Ray Shopping Center and bowling at nearby Sun Ray Lanes.
While Battle Creek Highwood is prized as a peaceful, residential neighborhood, its proximity to Downtown Saint Paul and the eastern suburbs makes it ideal for commuters. 3M, one of Minnesota's largest employers, has its corporate headquarters in Maplewood, which is just a 5- to 10-minute commute from Battle Creek Highwood. This neighborhood is also a 10-minute commute to Downtown Saint Paul and offers convenient drive times to MSP Airport.
Dayton's Bluff
Dayton's Bluff Amenities
Hmong Village Shopping Mall
Bruce Vento Nature Sanctuary
Native Cemetery Indian Mounds Regional Park
Saint Paul Brewing
Swede Hollow Park
Situated on white cliffs overlooking Downtown Saint Paul, Dayton's Bluff is one of the most historical neighborhoods of Ramsey County. Dayton's Bluff is home to Metro State University, a public university. This neighborhood has some of the best dining options in the area, with various Mexican, Hmong, Latin American, Chinese, and American restaurants. Some of the most popular restaurants in the neighborhood are Swede Hollow Cafe, Manana Restaurant, Leo's Chow Mein, and Taqueria Los Paisanos.
Along with its many dining options, one of the most unique aspects of Dayton's Bluff real estate is its desire to maintain its historic buildings. With houses dating back to the 1880s, the neighborhood takes great pride in restoring and maintaining its historic homes. Dayton's Bluff is also an ideal location for commuters since I-94 runs through it, providing easy access to Downtown Saint Paul and Downtown Minneapolis. Dayton's Bluff is also one of the closest neighborhoods to Downtown Saint Paul, with an average commute of 5 - 10 minutes.
Summit Hill
Summit Hill Amenities
Mitchell Hamline School of Law
Saint Paul's Cathedral
Minnesota Governor's Mansion
Linwood Community Recreational Center
F. Scott Fitzgerald House
Located west of Downtown Saint Paul, Summit Hill is one of the most historically significant neighborhoods in Saint Paul. With a history dating back to 1805, Summit Hill became a residential community in the 1850s and 1860s when business tycoons began building the first additions to Summit Hill real estate. The history of Summit Avenue lives on with extensive stretches of Victorian and Queen Anne homes in the United States, spanning over six miles. Among many of its well-known residents, perhaps one of the most well-known was author F. Scott Fitzgerald, born in Saint Paul and lived in the Summit Hill neighborhood with his wife, Zelda.
Today, Summit Hill is a lively residential neighborhood with tons of shops and restaurants, namely Grand Avenue. Grand Avenue has a diverse combination of local shops, fine dining restaurants, and retail chain stores. Diners will find various food options, from bars and taverns to tasty cuisines, such as Nepalese, Japanese, French, Mexican, and American food. Some of the most popular restaurants on Summit Hill are Tavern on Grand, The Lexington, Saji-Ya, and the University Club.
Como
Como Amenities
Como Zoo & Park
Lake Como
Marjorie McNeely Conservatory
Como Regional Park Pool
Cafesjian's Carousel
Home of the Minnesota State Fair, Como is one of the northernmost neighborhoods of Saint Paul. This quiet, residential community is a trendy neighborhood among Saint Paul residents. Aside from Downtown, it is one of the most visited neighborhoods in Saint Paul, with over 2 million visitors annually. Como is home to some of Minnesota's most popular tourist attractions: the Minnesota State Fair and Como Zoo & Park. The Twin Cities are home to two zoos: the Minnesota Zoo in Apple Valley and Como Zoo. While Como Zoo is the smaller of the two zoos, it's a top-rated attraction due to its diverse zoo life, impressive conservatory, and nearby park. It's also free, but visitors also have the option to donate.
Along with the zoo, Como has a beautiful city park with a recreational lake (Lake Como), a golf course, soccer fields, a Japanese garden, and a pool. Como homes for sale are very popular with bikers, joggers, and water sports enthusiasts. Como also has plenty of dining options among its many attractions, including Gabes by the Park and Dock & Paddle.
Hamline Midway
Hamline Midway Amenities
Twin City Model Railway Museum
Midway Used & Rare Books
Twin Cities Light Rail
Can Can Wonderland
BlackStack Brewing
As its name suggests, Hamline Midway is at the midway point between Downtown Saint Paul and Downtown Minneapolis. Located between I-94 and the Como neighborhood, Hamline Midway is an exciting neighborhood with some of the best dining options in the Twin Cities. Along with its location, one of this neighborhood's claims to fame is being the home to Hamline University, Minnesota's first and oldest university. Like Macalester Groveland, Hamline Midway feels like a combination of a college town and a suburb within an urban area. But with a population of 14,000, it's smaller than Macalester Groveland. But while Hamline Midway is smaller, this neighborhood is vivacious. With the revitalization of University Avenue and construction of the Twin Cities Light Rail, Hamline Midway real estate is experiencing massive growth and has become one of the top communities for commuters. Hamline Midway is one of two Saint Paul neighborhoods with direct train lines to Downtown Saint Paul, Downtown Minneapolis, the Minneapolis/St Paul International Airport, and the Mall of America.
Along with its commuting potential, residents will also find an eclectic neighborhood with a thriving food scene. Local restaurants serve Turkish, Ethiopian, Korean, Japanese, Thai, and American cuisine.
Highland Park
Highland Park Amenities
Hidden Falls Regional Park
University of St. Catherine's
Crosby Lake
Joan's in the Park
Highland Theatre
Cecil's Deli
Located on the southwestern corner of Saint Paul, Highland Park homes for sale sit on the banks of the Mississippi River, just across the river from the Minneapolis/St. Paul International Airport. Founded in 1848, Highland Park was originally part of the Fort Snelling reservation until the City of Saint Paul purchased it in the 1850s. Highland Park steadily grew throughout the 1800s and early 1900s, but the town saw a significant population boom after World War II when St. Paul new construction homes and shopping centers were developed. As such, most of the houses are post-World War II homes, with some newly constructed homes. With over 24,000 residents, Highland Park is one of Saint Paul's most prominent neighborhoods.
This residential area is popular with many Saint Paul residents due to its many amenities, including parks, recreational activities, shopping, and dining options. The majority of the area's shopping is located in Highland Village on Ford Parkway and Sibley Plaza. Other local amenities include the Highland Theatre, Highland Park Recreational Center, and Highland Park Aquatic Center.
Saint Anthony Park
Saint Anthony Park Amenities
Langford Recreation Center
St. Anthony Park Library
Urban Growler Brewing Co.
Vertical Endeavors
Twin Cities Light Rail
Located in northwestern Saint Paul, Saint Anthony Park is the farthest neighborhood away from Downtown Saint Paul and across the river from Downtown Minneapolis. Home to the University of Minnesota--St. Paul campus, this neighborhood has a storied academic history. Founded in the late 19th century, Saint Anthony Park was once a "streetcar" neighborhood, where all residents would commute into Minneapolis and Saint Paul. Saint Anthony Park homes for sale comprise one of the smallest neighborhoods in Saint Paul, with a population of just over 8,000 residents.
Located east of the riverbank, the University of Minnesota's divided campus straddles between the Dinkytown neighborhood and Saint Anthony Park. Many students refer to Saint Anthony Park as "the eastern bank." Because of the university's profound presence, Saint Anthony Park feels like a small college town within two larger cities. Saint Anthony Park has many restaurants, coffee shops, and parks and is incredibly walkable.
What's Your Favorite Saint Paul Neighborhood?
With so many amenities and amazing neighborhoods, there's so much to look forward to when moving to Saint Paul. Whether buyers are looking for modern St. Paul condos for sale or renovated homes in a historic community, Saint Paul has a neighborhood that fits the bill. In any case, Saint Paul neighborhoods are best experienced first-hand and explored with open eyes.
If Saint Paul is the city for you, contact Kris Lindahl Real Estate at 1-(855) 967-7653 to get in touch with a local real estate agent who can help you find your dream home today.