Best Parks in Blaine: Blaine, MN Parks & Recreation Guide
Posted by Kris Lindahl on Tuesday, November 17, 2020 at 11:19:06 PM
By Kris Lindahl / November 17, 2020
Comment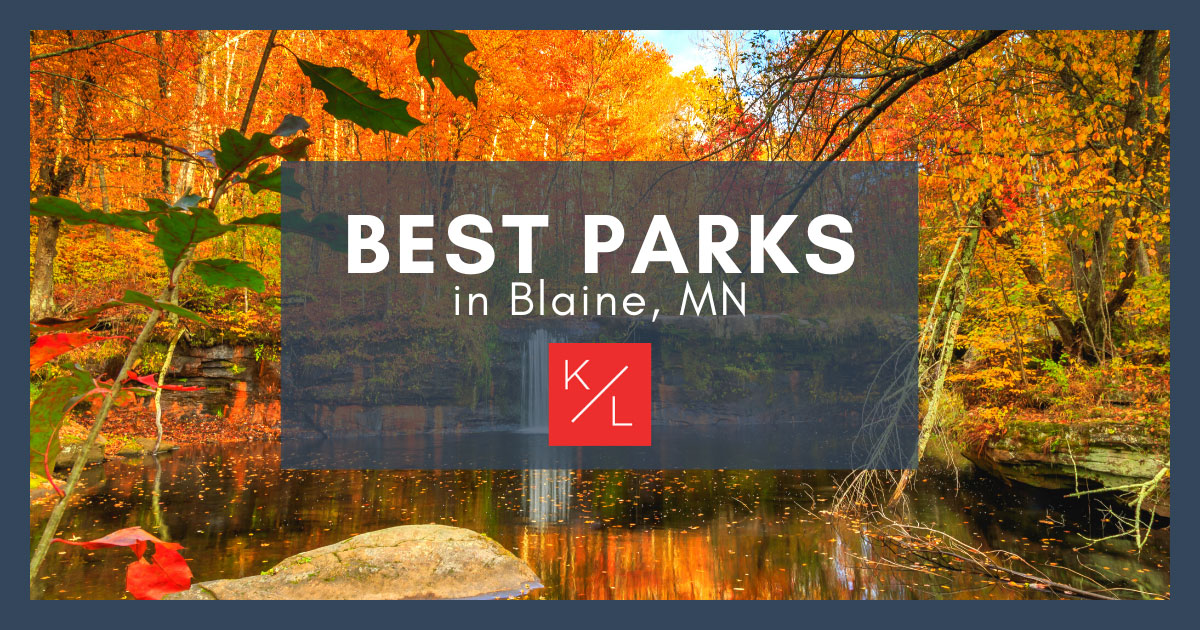 The city of Blaine, Minnesota is about 12 miles north of downtown Minneapolis, making it part of the Twin Cities metro area. About 67,496 residents call Blaine home. With over 65 parks, 140 miles of walking trails, and four named lakes, Blaine is a thriving community, offering an abundance of recreational opportunities.
The city is in the process of creating a 500-acre open space, with 70-acre Kane Meadows Park as the centerpiece and construction of a nature center. In addition to its parks, the city is home to the Blaine Wetland Sanctuary, a 500-acre natural habitat featuring walking trails and a boardwalk. If you're looking for the best parks in Blaine to visit, here's a list of some fantastic options to consider.
Lakeside Commons Park
Lakeside Commons Park Amenities
Canoe and kayak rentals
Volleyball court
Public beach
Free admission for Blaine residents
Splash pad
Concession stand
Playground
Address: Lakeside Commons Park 3020 Lakes Pkwy, Blaine, MN 55449
As its name would imply, water recreation is at the center of Lakeside Commons Park. This popular park is also the city's newest park. It features a public beach and splash pad, along with a beach house, boathouse with a concession stand, changing facilities, volleyball court, and playground. Canoes and kayaks are available from the Boathouse for use on the lake. Parkgoers can also rent a picnic pavilion for special events.
Beach hours are 10 a.m. to 8 p.m. during beach season, which typically runs from June 1 to Labor Day. No lifeguard is on duty. Admission is free, but non-residents will need to pay a $10 per day parking fee. Children under 12 must be supervised at all times when using the park. Season passes are available for $30.
Aquatore Park
Aquatore Park Amenities
Sports fields
Swanson Dog Park
Playground
Picnic pavilions
Blaine Festival
Public grill
Address: Aquatore Park 9191 Lincoln St NE, Blaine, MN 55434
Aquatore Park is Blaine's primary meeting and gathering place. It is home to the annual Blaine Festival, as well as numerous private functions, such as family reunions and company picnics. Those interested in utilizing the park's shelter facilities must fill out an application to do so, as reservations are required.
Aquatore Park has something for everyone. In addition to its two large picnic shelters and grill, the park features three athletic fields—two lighted fields for softball and one for baseball. Dog lovers enjoy that the park is also home to Swanson Dog Park.
Electricity, running water, and restroom facilities are all available for parkgoers. Expansive shade across open space offers a comfortable experience for visitors. Visitors can also take advantage of the park's walking trails.
Lochness Park
Lochness Park Amenities
Huge lake with a fishing pier
Disc golf course
Walking trails
Stocked lake
Picnic shelters
Grills
Playground
Address: Lochness Park 11121 Lexington Ave NE, Blaine, MN 55449
Lochness Park is an 89-plus-acre space, featuring a 20-acre lake with a fishing pier, as well as a disc golf course and miles of trails. Lochness Lake is the centerpiece of this Blaine park. It offers a tranquil setting with a surrounding walking path and ready access to a fishing pier. The lake is stocked with several species of fish, including crappie, bluegill, sunfish, bullhead, and occasionally even Northern Pike.
Lake depth is approximately 16 feet, though the water level will vary, particularly during the height of summer when lake vegetation is at its peak. The park also offers picnic shelters, grills, and a children's playground. Portable restrooms are available. There is no park entry fee.
Pioneer Park
Pioneer Park Amenities
Walking trails
Wetlands and forests
Native flora and fauna
Picnic shelters and tables
Address: Pioneer Park 2491 125th Ave NE, Blaine, MN 55449
Pioneer Park offers a picturesque 100-acre setting, with roughly half consisting of wetlands and the other half upland woods. The park is one of the city's largest and features several walking trails, the majority paved. Placards with maps are posted along the trail, guiding visitors through the course.
The restored wetlands portion of the park offers visitors the opportunity to view a broad array of native plants, including several rare species. The park features a small creek as well as several ponds. Buckthorn is being removed from the park's landscape, in order to foster more desirable tree species.
The park also features picnic shelters and tables, providing the perfect spot to enjoy the park's abundance of wildlife. While not as many facilities as some other city parks have to offer, Pioneer Park makes up for it with its offering of natural scenic beauty.
Quincy Park
Quincy Park Amenities
Quincy Park Rink
Ice skating lessons
Baseball diamond
Basketball court
Playground
Picnic tables and shelters
Address: Quincy Park 10601 Quincy Blvd NE, Blaine, MN 55434
Quincy Park is perhaps best known for its ice skating rink. The park also offers figure and ice skating lessons, from beginners to advanced. Basics are taught to novice ice skaters, while more accomplished skaters are provided with instruction in proper form and technique, as well as competition preparation. The ice rink facilities consist of one outdoor rink and a warming house.
The six-acre park also offers additional recreational activities, featuring baseball and softball diamonds, and a basketball court, as well as a children's playground. Visitors can also make use of the park's picnic tables and shelters.
Trails on the park's north and east sides are easily accessible from Able Street on the east and Territorial Road from the south. Parking is available on the park's west side. Portable restroom facilities are available in the summer months.
Tom Ryan Park
Tom Ryan Park Amenities
Blaine Veterans Memorial
Rentable pavilion
Quiet
Fountain with surrounding sitting area
Small park
Address: Tom Ryan Park 10802 Town Square Dr NE, Blaine, MN 55449
Formerly known as Town Square Park, this park was renamed Tom Ryan Park in honor of Mayor Tom Ryan who served the city as councilmember and mayor for more than three decades. Tom Ryan Park was designed for passive and entertainment use, rather than recreational purposes.
The park's focal point is a round fountain with trellis. The park consists of manicured walkways accented by perennials, shrubs, and trees. An open grassy area contributes to its aesthetic appeal.
Tom Ryan Park also features a large pavilion at its northwest corner that is used for community gatherings and performances. The shelter is available for rental as well and has a capacity of about 150 people. The park also features a veteran's memorial that continues to grow in prominence.
Visit Blaine's Best Parks Today
The city of Blaine offers visitors as well as residents a number of opportunities to enjoy the area's scenic beauty and outdoor recreation with its extensive park system. Its proximity to Minneapolis and St. Paul make its parks favored destinations for visitors as well as welcome amenities for residents.
Blaine's extensive park system represents a combined 638 acres of facilities, trails, wildlife, and athletic fields and courts. Many of its more scenic parks take advantage of the city's natural topography and wetlands. A majority of the city's parks are located within its residential neighborhoods, making them easily accessible whether you live in a lakefront property or a condo.
If you'd like to learn more about homes in Blaine, contact Kris Lindahl Real Estate at 1-(855) 967-7653 to get in touch with a local real estate agent and discover your ideal home in Blaine today.