8 Most Iconic Restaurants in Minneapolis
Posted by Kris Lindahl on Thursday, March 4, 2021 at 1:06:19 AM
By Kris Lindahl / March 4, 2021
Comment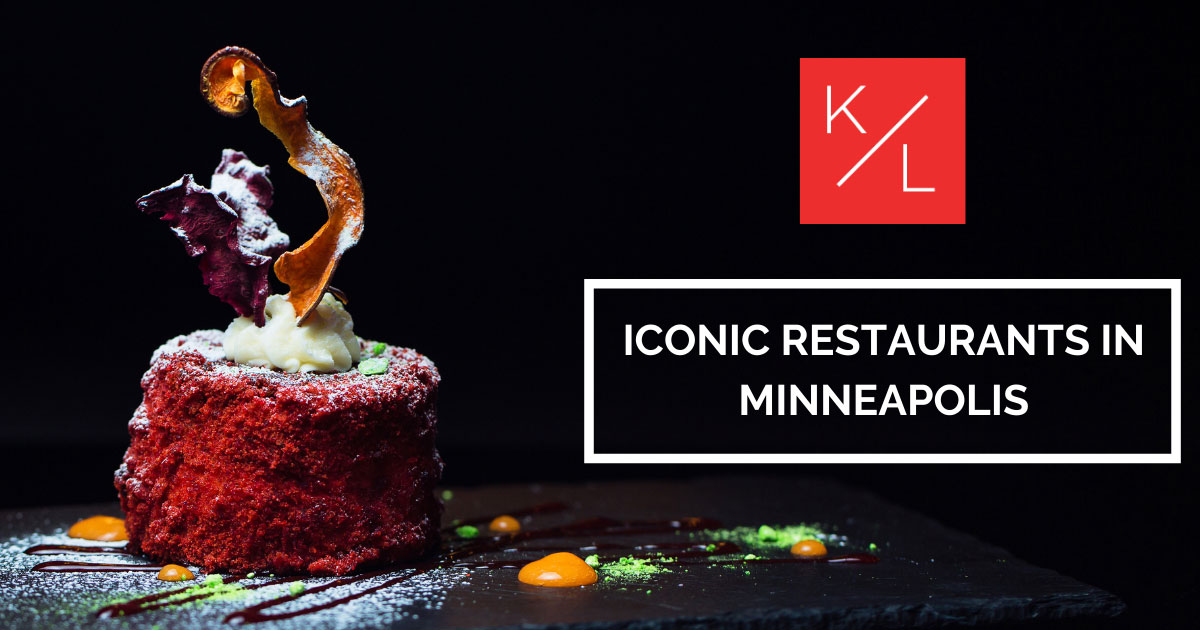 Minneapolis' downtown has been experiencing a renaissance with the influx of start-ups and design incubators that seem to be cropping up on every corner. But its rich history as a key industrial and business center as well as its music and culture should not be forgotten. This legacy extends down through its restaurants, which richly celebrate flavor alongside family and even local history. Those planning a move to Minneapolis and want to learn more about the area should visit one of the following seven restaurants for their next dining experience.
Whether you live in the downtown condos of Minneapolis or the sprawling luxury homes in the suburbs, here are some of the best and most iconic restaurants in Minneapolis that bring all of the city's denizens together.
Murray's
Popular Dishes at Murray's
Silver Butter Knife Steak
Chateaubriand Steak
Tournedos Oscar
Australian Lobster Tail
For a steakhouse that's steeped in tradition and has served multiple generations of locals, Murray's Restaurant is the place to go. The restaurant was started in 1946 by the current owner's parents, although the building in which Murray's can be found was built in the 1880s. In fact, it is said that the signs for Murray's are a downtown Minneapolis icon.
Murray's serves an array of classic American fare for lunch and dinner with drinks. Mid-day, diners can open with a classic French onion soup or a Caesar salad, then lean into a filet or New York strip with au gratin potatoes—or choose one of their famous sandwiches. Dinner options start with appetizers but center around signature or à la carte steaks, although there are chicken, pork, and fish entrées available, as well. Drink offerings range from wine available by the bottle or the glass to cocktail selections that reinterpret classics with modern flavors and spirits.
Lowry Hill Meats
Popular Dishes at Lowry Hill Meats
Peterson Beef Jerky
Driftless Provisions Salami
Nixta Tortillas
Country Style Ribs
Boneless Shoulder
Although Friday night dinner is an option as is event catering, Lowry Hill Meats prides itself as being "your neighborhood butcher shop." This is a lunch joint, where visitors can grab a sandwich and a beer (or wine).
Everything hinges upon their offerings of locally sourced and ethically raised meats, celebrating both the greater Minneapolis area while also reinforcing high-quality and high values. In fact, Lowry Hill Meats works directly with their farms in order to obtain their custom cuts and aged animal products, from beef, lamb, goat, pig, and poultry. Broth, stock, and fat can even be obtained straight from the butcher at this source.
While diners seem to rave about everything they try here, there is significant praise heaped on Lowry Hill Meats' breakfast sandwiches, burgers, and particularly on their brats, which rotate flavors on a weekly basis. As expected for any beloved dining establishment in the Midwest, any dishes containing cheese carry copious amounts of cheese—which only seems to score this place extra points with its patrons.
Victor's 1959 Café
Popular Dishes at Victor's 1959 Café
Bistec Criollo
Ropa Vieja Breakfast Special
Professor Stavrou Special
Black Bean Burger
Tostones Rellenos
Flan con Coco Rallado
The site of Victor's 1959 Café was originally a Shell gas station before being converted into a Dairy Queen. In 1981, this DQ was bought and turned into Rick's Ol'Time Café, which was open until being sold in 1999. This was when Victor's 1959 Café was born, proudly bringing authentic Cuban food to the Minneapolis area.
The vibe at Victor's is casual and bright, but this place is to be taken seriously; multiple visits from and appearances on Food Network shows only help confirm just how important of a member this café is to the greater Minneapolis food scene. Known best for its breakfast and brunch, Victor's is open every day and has options available for every meal.
Some of Victor's most famous dishes include the ropa vieja, or flank steak simmered in creole sauce; lechon asado, or pork slow-roasted with lime and garlic for hours; empanadas filled with beef, chicken, or cheese; bistec criollo, made of steak marinaded in lime and garlic served with egg, rice, onions, and peppers; sandwich cubano, with ham and pulled pork on Cuban bread; and tostones, or fried green plantains. Visitors can top it all off with a Cuban coffee for the ultimate authentic experience.
Wrecktangle Pizza
Popular Dishes at Wrecktangle Pizza
Earth, Wind, & Fire 2.0
Shreddatarian
Francy Pants
Sotalicious
Grandpa Pie
The pizzeria is new to the area, but the owners are not: Wrecktangle Pizza was opened in 2019 by two Minneapolis-born-and-raised brothers—one with a culinary background, and one without—who wanted to bring Detroit-style dish pizza to town. Diners can eat in, take their pizzas home to bake, or even work with Wrecktangle to set up private events and handle catering.
Local media attention has been good for Wrecktangle, with a steady stream of positive press coming through regularly. There are active talks to expand Wrecktangle Pizza's presence into a local food hall. Local publications consistently rank Wrecktangle as a Twin Cities favorite and have even requested its presence at the Minnesota State Fair.
The Shredder pizza might be the most popular dish here: a rectangular pizza with red sauce, pepperoni, pickled chilies, honey, and locally produced Cry Baby Cry hot sauce. The Sotalicious is another favorite, with beef, tater tots, cheddar jack, poblano crema, chives, and a pickle.
Hai Hai
Popular Dishes at Hai Hai
Hanoi Sticky Rice
Balinese Chicken Thigh
Beef Rendang
Khao Soi Noodle Soup
Vietnamese Crepes
For a taste of Southeast Asia in the Twin Cities, Hai Hai is the place to go. Open every day but Monday, Hai Hai serves dinner and tiki-inspired cocktails with distinctive flavor profiles, combining traditional Vietnamese dishes with contemporary design elements. "Hai hai" means "two two," alluding to the restaurant's building, which used to house the 22nd Avenue Station dive bar.
Hai Hai's Christina Nguyen was a James Beard finalist for Best Chef in 2019 and 2020, and a semifinalist in 2018. This restaurant has also received high praise from many popular publications ranging from Esquire to Thrillist, all of whom laud it as one of the best new restaurants in America.
Pork on this menu is enhanced by the presence of Balinese aromatics like turmeric, lemongrass, coconut, lime, and chilies, but every dish on this menu comes celebrated by someone. Even the salads are remarkable, from the spicy green papaya through the refreshing blend of banana blossoms, peanuts, and grapefruit.
Chimborazo
Popular Dishes at Chimborazo
Churrasco
Saltado
Seco de Carne
Hornado con Papas
Llapingachos con Chorizo
Milanesa de Pollo
Address: Chimborazo, 2851 Central Ave NE, Minneapolis, MN 55418
For traditional Ecuadorian or Andean fare, Chimborazo is a must-eat restaurant. Its owner and chef, Marcos Pinguil, came to America from Ecuador as an adult; but when he was young, he learned to cook in the traditional styles. He decided to open Chimborazo, named for a volcano that symbolizes a paternal spirit, to celebrate Quechan cuisine; even the textiles and music in the restaurant reflect the traditions of Andean peoples.
Chimborazo is open every day for breakfast, lunch, and dinner. The beef soltado is one of the most popular dishes, with beef strips marinaded in vinegar and then stir-fried with onions, tomatoes, and potatoes before being served over rice. llapingachos are another popular order; these Ecuadorian potato or yucca patties are stuffed with cheese and browned on a griddle, then served with a peanut sauce alongside fried eggs and assorted vegetables. Many people order them with roast pork for an added layer of indulgence. Chimborazo's beef empanadas are another source of praise, celebrated as little pockets of beef stew goodness. Freshly made limeade is available for a sweet, refreshing kick alongside every meal.
Visit Chimborazo Today
Address: Chimborazo, 2851 Central Ave NE, Minneapolis, MN 55418
Hours:
Monday: 11 a.m.–3 p.m., 5 p.m.–10 p.m.
Tuesday: 11 a.m.–3 p.m., 5 p.m.–10 p.m.
Wednesday: 11 a.m.–3 p.m., 5 p.m.–10 p.m.
Thursday: 11 a.m.–3 p.m., 5 p.m.–10 p.m.
Friday: 11 a.m.–11 p.m.
Saturday: 8 a.m.–9 p.m.
Sunday: 8 a.m.–9 p.m.
Matt's Bar and Grill
Popular Dishes at Matt's Bar and Grill
Jucy Lucy
Double Cheeseburger
CHicken Sandwich
Iron Horse Root Beer
Address: Matt's Bar and Grill, 3500 Cedar Ave, Minneapolis, MN 55407
Calling itself a Minneapolis landmark, Matt's Bar and Grill opened in 1954 as a neighborhood burger joint that celebrated local comforts and delicious eats. Through today, Matt's has received love and attention from major media, ranging from the Travel Channel through the New York Times.
No dish at Matt's is more famous than its Jucy Lucy. As legend has it, shortly after opening, a customer came into the grill and asked for a burger with two patties and a slice of cheese between them. As he took his first bite into this magical burger creation, he is said to have screamed, "that's one Juicy Lucy!" From there, the rest is history—and the "i" gets forgotten. The Jucy Lucy lives on, the central mainstay of Matt's simple menu.
Visit Chimborazo Today
Address: Chimborazo, 2851 Central Ave NE, Minneapolis, MN 55418
Hours:
Monday: 11 a.m.–3 p.m., 5 p.m.–10 p.m.
Tuesday: 11 a.m.–3 p.m., 5 p.m.–10 p.m.
Wednesday: 11 a.m.–3 p.m., 5 p.m.–10 p.m.
Thursday: 11 a.m.–3 p.m., 5 p.m.–10 p.m.
Friday: 11 a.m.–11 p.m.
Saturday: 8 a.m.–9 p.m.
Sunday: 8 a.m.–9 p.m.
Café and Bar Lurcat
Popular Dishes at Café and Bar Lurcat
Hamachi Carpaccio
Octopus Tonnato
Miso Black Cod
Sea Scallops
Orecchiette
Korean Barbecue Salmon
Address: Café and Bar Lurcat, 1624 Harmon Pl, Minneapolis, MN 55403
Upscale American dining near the Walker Art Museum adjacent to downtown Minneapolis does not get better than a reservation at Lurcat. Part of the lauded D'Amico family of restaurants located throughout the Twin Cities, Lurcat is celebrated for its assortment of over 200 wines with thirty that are available by the glass. This café and bar has even received awards from the likes of Wine Enthusiast alongside praise as an essential spot for any Twin Cities foodie to check out. It has a high-end ambiance and calls for getting dressed up.
Some of Café and Bar Lurcat's staple dishes include the miso sea bass, tender with a good finishing sear and a buttery flavor, and the apple cheese salad with chives sprinkled throughout. Much of the menu rotates out regularly to accommodate the seasonal availability of various ingredients and keep things fresh. Desserts are on constant rotation as well as cocktails, although wine pairing assistance is available as part of routine table service.
Enjoy the Most Iconic Restaurants in Minneapolis
Between celebrating its history through getting amped for its future, there is plenty of positivity and growth to derive from Minneapolis' food landscape—and beyond. This survey of iconic restaurants only covers a tiny subset of things to do in Minneapolis, but it does highlight the diversity and vivacious spirit being cultivated in the area. The influx of new Minneapolis residents is further enhancing the city's power as a creative center.
If Minneapolis is the city for you, contact Kris Lindahl Real Estate at 1-(855) 967-7653 to get in touch with a local real estate agent who can help you find your dream home today.