St Paul Suburbs: Best 8 Towns Near Saint Paul [2022]
Posted by Kris Lindahl on Thursday, January 20, 2022 at 1:55:23 AM
By Kris Lindahl / January 20, 2022
Comment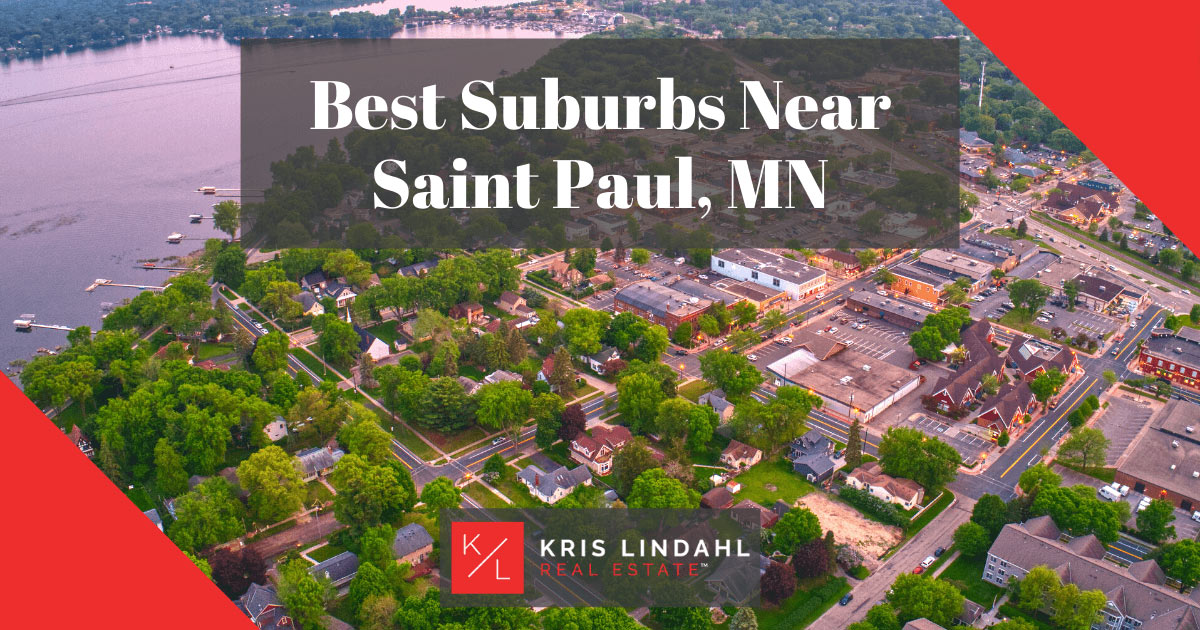 No two suburbs of the Saint Paul community are quite alike. Prospective homebuyers looking for proximity to the city should consider the array of Saint Paul suburbs filled with friendly folks and convenient amenities. For those looking to move to the Saint Paul area, it's essential to take the time to research and determine the Saint Paul suburb that best meets their individual needs. Keep reading to discover some of the best suburbs Saint Paul offers.
Mendota Heights
Mendota Heights Amenities
The Copperfield
Somerset Country Club
The Village Market
Aldi
Caribou Coffee
Mendota Heights is in Dakota County, southeast of downtown Saint Paul. With a modest population of just over 11,000 residents spread across ten miles, Mendota Heights maintains a community feel without being crowded. The city is conveniently located, with four main routes running along its borders: interstate highways 494 and 35E and Minnesota state highways 62 and 55. Minnesota's Metro Transit bus lines 436 and 446 serve the city.
A wide range of home prices can be found in the area, catering to various budgets. Mendota Heights properties typically start at $200,000 and can be as much as $2 million. However, most properties sell for between approximately $250,000 and $500,000.
Most homes in the area have recently been updated. These properties often contain new kitchens and top-of-the-line appliances. Backyards are well-maintained and perfect for relaxing and entertaining during gorgeous Minnesota summers.
The city is located on the east bank of the Mississippi River, providing breathtaking waterfront views. Popular parks in Mendota Heights include Valley Park, Fort Snelling State Park, and Friendly Marsh Park.
Eagan
Eagan Amenities
The Shoppes of Cedar Grove
Mason Jar Kitchen
Cascade Bay Water Park
Sam's Club
Doolittles Woodfire Grill
Located on the south bank of the Minnesota River, the city of Eagan is south of Saint Paul. Eagan boasts a sizable population of close to 70,000 residents, making it the twelfth largest city in Minnesota.
Most Eagan residents have in common the importance they place on the conservation of their beautiful environment. The Eagan Core Greenway project focuses on preserving Eagan green spaces. The two main focuses of the project are Patrick Eagan Park and Lebanon Hills Regional Park and the two-mile greenway that connects the two.
Eagan is a paradise for commuters. With six major roads running through or bordering the city, commuters can easily travel into the Saint Paul-Minneapolis metropolitan area. Interstate Highway 35E and Minnesota highways 13, 55, 77, and 149 run through the city, while Interstate Highway 494 is a border.
Prices for a single-family home in the area typically hover between $250,000 and $500,000. Most properties boast two stories, updated kitchens, expansive living areas, and tons of natural light. Properties typically offer prospective buyers at least three bedrooms and 1,500 square feet of living space or more.
Woodbury
Woodbury Amenities
The Tavern Grill
Andiamo Italian Ristorante
Cravings Wine Bar & Grille
Oak Marsh Golf Course
Jerry's Foods
Kowalski's Market
The Woodbury community is located east of Saint Paul in Washington County. The city is a part of the Saint Paul-Minneapolis metropolitan area and is the ninth most populous city in the state. Over 75,000 residents, spread across more than 35 miles, call this city home.
With so many residents, there's always something going on in Woodbury. The city has retail opportunities, including kitschy gift shops, fashion boutiques, and specialty stores. Some of the most popular stops to spend a day window shopping include Patina and Woodbury Village.
Prospective residents looking to buy a home in Woodbury can expect to pay at least approximately $400,000 for a single-family property. Prices here typically drop off around $800,000. Most properties have at least 2,000 square feet, three or more bedrooms, and multiple bathrooms. Homes include sought-after features like open floor plans, recessed lighting, and updated appliances.
Townhomes are also a popular option in Woodbury. Prices for units near the downtown area typically range between $200,000 and $350,000. Most properties offer private entrances, and homeowner's association fees usually range between $150 and $300 per month. HOA fees cover expenses like lawn care, snow removal, and other standard maintenance and utility fees.
Lake Elmo
Lake Elmo Amenities
Hagberg's Country Market
Spize Bazaar
No Neck Tony's
Twin Point Tavern
Machine Shed Restaurant
With a population of under 10,000 spread across almost 25 square miles, the city of Lake Elmo in Washington County manages to maintain a rural vibe. Wide-open spaces and rolling farmlands take up much of the land here, making it a convenient but close-knit environment.
While the city is just a short drive from downtown Saint Paul, there's plenty to do within Lake Elmo as well. Lake Elmo Inn, for example, offers fine dining in a rich, mahogany-laden setting. Down the road, Gorman's Restaurant provides delicious American dishes, including all-day breakfast.
Several major roads run through the city despite Lake Elmo's country feel. Minnesota State Highway 36 borders Lake Elmo to the north, and Interstate 94 runs east to west along the city's southern border. Metro Transit's bus line 294 serves the city's residents, and the local bus stop is Stillwater Blvd & Lake Elmo Ave.
Homes in Lake Elmo usually start at $500,000 and can be as much as $1 million. With all the land in Lake Elmo, most properties sit on sprawling lots with substantial frontage and expansive backyards.
White Bear Lake
White Bear Lake Amenities
Maplewood Mall
Anchor Coffee House
Washington Square Bar & Grill
Acqua Restaurant & Bar
A former resort town, White Bear Lake is located in both Ramsey County and Washington County. The city gets its name from nearby White Bear Lake, one of the largest lakes in Minnesota. With less than 25,000 people, this small city offers proximity to nearby Saint Paul.
In addition to an appreciation for the area's picturesque scenery, the residents of White Bear Lake also share a love of the arts. Within the city's less than ten square miles, several centers are for performers and creators, including White Bear Center for the Arts and Lakeshore Players Community Theater.
The major routes running through White Bear Lake give the city its central location. U.S. Highway 61, Ramsey County Highway 96, and Minnesota State Highway 96 run through the city. White Bear Lake is served by Metro Transit's bus route 270.
There are various homes for sale in White Bear Lake, with most properties typically ranging between $400,000 and $1 million. Many properties are conveniently located within walking distance of local restaurants and various shopping and entertainment opportunities.
Falcon Heights
Falcon Heights Amenities
Le Bolstad Golf Course
Minnesota State Fairgrounds
Gibbs Museum of Pioneer and Dakotah Life
Falcon Heights Community Park
Curtiss Field
Steichen's Market
This suburb of Saint Paul is located in Ramsey County and covers just over two square miles. Despite Falcon Heights' diminutive size, the city is home to over 5,000 residents who appreciate the area's unique and modern atmosphere.
The Falcon Heights community is northeast of downtown Saint Paul. Residents who frequently travel into the city can jump on Minnesota Highway 51, also known as Summit Avenue. Commuters can also catch the 61 bus route at Snelling & Larpenteur Station.
Both single-family and attached properties are available in Falcon Heights. Single-family homes vary significantly in price, with some selling for approximately $300,000 and others priced up to $5,000,000. However, the vast majority of properties are typically less than $500,000 and boast three to four bedrooms, two or more bathrooms, and 2,000 square feet of living space or more.
Most Falcon Heights condominiums and townhome units are located in brownstone buildings that offer libraries, function rooms, fitness centers, and heated garages. Units typically sell for between $150,000 and $300,000.
Despite the city's small size, its nightlife packs a punch. Some popular spots for locals to stop by and grab a drink include Stout's Pub & Grill, Coasters, and the ever-popular O'Shaughnessy Distilling.
Burnsville
Burnsville Amenities
Minnesota Valley National Wildlife Refuge
Grande Market Square
Crystal Lake
Burnsville Athletic Club
Chianti Grill
Giuseppe's Restaurant
The Burnsville suburb of Saint Paul is 15 miles south of downtown Minneapolis. This gorgeous city sits on the south bank of the Minnesota River, providing nearly 65,000 residents with breathtaking views.
The downtown area of Burnsville is affectionately nicknamed Heart of the City. In addition to the trendy retail shops and cafes, there are also several community hubs for art and culture lovers. The Ames Performing Arts Center boasts an art gallery and two theaters, and The Garage is a nonprofit music club that hosts local, regional, and international music acts.
Despite all that the city has to offer, the area still manages to remain relatively affordable. Single-family homes usually sell in the $200,000s and $550,000s and boast between 2,000 and 3,000 square feet of living space. They offer prospective buyers sought-after features like hardwood floors, fireplaces, and lots of natural light.
The Burnsville Transit Station is the headquarters of the Minnesota Valley Transit Authority. This transportation system provides bus service to Burnsville and five other nearby suburbs. Interstate Highways 35W and 35E both run through the city.
Apple Valley
Apple Valley Amenities
Apple Valley Freedom Days
Apple Valley Winter Carnival
Minnesota Zoo
The Grind Coffee House
Rascal's Bar & Grill
Apple Valley is a Saint Paul suburb and boasts a sizable population of close to 60,000 residents. Despite its size, the area somehow remains a peaceful and relaxing respite for residents. It was named in the Top 20 Places to Live in the United States by Money Magazine.
Several major routes are located in Apple Valley, including Interstate Highway 35E, Cedar Avenue, County Road 42, and Highway 77. The city also has Apple Valley Transit Station, a stop on Minnesota Valley Transit Authority's commuter buses that run Monday through Friday.
Apple Valley homes cater to a wide range of budgets and typically fall between $200,000 and $600,000 for a single-family property. Properties usually offer at least two bedrooms, one full bathroom, and 1,500 square feet of living space or more. Luxury homes in Apple Valley offer sought-after amenities, including formal dining areas.
There is no shortage of eateries in Apple Valley, and breakfast is one of the best meals in town. There are numerous diners, including Valley Diner, IHOP, and Perkins Restaurant & Bakery.
Call One of These Saint Paul Suburbs Your Next Home
There is no shortage of Saint Paul suburbs to choose from. Each offers a unique atmosphere, ideal location, and convenient amenities. For those considering moving to the area, it's essential to determine which Saint Paul suburb is the right choice. With so many options, there is sure to be a Saint Paul suburb perfectly suited to every prospective homebuyer.
If Saint Paul is the city for you, contact Kris Lindahl Real Estate at 1-(855) 967-7653 to get in touch with a local real estate agent who can help you find your dream home today.