Driving in Saint Paul: Interstate 94 Traffic & Commute Times
Posted by Kris Lindahl on Thursday, December 9, 2021 at 9:40:52 PM
By Kris Lindahl / December 9, 2021
Comment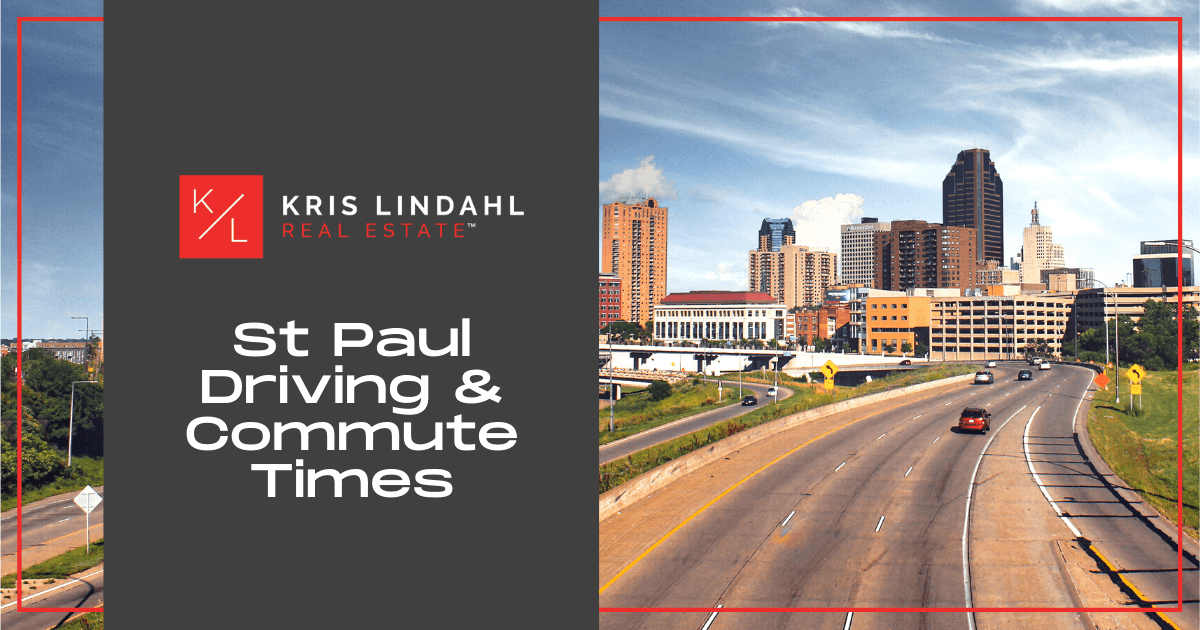 Set by the banks of the Mississippi River, the city of Saint Paul is among the most pleasant places to reside in Minnesota. The city is rich in job opportunities, beautiful neighborhoods with modern condos and townhomes, affordable living, and magnificent landscapes.
St. Paul is also a sprawling metropolis, stretching between 17 planned districts. This can make it pretty tricky to navigate, especially for visitors and new residents moving to St. Paul. Read on for a guide covering driving and commute times in Saint Paul to make navigating this half of the Twin Cities safer and more efficient.
Get to Know Your Major Roads
Saint Paul has about 869 miles of Roadways, including 82 miles of country roads and 25 miles of the department of transport highways. The U.S. Highway 52, Minnesota Highway 62, and Robert Street are the main roadways connecting the area to and from the city of Minneapolis, nearby suburbs, and other towns.
Other major routes include Minnesota's Highway 3, which runs through the city, directly connecting most St. Paul suburbs to the downtown neighborhood. In addition, Highway 52 gives seamless access to St. Paul Downtown Airport and connects with Highway 55 at Concord Boulevard, allowing residents from the Inver Grove suburb to commute to Minneapolis easily.
What to Expect When Driving at Different Times of the Day
As the laid-back version of the two twin cities, St. Paul has a relatively easy commute. However, many people living in St. Paul commute to Minneapolis for work every day, meaning traffic on routes connecting the two cities, such as routes 1-694 and 1-35W, can get quite heavy traffic, especially during the rush hours.
Try to leave the house earlier as the morning rush is usually the hardest, particularly between 7.30 a.m. and 8.30 a.m. Drivers might want to leave work a little early too or wait until later since the evening rush hour in St. Paul kicks off as early as 4 p.m. and worsens between 5 p.m. and 5:30 p.m. Driving around during the day is relatively seamless as most of the traffic has eased.
Also, although traffic can get pretty thick during the rush hour, St. Paul has one of the shortest and least stressful commutes in the country. A survey by the United States Census Bureau ranked St. Paul among the easier metro areas to navigate with an average commute of 25.5 minutes. About 68% of St. Paul residents get around in private cars, while only around 9% use public transit. This is to be expected, considering most St. Paul residents commute to Minneapolis every day. The remaining percentage of residents either carpool, cycle, or work from home. Besides Minneapolis, many St. Paul residents also commute to Landfall, Maplewood, the West St. Paul community, and the Falcon Heights community each day.
Parking in Saint Paul, Minnesota
There's plenty of free and paid parking in St. Paul for residents, tourists, and overnight visitors. In some neighborhoods, street parking requires permits, and vehicles without one can be ticketed or towed. Most private parking lots, such as the Keefe Co. Parking lot on 10th street, offer hourly to 24-hour parking with daily rates generally ranging between $5 for up to 12 hours of parking and $8 for overnight parking.
New residents and tourists visiting Saint Paul can easily find and reserve parking spaces via a mobile pay app known as Passport Parking, available for Android and iOS smartphones. When parking on the streets, motorists are expected to leave their car at least 30 feet from stop signs, traffic lights, or intersections, 20 feet from marked and unmarked crosswalks, 10 feet from fire hydrants, and 5 feet from driveways.
During winter, street and alley parking is prohibited between 1 a.m. and 7 a.m. to allow plowing, and parking is also disallowed on spaces with two or more inches of snow.
Commute Times from Suburbs to Downtown
St. Paul is famously known as the city of neighborhoods for its uniquely diverse residential suburbs. Many of the suburbs, including North Oaks, Arden Hills Woodbury, and Burnsville, boast stunning luxury homes and are within a driving distance from the St. Paul downtown area. Commute times to and from the suburbs typically range between 16 and 45 minutes. Here are more details on how long it takes to commute from each:
North Oaks
North Oaks is a beautiful suburb just 10 miles northeast of St. Paul. The suburb is home to about 5,000 residents and is a close-knit community characterized by stunning homes and a beautiful natural environment typical of Lake Pleasant. All land in North Oaks is homeowner-owned and managed by the North Oaks Home Owners Association.
The suburb covers 8.63 square miles and is easily accessible from St. Paul via route 1-35e-S or E Oaks Rd to 1-35E-S. At 10.8 miles, route 1-35E-S is about two miles shorter and one minute faster than the latter. Also note, both routes have restricted usage, while those within the suburb are private and restricted to North Oaks residents and their guests.
Woodbury
With a total area of about 35.63 square miles, Woodbury is one of the largest cities in the Washington County area and a suburb of the greater twin cities metropolis. Over 75,000 people live in Woodbury homes, enjoying access to beautiful parks and diverse housing architecture.
The suburb sits along Interstate 94 and is a 14-minute drive from St. Paul downtown via route 1.94W. Drivers can also take Century Ave S before connecting to 1-94 or go via US-10 W/US-61N, 17 minutes. Manning Avenue bounds it to the east, 60th Street South to the south, and besides St. Paul, it is near towns like Maplewood and the Oakdale community.
Mendota Heights
Mendota Heights is a dense suburb south of St. Paul, covering only 10.12 square miles. Mendota has an estimated population of around 11,750 residents and has three central neighborhoods. Like most Saint Paul, Minnesota suburbs, homes in Mendota Heights are also strategically located and easily accessible via Interstate Highway 35E, Interstate 494, and Highways 55 and 62. At 11 minutes, route 1-35E N through 1.35E S is the fastest route from Mendota Heights to St. Paul, followed by route 1-35E N through Shepherd road for a 15-minute drive.
Rosemount
Rosemount is a rapidly growing residential suburb about 20 miles from downtown Saint Paul. It's a close-knit community for about 25,650 people and covers 35.21 square miles. Rosemount is also home to about 23 beautiful parks and has many recreational opportunities, including an ice arena. To get to Rosemount homes from St. Paul, head southeast and continue on 1.94 E until exit 242 D. Merge onto US-52 S and then exit on route 42 towards Rosemount and continue until 145th St W. This is the fastest route at about 21 minutes. Alternatives include Route US-52 S via MN -3 S/S Robert Trail or the same route via MN-149 S and MN-3 Robert Trail.
Maplewood
Maplewood homes comprise a first-ring suburb of Saint Paul, meaning it's among the closest areas to this twin city. It has an estimated population of around 38,100 and is an economically thriving community thanks to companies like 3M Corporation and the St. John Hospital. Maplewood is a 10-minute drive to St. Paul via route 1-94, but one can also use route 1-94 via Payne Avenue, another short drive at 13 minutes. As with most areas near St. Paul, traffic is typically heaviest in the morning between 7 a.m. and 8 a.m. and in the evening between 4 p.m. and 6 p.m., but it is generally manageable during the day.
Lake Elmo
Lake Elmo is a small suburb with rural-urban vibes. It is named after the nearby lake and mainly comprises farmlands. The area is home to about 8,000 people but is one of the fastest-growing suburbs in St. Paul. Lake Elmo real estate sits on 24.36 square miles of land and is bordered by the Minnesota State Highway along the north and Interstate 95 along the lake's southern boundary. The easiest, most direct route to Lake Elmo is County Highway 14 or, if coming from the north, Highway 17. Lake Elmo is a 20-minute drive to St. Paul via 1-694N and 1-35 E S, and 19 minutes using the 1-94 W route.
Eagan
Eagan is one of the largest cities in Dakota County and one of the most beautiful suburbs of Saint Paul. It is about 20 minutes south of Saint Paul and is set by the banks of the Minnesota River. Thanks to the prime location, Eagan real estate boasts picturesque landscapes characterized by lakes, wetlands, and ponds.
It's home to about 67,000 people and can be easily accessed via Interstate Highways 35E and 494, Highways 13, 55, 77, and 149. Take route 135-E N through exit 107A from Eagan to St. Paul when in a hurry or via Shepard RD when not.
Burnsville
Fondly nicknamed "South of the River" for its strategic location by the southern banks of the Minnesota River, Burnsville is a city in Dakota County and one of St. Paul's laid-back suburbs. The area has a population of about 64,300 and is part of the Minneapolis—Saint Paul metropolis.
Burnsville homes are located approximately 15 miles from Saint Paul and can be accessed via multiple routes, including Interstate Highway 35 E, Minnesota Highway 31, and County Road 42. The average commute to and from Burnsville takes about 23 minutes, with traffic being heavy at rush hour (6:45–8 a.m., 4:30–5:30 p.m.).
Cottage Grove
Cottage Grove is also among St. Paul's suburbs that form the Minneapolis-Saint Paul sprawling metropolis. Homes in Cottage Grove are set by the northern bank of the Mississippi River, just a few miles from its confluence with the St. Croix River. Its incredible natural beauty can be attributed to the fact that it has quite a bit of land near the Mississippi River. The primary roadways to Cottage Grove include U.S. Highway 61 and Interstate 494. It is located about 15.6 miles southeast of Saint Paul, and it'll take about 16 minutes to get there from Saint Paul via US-10 E/US-61S.
Arden Hills
Arden Hills is a hilly St. Paul suburb and a city in Minnesota's Ramsey County. The city is only 13 minutes away from St. Paul and can be best accessed via 1-35E S. One can also take Snelling Avenue from Arden Hills and use Exit 107A to get to Saint Paul via 1-35E S. At 14.1 miles, MN-36 E is the longest route from Arden Hills to Saint Paul, but it's also one of the least congested during rush hour. The area is mainly serviced by Interstate Highways 35W and 694 and U.S. Highway 10. Arden Hills real estate is characterized by top-rated academic institutions, thriving businesses, gated communities, and new home construction.
Other Helpful Things to Know
Like most cities in Minnesota, St. Paul also has strict road traffic rules. For instance, over-speeding motorists lose their right of way, and one can be stopped for not wearing the seat belt correctly. It's also illegal for road users to throw litter from car windows, and headlights must always be on when there's fog or snow.
Driving in St. Paul can be a particularly challenging endeavor during winter as the roads are snow-laden and slippery, and the weather is chilly and foggy. Therefore, drive slowly, clean the windshield, windows, and mirrors thoroughly, and always ensure there's room to stop. Also, turn off cruise control when driving in St. Paul during winter, as it can potentially cause loss of vehicle control.
Enjoy Navigating Saint Paul, Minnesota
St. Paul is a beautiful, developed city with 17 planned districts and posh neighborhoods dotted with home architecture ranging from condos and townhomes to waterfront home communities. The easiest way to explore what it offers is by driving around, and with the guide above, driving and commuting in Saint Paul will be a tad easier even for new residents. Don't want to drive? Check out our guide to St. Paul's public transportation options.
If Saint Paul is the city for you, contact Kris Lindahl Real Estate at 1-(855) 967-7653 to get in touch with a local real estate agent who can help you find your dream home today.