10 Reasons to Love Living in Rochester, MN: Local Tips For Moving to Rochester
Posted by Kris Lindahl on Wednesday, August 2, 2023 at 3:41:48 PM
By Kris Lindahl / August 2, 2023
Comment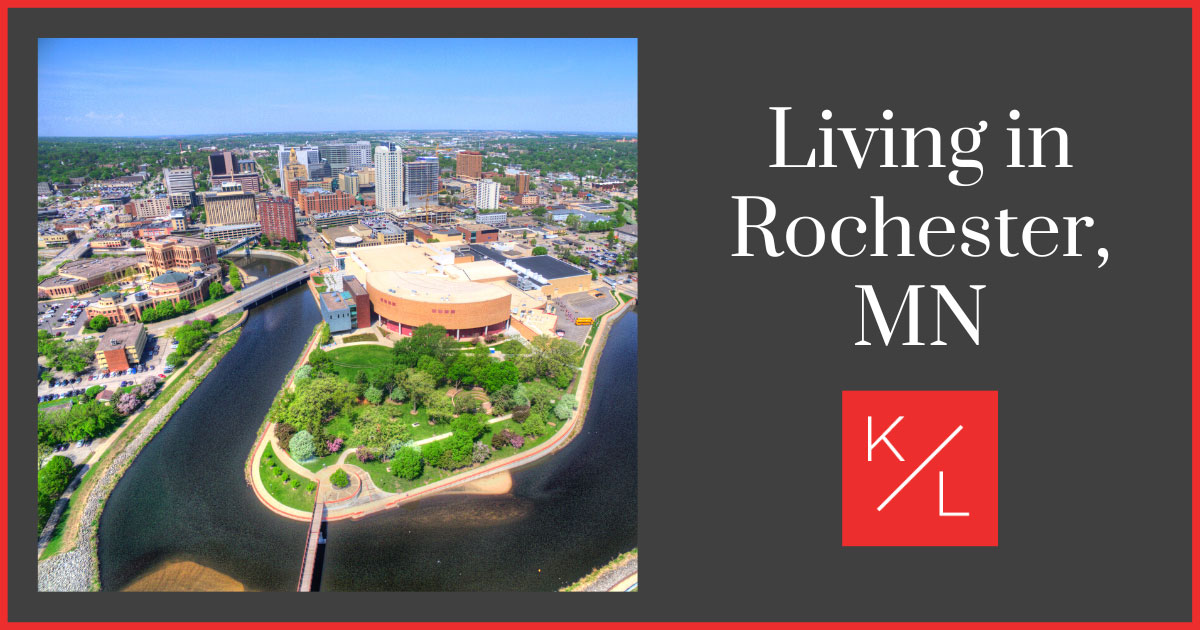 Located in the southeastern corner of Minnesota, 80 miles southeast of
downtown St. Paul
, the city of Rochester stands as a vibrant, rapidly developing community with an engaging blend of urban amenities and midwestern charm. Why is Rochester such a great place to live? The renowned Mayo Clinic fuels its robust economy, the real estate market presents many attractive options, and there's always something fun to do indoors and out. If you're moving to Rochester, get ready to enjoy the best of city living combined with the tranquility of a smaller town—not to mention some of the most beautiful
homes in Olmstead County
.
10 Reasons to Love Living in Rochester
World-class Healthcare: Rochester is home to the Mayo Clinic, a globally renowned healthcare institution, providing residents with top-tier care and many careers.
The Great Outdoors: Rochester offers hundreds of parks, trails, and outdoor recreational activities, including Silver Lake Park, Quarry Hill Nature Center, and the Zumbro River.
Strong Economy: The presence of the Mayo Clinic and other large employers provides a robust economy with numerous job opportunities in healthcare, education, and other sectors.
Affordable Cost of Living: Despite its many amenities, the cost of living in Rochester is lower compared to many other American cities of its size.
Cultural Richness: With many museums, theaters, and cultural festivals, there's always something to pique your interest in Rochester.
Delightful Downtown: Downtown Rochester offers shopping destinations, restaurants, cultural venues, and architectural landmarks.
Root for the Home Team: The city has numerous sports teams, including the Rochester Honkers and Rochester FC Minnesota.
Neighborhoods You Can Call Home: From charming townhouses to sprawling luxury homes, Rochester's best neighborhoods make it fun to shop for a new home.
Well-Connected: Residents are just a one-hour drive from amenities in the Minneapolis-St. Paul Area.
Four Beautiful Seasons: Enjoy warm summer days, snow-laden winter scenery, crisp autumn leaves, and vibrant spring flowers.
The Rochester Lifestyle
The population of Rochester is about 120,000 people, which classifies it as a mid-sized city. Being a mid-sized city comes with many perks that make it easy to love living in Rochester. Many people enjoy a sense of balance when living here. The bustling downtown provides a central hub for work and play that doesn't get overly congested. The ample natural beauty keeps residents in touch with nature without taking them too far from the city.
The cost of living in Rochester is significantly below the national average, which bolsters the city's comfortable, balanced lifestyle. In comparison, the cost of living in Minneapolis is measurably higher than the national average.
Meanwhile, the presence of the Mayo Clinic provides more than just jobs; it builds a wellness-oriented culture by offering open-to-all consultation for fitness, nutrition, and more. The Mayo Clinic is also responsible for Rochester's "Med City" moniker. There are also plenty of fun things to do in Rochester. The city's burgeoning downtown invites residents to enjoy a delightful range of restaurants, shops, and museums. Weekends might be spent visiting local farmers' markets, engaging in outdoor activities like hiking or fishing, or enjoying a performance at a local theater. The fun-filled community calendar includes RochesterFest, a week-long festival celebrating all things Rochester with exciting events for all ages.
Types of Homes in Rochester
The real estate market in Rochester provides exceptional value for homebuyers, with average housing prices that are lower than the U.S. average. This favorable pricing allows individuals and families to secure more homes for their dollar, making the prospect of ownership even more attainable.
The majority of homes for sale in Rochester range from $300,000–$600,000, offering a wide variety of options that suit diverse needs and preferences.
For those searching for luxury living, the city's most expensive neighborhoods feature homes priced from $1–$2 million. These premier properties often sit on sprawling acreage and feature new construction, elegant architectural design, and luxurious amenities such as private swimming pools. All these factors combine to make Rochester's real estate market a rewarding investment, promising comfort, quality, and value.
Rochester Amenities
Rochester is filled with community amenities designed to enhance your everyday life. The city's infrastructure includes efficient public transportation and convenient commutes. Regular community events, from music festivals to farmers' markets, foster a strong sense of community and contribute to Rochester's vibrant, welcoming atmosphere.
Community Services
Public transportation in Rochester
is comprehensive and convenient, providing efficient connectivity across the city with a total of 32 routes. The fare system is reasonably priced, with adult fares at $2 per single ride and children's fares at $1 per single ride. Tickets and monthly passes can be purchased at Cub Foods, Hy-Vee, the City Clerk's Office, and Eagle Drug on 2nd Street. The Rochester Public Library is an essential pillar of the community, providing a comprehensive collection of books and digital resources. It also hosts a range of services that support lifelong learning and community engagement, including free Wi-Fi and computer access, educational workshops, children's story times, and author events.
Shopping in Rochester
The city's premier retail destination, Apache Mall, is one of the largest shopping centers in the area, featuring a broad mix of department stores, popular brand outlets, dining options, and entertainment facilities. And don't forget that one of the
best places to shop in Minneapolis
and the most famous mall in the world—the Mall of America—is just 80 miles away! For those seeking unique finds, Third Street is the place to visit with its charming independent boutiques offering locally crafted goods, clothing, and home decor.
When it comes to grocery shopping, Hy-Vee is the most common chain in the city, though other options like Trader Joe's and People's Food Co-Op sell organic and specialty foods.
This diverse retail landscape makes shopping in Rochester an enjoyable and satisfying experience.
Things to Do in Rochester
Fun is easy to find in every Rochester season. In the summer, check out RochesterFest, the Olmstead County Fair, or the outdoor market and music festival that happens every Thursday during the summer months. Colder months open the door for cross-country skiing and scenic trail hikes, while springtime means perfect conditions for outdoor dining.
Outdoor Activities in Rochester
With over 85 miles of trails crisscrossing the city, walking, jogging, and biking opportunities allow everyone to appreciate the city's scenic landscapes. The best parks in Rochester include Silver Lake Park, Essex Park, and Soldier's Memorial Field. Silver Lake Park offers picturesque lake views and boating facilities, while Essex Park is a haven for hikers with its diverse trails and woodland setting. Soldier's Memorial Field is beloved by kids of all ages for its epic wooden castle play structure and mini cornfield maze. Just over an hour northwest of Rochester, residents can enjoy the plentiful
things to do in Minneapolis
and St. Paul.
Restaurants, Breweries & Bars
Rochester's best restaurants cater to an array of taste preferences. Five West Kitchen + Bar stands out with its innovative dishes and lively atmosphere. Forager Brewery offers an exceptional selection of wood-fired pizza and classic pub fare complemented by its artisanal beers brewed onsite. Meanwhile, Pittsburgh Blue Steakhouse is the city's go-to for top-quality steaks and a wide selection of wines, perfect for a fine-dining experience. For a night out, you can choose from numerous bars and pubs. Kathy's Pub, located on S Broadway, boasts live music and a skyline-view patio, while the tap house has an impressive menu with more than 50 beers.
Nearby Attractions
In addition to all the fun things you can do in Rochester, you'll also love being a short drive away from the Twin Cities' countless attractions. The region boasts a rich arts and culture scene, with venues like the Walker Art Center, Guthrie Theater, and First Avenue music club. Sports fans can catch a game at Target Field, U.S. Bank Stadium, or Xcel Energy Center.
Outdoor enthusiasts will enjoy the area's numerous parks, the Mississippi River waterfront, and
Minneapolis' best water activities
, while foodies can explore various restaurants, breweries, and food markets. The Mall of America, located nearby in the
city of Bloomington
, offers world-class shopping and entertainment options. The Twin Cities offer attractions to suit every interest, whether arts, sports, nature, or food.
Employers Near Rochester
Rochester enjoys a robust economy bolstered by a diverse range of employers. The Mayo Clinic, an internationally renowned medical institution, is the city's largest employer, providing jobs for over 42,000 people and creating a vibrant regional healthcare industry.
IBM, a major player in the technology sector, supports the local tech scene with nearly 3,000 employees based in Rochester.
Additionally, the city's public sector provides significant employment opportunities. Rochester Public Schools, Olmsted County, and the City of Rochester are all significant employers offering roles in education, civil service, and local governance.
Schools in Rochester
Education in Rochester presents ample options for learners at all stages.
The Rochester Public Schools district primarily serves the city, operating 13 elementary schools, four middle schools, and three high schools.
Each school is dedicated to creating a supportive and inclusive learning environment that prepares students for success beyond the classroom. Holy Spirit School and Lourdes High School are two local choices for families considering private education. For higher education, The
University of Minnesota Rochester
offers a range of bachelor's and graduate programs, with a particular focus on health sciences. For those seeking a more vocational or associate degree pathway, the Rochester Community and Technical College provides various programs that cater to diverse academic and career goals.
Are You Ready to Live in Rochester?
There are many reasons to love living in Rochester. Whether you're drawn to its top-tier job opportunities, its diverse real estate market, or the promise of an engaging and fulfilling lifestyle, Rochester is ready to be your new home. Explore the best neighborhoods today and get ready to experience this Minnesota gem for yourself. #hw-pillar-cta-bottom-rochester#