Waterfront Investment: Max Returns For Luxury Lake Homes
Posted by Kris Lindahl on Monday, January 9, 2023 at 6:03:37 PM
By Kris Lindahl / January 9, 2023
Comment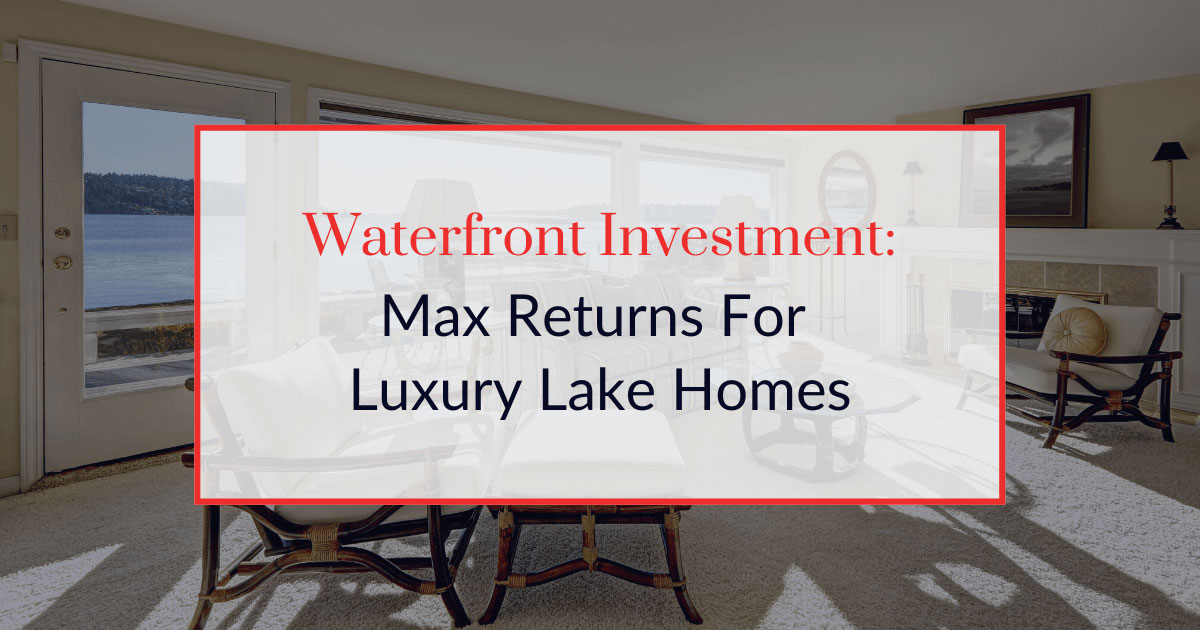 From activities like swimming and boating to beautiful views, lakefront living has something for everyone.
Waterfront property
tends to hold its value due to high demand, but there are ways to make the home even more enjoyable for you and for any future residents. If you're interested in maximizing ROI in your waterfront home, check out these strategies.
Look For an Outdoor Living Space With Great Water Views
Outside living spaces allow residents to enjoy the recreational and visual benefits of living near the water, whether that means watching the sunset from an outdoor couch or hosting a casual barbeque for friends. An outdoor living environment includes spaces for cooking, conversations, game playing, and water-based recreation. If there is an existing dock, consider the time and money required to maintain it. Your outdoor living design may consist of a gas-powered grill, weather-resistant furniture, firepits, a small putting green, a basketball court, or a hot tub to lounge in and watch the sunset.
Check if the Deed Comes With Water Access Rights
It is essential to understand water access rights when shopping for waterfront property. While the property may sit next to a body of water, it doesn't necessarily mean the homeowners have the right to access the water or the land beneath the water. These rights are known as riparian rights if the land is on a river or lake and littoral rights if it is an oceanfront property, and they vary by state and local regulations. Homeowners may also have rights to a body of water even if their home isn't right on the waterfront. For example, many communities and homeowner associations provide access to a private beach or boat landing for their residents. Properties may also have an easement to provide waterfront access to other residents. The homeowner may be responsible for maintaining the easement, but the town or association owns that small patch of land. Easements and waterfront rights are spelled out in the property deed, homeowner association master deed, or the rules and regulations.
Private Docks and Boat Slips Are In Demand
Depending on the community, there are often limits on the size of the dock, location, and type of dock. Regardless of size and type, docks do have their benefits—if a waterfront property contains a private dock, then a homeowner doesn't need to pay extra money for a public slip or mooring or join a yacht club. There are two types of docks: a stationary dock and a floating dock. Fixed docks are installed into the ground below the water and are sturdy, great to use for entertaining and outdoor living. Just remember that a stationary dock doesn't move with the water levels or tides. Water levels may rise or fall depending on seasonal rainfall, snowmelt, or the tides, so the dock may not be as convenient. On the other hand, floating docks float on top of the water and move up and down.
Buy a Waterfront Property in a Community with Extra Amenities
A waterfront community may include additional amenities to increase a home's value and make the owner's life more enjoyable. Many waterfront communities offer recreational amenities like clubhouses, swimming pools, and tennis courts, and water-related benefits like docks, marinas, and yacht clubs. The owners often share these amenities by paying a monthly homeowners association (HOA) fee. These monthly costs typically include sharing the costs for external maintenance, upkeep of recreational facilities, and security costs. Security costs are especially relevant if the community is also a gated one, which means it restricts public access and has 24/7 security.
Luxury Waterfront Homes Are a Lifelong Investment
It's difficult to go wrong when investing in a waterfront home. Not only do you have amazing access to the water—especially if you employ designs to maximize the water views—but you have the opportunity to make the home even better. Make the most of your property with these tips and ensure it's the waterfront home of your dreams.