Minneapolis Cost of Living Guide
Posted by Kris Lindahl on Saturday, September 12, 2020 at 3:28:42 AM
By Kris Lindahl / September 12, 2020
Comment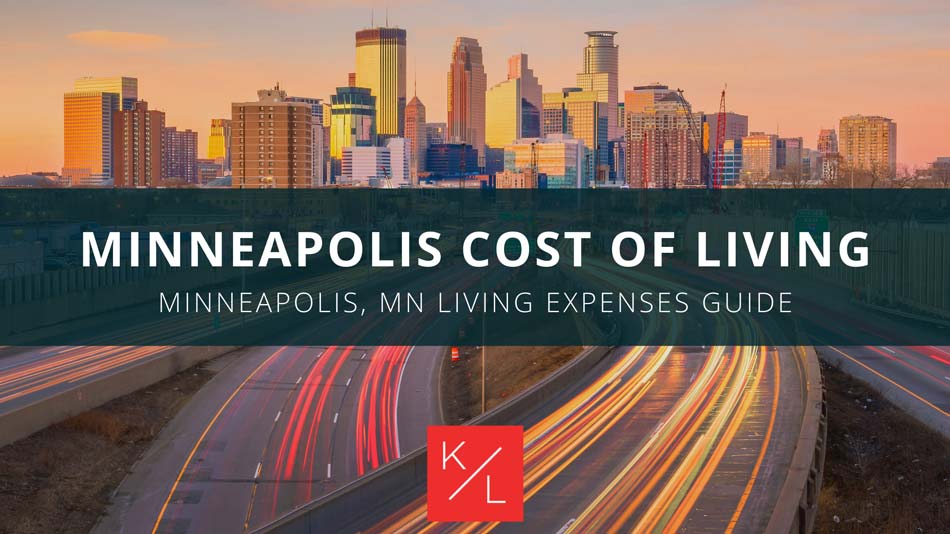 With a population of nearly 430,000, Minneapolis is Minnesota's largest and most populous city. Together with the adjacent city of St. Paul, it makes up the Twin Cities metro, home to about 3.64 million people, the third-largest economic and population center in the Midwest.
The Twin Cities is home to the fifth-highest concentration of major corporate headquarters in the country and is home base for five Fortune 500 corporations.
Set on both banks of the Mississippi River, Minneapolis is also home to 22 lakes. Minneapolis is known for its park system as well as its strong music and performing arts scenes. It is also frequently ranked as one of the best U.S. cities for bicycling.
Depending on the index used, the cost of living in Minneapolis is estimated to be between 5% and 15.1% higher than the national average, trending very close to that of Chicago. Minneapolis-area prices were up about 1.4% from a year ago, with the largest increases seen in transportation, food, and housing. Of the three, housing is the largest factor in Minneapolis' higher cost of living.
Minneapolis suburbs to the west of the metro area exhibit some of the highest costs of living, including the communities of Orono, Excelsior, Minnetonka Beach, Deephaven, Woodland, Wayzata, and Shorewood.
Curious what your expenses might look like when you move to Minneapolis? Read on for an analysis of Minneapolis' cost of living.
Minneapolis Housing Costs
Housing is the biggest contributor to Minneapolis' higher-than-average cost of living. The cost of housing index is 117.1, compared to Minnesota's overall average housing index of 101.9.
Minneapolis home values have increased by 3.3% in the past year, though marketing analysts are predicting they may take a slight dip before rebounding again around March 2021.
The current average sale price for a home in Minneapolis is $312,000, up 12.7% from a year ago.
Median Home Price
The price of homes in Minneapolis varies greatly, depending in large part on location. From the most expensive neighborhoods featuring luxury homes to the most affordable, the median home price for Minneapolis is approximately $290,000. This tracks very closely with the median price of $275,000 for homes across all of Minnesota. Home prices have seen a 3.3% increase in the past year.
In the Longfellow neighborhood, the current median home price is $399,000. The median home price for the Southwest neighborhood is $529,000, while the median price for the Uptown neighborhood is lower at $265,000. To the west of the city, the current median price of homes for sale in the suburb of Minnetonka is $625,000. The median price of homes in the Loring Park neighborhood near downtown Minneapolis is $275,000.
Housing Costs in Minneapolis
Median Rent
The average apartment for rent in Minneapolis is 786 square feet with an average rent of $1,588. A majority, 55%, of the households in Minneapolis are renter-occupied.
Cleveland, Folwell, McKinley, Victory, and Webber-Camden neighborhoods have the most affordable rents, averaging $840. The most expensive can be found in the Nicollet Island/East Bank neighborhood, where rents average $1,873.
The average rent for Minneapolis homes in Uptown, one of the city's most popular neighborhoods, is $1,572. The greatest increase in rents over the past year was in the suburb of Eden Prairie, which saw rents climb 7% to an average of $1,521.
The median rental price for all homes in Minneapolis is currently $1,700. For a three-bedroom or four-bedroom home, the median rent is about $2,000.
Utilities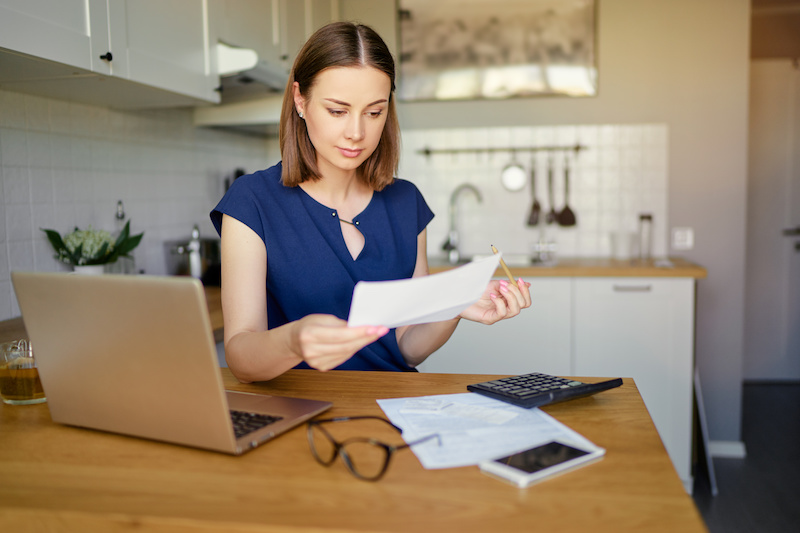 Minnesota ranks 43rd in the nation for cost of utilities. The average monthly cost of all utilities in Minnesota is $366.88. That breaks down to $97.58 for electricity, $53.91 for natural gas, $70.39 for water, $60 for Internet service, and $85 for cable.
The monthly cost of utilities for a 915-square-foot apartment in Minneapolis typically runs about $171, including electricity, heating, cooling, water, and garbage service.
The monthly cost of Internet service in Minneapolis is about $61, which is comparable to the state's average.
Most home insurance rates in Minnesota are above the national average. The primary reason is the state's winter weather and heavy snowfall. The average annual home insurance rate for Minneapolis is $1,689, the highest in the state. Minnesota's average home insurance rate is $1,481 per year.
Minnesota is one of the least-expensive states when it comes to renter's insurance, ranking behind only Wisconsin, South Dakota, and North Dakota. The average cost for renter's insurance in Minnesota is $140 a year, or about $12 a month. This is about 22% less than the national average.
Minneapolis Food Prices
While Minnesota's grocery prices aren't increasing as quickly as the national average, the state's food prices are still on the rise. Prices for groceries increased 3.3% compared to a year ago, while prices for dining out rose 4.4%.
The fastest-rising grocery categories for Minneapolis are meats, poultry, fish, and eggs, as well as non-alcoholic beverages.
Minneapolis residents can expect groceries to make up nearly a third of their overall monthly expenses, while dining out will make up about 13.6% of monthly expenses.
Groceries
Groceries in Minneapolis are about 7% higher than the national average.
The average amount of money spent on groceries per month in the United States is $298. In Minneapolis, groceries have a score of 101.2, which means groceries cost 1.2% more than the national average. This equals about $301.58 in grocery bills monthly.
Grocery Costs in Minneapolis
Among the most affordable grocery stores in or near Minneapolis are ALDI, Loon Grocery, Holy Land, and So Low.
Restaurants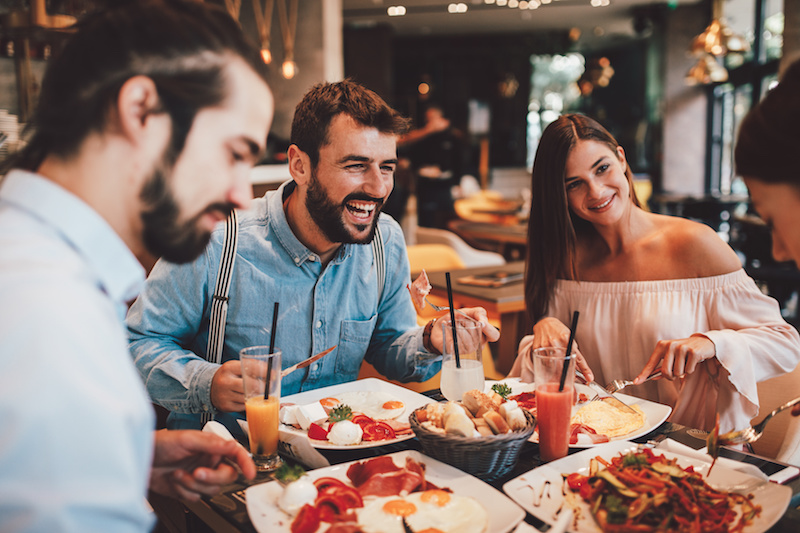 The cost of dining out in Minneapolis varies, depending on the restaurant. Those dining out can expect to pay about $16 for a meal at an inexpensive sit-down restaurant in Minneapolis, while a fast food combo meal will cost them just under $8.
A table for two at a mid-range restaurant for a three-course meal will cost about $70.
People can anticipate paying about $6 for a pint of a domestic beer or $7 for a 12 oz. bottle of imported beer.
Coffee costs about $4.33 for a regular cappuccino. Colas cost about $1.97 for a 12 oz. bottle, while water is about $1.46 for the same size.
Minneapolis Transportation Costs
The transportation cost index for Minneapolis is 108.5, making it somewhat higher than the national average.
Those driving in Minneapolis using their personal vehicle can expect to pay about $2.44 per gallon for gas. The average cost of auto insurance in Minnesota is $1,132 for full coverage.
The cost of a taxi in Minneapolis is about $5 plus $2.63 for each mile thereafter. Asking a taxi to wait will cost about $27.50 an hour.
Transportation Costs in Minneapolis
With both bus and light rail service, the Metro Transit operates one of the largest public transportation systems in the country. It offers fast, frequent service to both downtowns, Mall of America and hundreds of other points around the Twin Cities. The METRO Blue and Green lines are the Twin Cities light-rail transit service, connecting downtown with the airport, university, Mall of America and downtown St. Paul.
Fares for either range from $2.25 to $3.50, depending on the time of day. If downtown, the fare is just 50 cents within the downtown zone. Buses marked "free ride" offer rides for no fare when boarding along Nicollet Mall.
Uber X and Lyft provide rideshare services. Uber rates are $8 minimum plus $2.55 per mile, with a wait-time fee of $0.35 per minute. For Lyft, the minimum is $5.50 plus $0.85 per mile. The wait-time fee is $0.26 a minute.
Minneapolis Health Care Costs
Minnesota is ranked number nine out of all states in overall health care access and affordability.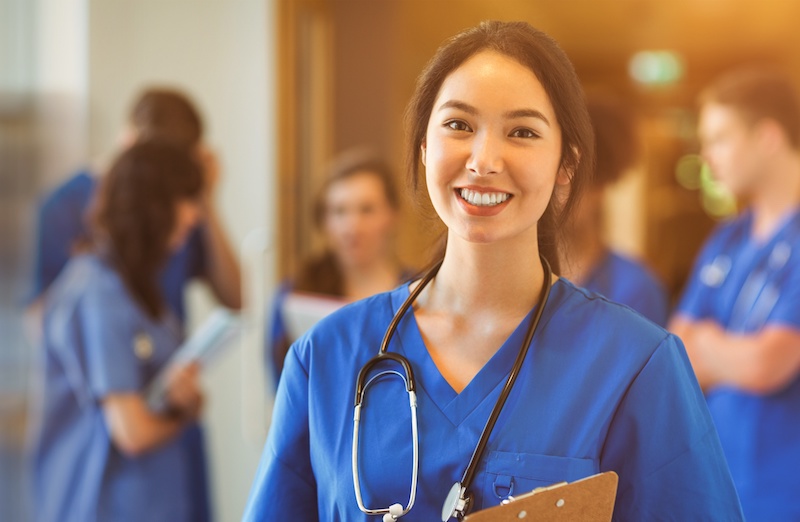 The average of all adult-patient costs paid to medical groups by patients and their health insurance plans is $644 per patient per month in Minnesota. The average cost of care for children is $268 per month.
The average cost of a stress test at a Minnesota healthcare provider is $218. The average cost for a chest x-ray is $66. For a 15-minute office visit with an established patient, the average cost is $157.
With dentistry, the average fee for a new adult patient's oral exam, including cleaning, is about $183. Full-mouth x-rays will run about $141. A one-surface composite filling on an adult molar is around $196 on average. The cost of a new porcelain crown is about $1,613. Single implants can range in cost for $2,500 - $3,000, but circumstances can drive that number higher.
Minneapolis Child Care Costs
Daycare can be a significant part of a family's monthly budget. Costs vary depending on the child's age and type of childcare provider.
In Minneapolis, typical costs for child care of an infant is $344 per week at a childcare center or $190 per week for an in-home daycare. For toddlers, the average rate is $296 per week at a child care center and $181 per week for in-home daycare.
Childcare Costs in Minneapolis
The cost drops to $260 for a preschool-aged child attending a daycare center, while in-home daycare averages about $171 per week. For a school-aged child, a daycare center charges $209 per week on average, while the average for in-home daycare is about $150 per week.
There are several ways of making child care more affordable in Minneapolis. These include programs like the Child Care Assistance Program (CCAP) and Early Learning Scholarships.
The cost of hiring a nanny in Minneapolis can vary, depending on the number of children and job responsibilities. However, typical rates for the city are $13.94 an hour for one child and $14.68 an hour for two children.
Minneapolis Entertainment Costs
Minneapolis offers an abundance of activities, events, and sights to see. Thanks to its lengthy winters, cross-country skiing, snowboarding, and tubing are popular activities.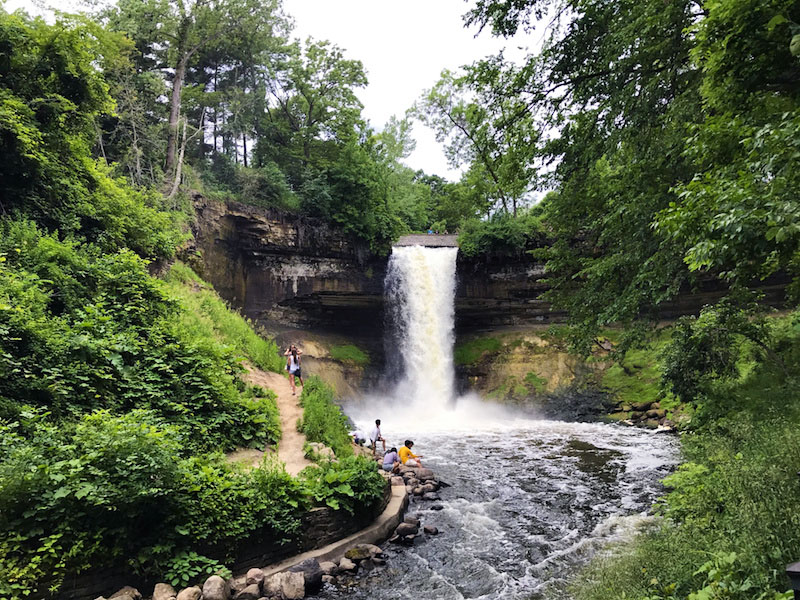 During the warmer months, scooters and bicycles are available for $2 for a single, one-way ride, $6 for a day pass, or $75 for an annual membership.
The city's Music in the Parks program moves throughout the summer and brings swing, folk, bluegrass, rock, and classical music to its residents.
Mall of America is world-known for its retail, entertainment, and attractions. The mall, located in the Bloomington suburb, also hosts more than 400 events annually.
Minneapolis is home to a multitude of cafés, bistros, eateries, pubs, and restaurants. A night out at Acme Comedy Company for a dinner and show typically runs from $30 to $35.
The Weisman Art Museum and the Minneapolis Institute of Art both offer free admission.
Tickets for the Minnesota Timberwolves can be had for as little as $12, though they average about $104. Or, fans can watch the Minnesota Twins play, with ticket prices averaging about $51.
Minneapolis Salary
The average income in Minneapolis is $70,000 annually. Wages have increased 0.3% in the past year. The most popular careers in Minneapolis are software engineer, project manager, and operations manager.
The highest-paying jobs in Minneapolis are general internal medicine physician, family medicine physicians, all other physicians and ophthalmologists, dentists, pediatricians, and general practitioners. Popular employers include Target Corporation, Medtronic, Inc., UnitedHealth Group, Ameriprise Financial, Inc., and University of Minnesota.
Childcare Costs in Minneapolis
The median household income of a Minneapolis resident is $50,767 a year, higher than the U.S. average of $53,482.
Minnesota's minimum wage is $9.86 for large employers and $8.04 for small employers. The unemployment rate in Minneapolis in July 2020 was 8.35%. This compares to a rate of 7.7% for Minnesota and 10.2% on the national level.
Minnesota's income tax is a graduated tax, with four rates: 5.35%, 7.05%, 7.85%, and 9.85%. The rates are applied to income brackets that vary by filing status.
Additional Considerations for Minneapolis's Cost of Living
Although Minneapolis has a higher cost of living than the national average, the city offers residents and visitors alike a wide assortment of things to do, local events, art and culture, as well as nightlife. Its diversity of neighborhoods and suburban communities provide a variety of real estate options.
Manufacturing remains the primary industry in Minneapolis's diversified economic base, particularly electronics, machinery, medical products, milling, food processing, and graphic arts. The city is home to 16 of the Fortune 500 largest U.S. corporations and another 30 Fortune 1000 companies are headquartered there.
High-tech industries continue to play a major role in the economy as well. With the University of Minnesota as the backdrop, Minneapolis boasts one of the largest concentrations of high-tech firms in the country—more than 1,300. The Twin Cities is also considered the financial center of the Upper Midwest region.
If Minneapolis is the city for you, contact Kris Lindahl Real Estate at 1-(855) 967-7653 to get in touch with a local real estate agent who can help you find your dream home today.