Minneapolis, Minnesota Fun Facts & Trivia
Posted by Kris Lindahl on Thursday, August 12, 2021 at 10:31 PM
By Kris Lindahl / August 12, 2021
Comment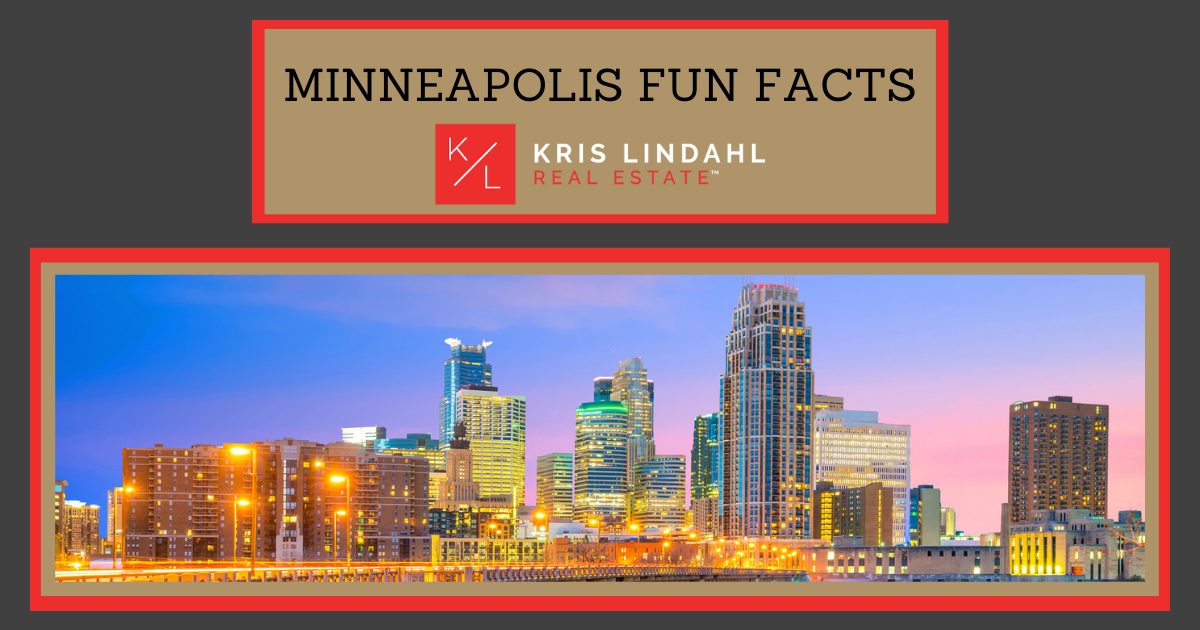 Minneapolis, Minnesota, is a major Midwest city. Many people agree there's a lot to love about the Minneapolis community, from the sparkling city skyline with high-rise condos to the abundance of parks and homes around Minneapolis' lakes. The city's population is nearing 430,000, while the greater Twin Cities metropolitan area is home to over three million people. Minneapolis cracks the nation's top 50 most populous cities and lies along the Mississippi River, providing natural beauty and outdoor recreation at every turn. There are plenty of big industries and Fortune 500 companies too.
This is all fairly common knowledge to anyone researching a move to Minneapolis. But what about the more obscure, more niche, more fun bits of information about this city? Here are six fun facts about Minneapolis for those looking to learn something more quirky about the Mini Apple.
You're Always Within Six Blocks of a Park in Minneapolis
Minneapolis visitors and residents are often attracted to the city's renowned public park system, and they have Theodore Wirth to thank. The Swiss settler was a leader in America's local parks movement, and he was considered a park planner, horticulturist, and administrator of parks. Wirth was invested in building parks because he wanted to maintain green space and natural reserves even as city development boomed. In 1904, he was offered a job as Minneapolis Superintendent of Parks, a role he held for 30 years. He aimed to provide a playground within a quarter-mile and a recreation center within a half-mile of every resident.
Wirth expanded the city's parks from 1,810 acres to 5,241 acres, and generations of residents have acknowledged that the city's parks profoundly impact the quality of life. Wirth's huge influence on Minneapolis parks remains evident to this day, with one special park named after him. Theodore Wirth Regional Park is the largest in the city's park system and is located off Golden Valley Road and Interstate 394. Wirth Lake, two golf courses, and green space friendly to all ages make this park a go-to spot just a short drive to the west from downtown Minneapolis.
Minneapolis was the Site of a Flour Rivalry
Flour milling led to significant development in Minneapolis in the late 1800s and early 1900s. Two main companies were competing with one another: the Pillsbury Company Mill and the Washburn Crosby Company Mill. As the country's two largest mills, both constructed in the 1870s–1880s, these rival companies became locked in a fierce battle for flour milling dominance. Even today, a stroll through the riverfront in the downtown Minneapolis neighborhoods shows how serious the competition was. Minneapolis artist lofts in the old Pillsbury Mill are directly across the water from Mill City Museum, what was once the Washburn Crosby Mill.
In addition to watching their competition at all times, these rivals competed directly on their products. The Washburn Crosby Company, which eventually merged with other mills to become General Mills, earned a national gold medal. They created Gold Medal Flour to highlight their victory and get the upper edge over their competitors. Pillsbury wasn't deterred, however, and put a blue ribbon on their flour packaging with the label "Pillsbury's Best Flour." Both were household names and popular with the public, although General Mills eventually got the last laugh, buying Pillsbury in 2001. The deal had a $10.5 billion price tag and made General Mills one of the world's biggest food companies.
Minneapolis Held the World's First Internet Cat Video Festival
Cats have been a beloved American pet for decades, but the cat craze reached new heights with the advent of the internet. Pictures and videos of cats have become an internet staple, with billions of views around the world, and Minneapolis hosted the first-ever internet cat video festival to recognize these fabulous felines. The Walker Art Center hosted the first #catvidfest on August 30, 2012, and it's become a national tradition for cat lovers ever since. Over 10,000 people attended the inaugural event, which included thousands of video submissions from around the world. Categories covered comedy, drama, musical, Cat Stretch!, documentary, and more. The best in show Golden Kitty award went to Will Braden's Henri 2: Paw de Deux.
While the festival began as a joke, it quickly went viral and became a phenomenon of sorts for animal aficionados across the country and beyond. Grumpy Cat and other feline celebrities made appearances, and the festival turned into an international tour. The film festival event was held four times at Walker Art Center before being discontinued due to campus remodeling. The St. Paul Saints took over and brought the internet cat phenomenon to CHS Field, where congregating cat lovers can bring blankets to sit on the field or take any seat in the seating bowl.
The Minneapolis Sculpture Garden is the Country's Largest Urban Sculpture Garden
A visit to Minneapolis isn't complete without a trip to the Minneapolis Sculpture Garden. This beautiful 11-acre park is next to the Walker Art Center, which oversees its operations alongside the Minneapolis Park and Recreation Board. Established in 1988, the Minneapolis Sculpture Garden underwent a reconstruction project to unify it with the Walker on a 19-acre campus that's truly an art lover's dream. The urban park offers a popular mix of modern and contemporary art and is a well-known spot for outings, class field trips, and even special events like weddings and conferences. It's just west of the Basilica of Saint Mary and Loring Park, with a pedestrian bridge connecting the garden to nearby parklands and homes.
Arguably the most famous sculpture is the garden's centerpiece Spoonbridge and Cherry, a fountain large enough to be visible from the nearby freeways. The glistening red cherry weighs 1,199 pounds, and the spoon itself weighs in at 5,800 pounds of stainless steel and aluminum. The Spinner by Alexander Calder is another favorite, with the kinetic sculpture rotating in the wind. Bright colors and abstract shapes are on full display and surrounded by lush green gardens and the city's skyscrapers in the background.
Betty Crocker was "Born" in Minneapolis
If you've walked through the baking aisle of a grocery store, chances are you've encountered Betty Crocker. The cultural icon was created in Minneapolis in 1921 by the Washburn-Crosby Company, which merged with three other flour mills to form Fortune 500 company General Mills in 1928. The fictional character and brand name were developed to better connect with consumers and build brand loyalty. Betty Crocker programs hit the local radio airwaves in 1924 before an NBC network broadcast in 1926 made Betty a household name. Adelaide Hawley Cumming is the famous actress who played Betty Crocker for many years, starting in 1949.
The name Betty was chosen as an All-American moniker, while Crocker came from William Crocker, a director of the Washburn Crosby Company. Originally, Betty Crocker coupons were included in bags of flour, and before long, the brand covered flatware and fine kitchen accessories. Betty Crocker has endured for a century, with seven updates to the character's image to reflect hairstyle and fashion trends of the time. Today you can find cake mixes, salad kits, and more baking ingredients from Betty Crocker, who even inspired Betty Crocker Drive, the road in Golden Valley where the General Mills headquarters are.
America's Oldest Sketch Comedy Theater is Located in Minneapolis
Anyone looking for laughs in the Twin Cities can find themselves right at home at the Brave New Workshop Comedy Theatreon Hennepin Avenue. BNW is a downtown hotspot specializing in live sketch and improv comedy. The theater has an impressive history, with over six decades of live performances, making it the longest-running sketch comedy theater in the country. NYC's Instant Theater Company was established in the Twin Cities with a central Minneapolis location in 1958. Dudley Riggs, inventor of improv theater as we know it, led the way, along with Dan Sullivan, Irv Letofsky, and Dick Guindon. Comedians from all walks of life have performed at BNW, including Louie Anderson, Tom Davis, Al Franken, Cedric Yarbrough, Lizz Winstead, Linda Wallem, and Melissa Peterman.
There have been plenty of hit shows, too, and a BNW Student Union where aspiring comedians can learn to thrive on stage. Both amateur and experienced performers can work on their craft at the Student Union, where youth, adults, and even corporations come to take part in teambuilding exercises and comedy writing classes. The Brave New Citizens Initiative is a social program focused on environmentally-friendly practices. All of the theater and house lights are LED, while composting, recycling, and public transport are strongly encouraged by BNW.
Discover More About Minneapolis Today
There is so much more to explore in Minneapolis and the Twin Cities. Since the city's incorporation in 1867, there has been ever-growing history and development, resulting in a unique and vibrant metropolitan area that draws over 30 million visitors annually. Whether visitors are interested in moving or are just looking for things to do in Minneapolis, this city has opportunities aplenty.
If Minneapolis is the city for you, contact Kris Lindahl Real Estate at 1-(855) 967-7653 to get in touch with a local real estate agent who can help you find your dream home today.