12 Ways to Make the Most of a Minneapolis Vacation & Staycation
Posted by Kris Lindahl on Wednesday, August 25, 2021 at 10:31 PM
By Kris Lindahl / August 25, 2021
Comment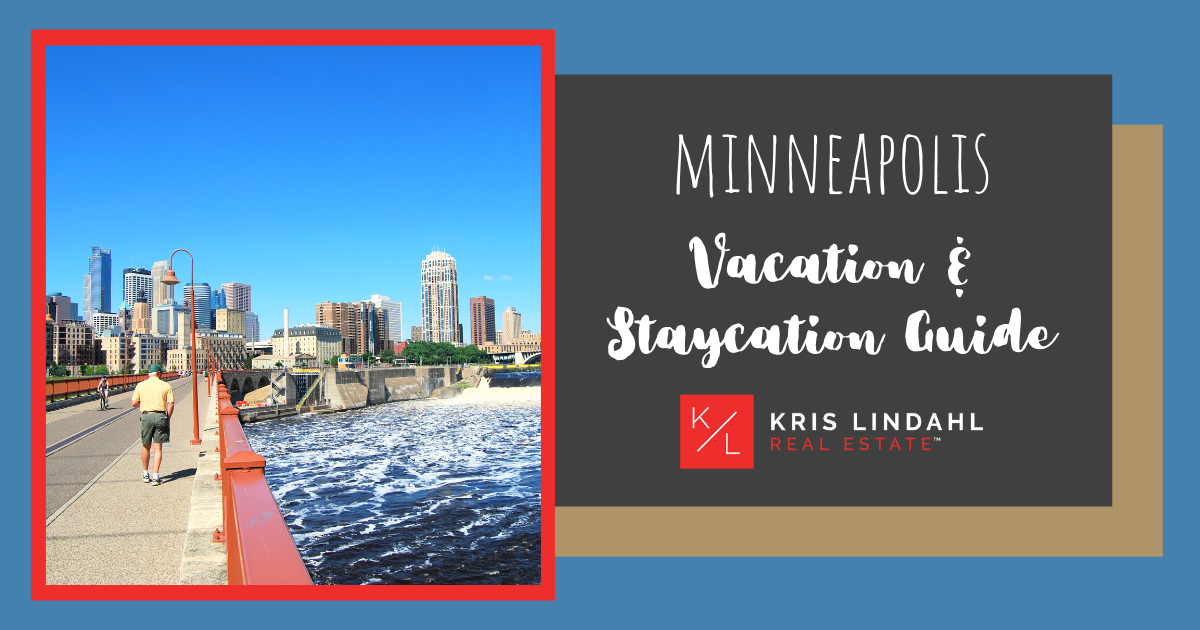 As one half of the Twin Cities, the urban vibe of the Minneapolis community stands apart from its partner city St. Paul. The nightlife is hip, the museums are remarkable, the lakes are refreshing, and the landmarks are notable in Minneapolis. These are just a few reasons people plan a trip to this historical city.
Where to stay, where to dine, what to see, and what to do are typical questions of anyone considering staycation or vacation in the Twin Cities region. Whether traveling for pleasure or business, read on to discover a few of the best places to lodge, eat, and see the sights when on vacation in Minneapolis.
Lodging in Minneapolis
There are numerous historic lodges, modern retreats, and communal options for travelers to consider. Here are some of the best places to stay in Minneapolis.
Nicollet Island Inn
Nicollet Island Inn Amenities
Award-winning restaurant
24 rooms
Four-poster beds
River and skyline views
The historic Nicollet Island Inn is a remarkably intimate hotel with an award-winning restaurant and cozy bar. A combination of classic features with modern amenities, this quiet oasis is situated on an isle in the middle of the mighty Mississippi. A short boat ride to the coastline puts the downtown neighborhood within walking distance.
Nicollet Island Inn offers personalized service with 24 finely appointed rooms. Suite entrances are dark wood doors with real keys for an old-world feel. Walk into a spacious room with Colonial revival furniture, four-poster beds, Sleep Number mattresses with 400-threat count sheets, and silk drapes that open up to views of the river and the Minneapolis skyline.
Local and national publications routinely tap the inn's restaurant as "Best Hotel Dining," "Best Brunch," and "Most Romantic." Guests and locals love the dining here and the classy piano lounge with live music and cocktails.
300 Clifton Bed & Breakfast
300 Clifton Bed & Breakfast Amenities
WiFi
Refrigerators
Coffee and tea pot
In-room massages, flowers are available
Short walk from downtown amenities
Expect nothing but class when staying at 300 Clifton Bed & Breakfast, a romantic lodging option listed on the National Register of Historic Places. Situated in downtown Minneapolis within the Loring Park community, the B&B is a quick walk from Hennepin Avenue, Walker Art Center, and the Minneapolis Convention Center.
This B&B is a spectacular mansion that offers luxurious accommodations and amenities. Comfortable furnishing, premium beds, and high-quality bath products are only the beginning. Guest rooms boast WiFi and refrigerators with a coffee and tea pot. In-room massages and flower arrangements are available.
Some visitors stay at 300 Clifton Bed & Breakfast not only for the luxurious surroundings but to take a candlelight tour of the basement and servant quarters in hopes of catching a glimpse of a long-ago chambermaid, Gertrude. While sightings are rare, one can only have a chance for a ghostly stay by booking a reservation.
The Minneapolis Hostel
The Minneapolis Hostel Amenities
WiFi
Kitchen
Laundry
Close to airport, other downtown amenities
Travelers who want to stay downtown and avoid big hotels and the prices that come with them can head to The Minneapolis Hostel. The hostel welcomes both long- and short-term guests and offers communal spaces with dorm beds, private single rooms, and family suites to suit all guests' needs.
While most expect a modest housing situation, this unique hostel is a 1909 remodeled mansion with elegant and modern amenities. Updated baths, free WiFi, a kitchen, laundry access, and much more await guests at The Minneapolis Hostel.
The hostel's downtown location is proximal to the airport, Mall of America, the Minneapolis Art Institute, and the tasty Eat Street dining scene. Essentially, guests can easily fly in and not need a costly rental car to access food, nightlife, museums, shops, theaters, and other things to do in Minneapolis.
Food and Dining in Minneapolis
The people of Minneapolis love food so much that part of Nicollet Avenue is nicknamed Eat Street. There's no shortage of flavors and dining experiences to enjoy. Here are some of the hottest restaurants in Minneapolis.
Demi
Popular Dishes at Demi
A new experience every time!
The evolving menu at Demi in Minneapolis is predominantly locally sourced, but some dishes involve incorporating some of the rarest ingredients from around the world. Their chefs hail from top-notch backgrounds, having worked at some of the finest restaurants worldwide.
However, Demi doesn't offer the traditional dining experience. This establishment seats only 20 guests at a large table within the kitchen, and the multiple-course menus change nightly. Fine cognacs and wines accompany meals, and after the final dessert is served, guests are treated to a specialized broth in earthen vessels.
Diners watch each course being made, and the presentation of each one is executed with a flourish indicative of the refinement of Demi's restaurant. They only offer two seatings per day, and pre-paid reservations are required. While eating here is on the costly side, any local will tell you it's well worth the price.
The Lowry
Popular Dishes at The Lowry
Chicken Bowl
Basil & Mozzarella BLT
Chorizo Chili
Turkey Burger
Oysters
Deviled Eggs
The Lowry has a solid reputation as a late-night staple with locals, especially those who live in the neighboring apartments and townhomes. They primarily serve up the standard American classics with a twist and use local ingredients when possible. The fun, fresh menu is available from morning until late at night, making it a great place to dine after a night on the town or before heading out for the day.
This urban diner's comfort food includes goodies like oysters, egg dishes, and burgers. Have breakfast with the family, lunch with friends, or meet up for drinks after work at The Lowry. It's comfortably cozy, and the staff is amiable, making it feel like a home away from home for many.
Boomin Barbecue
Popular Dishes at Boomin Barbecue
Smoked Brisket
Pulled Pork
Ribs
Beef/Pork Cheek Sandwiches
Sampler Platter
Locals and visitors have gone wild for the smoked meats and homemade sides at the food truck vendor Boomin Barbecue. The truck sits in the Ombibulous parking lot just northeast of the city center, and its vibrant paintwork makes it easy to spot. Come and sit on the outdoor patio, or call ahead for to-go orders, and prepare those tastebuds for a real treat.
Using a high convection wood-burning smoker, Boomin Barbecue runs clean fires, culminating in exceptional, smooth-tasting meats. While the menu is constantly evolving and growing as the owner-operators explore new possibilities, the staples here are solid.
The pulled pork is luscious and juicy, and the brisket and ribs are smoked to perfection. They even offer servings of charred ends for those who like their meat extra-smoky, which is rare for vendors. Pork and beef cheek sandwiches are doled out with sides of house-made sauces and pickles. Pick up one of Ombibulous' 100%-local Minnesota craft beers to complete a delectable meal.
Attractions in Minneapolis
Minneapolis is home to many permanent attractions both indoors and out. From street festivals and art to multi-purpose theaters, the Twin Cities has a bit of everything that locals enjoy year-round. Don't miss these top Minneapolis attractions on a visit to this exciting city.
Minneapolis Institute of Art
Take in the beautiful and thought-provoking pieces at the Minneapolis Institute of Art (MIA) situated downtown. More than 90,000 pieces of artwork in various media are present here, making the MIA one of the United States' largest art museums. Works here represent 5,000+ years of world history. Their permanent collection embodies the highest level of skill and achievement, represents global diversity, and spans six continents.
The museum has numerous curatorial areas, including:
Arts of Africa & the Americas
Contemporary Art
Decorative Arts
Textiles & Sculpture
Asian Art
Paintings
Photography and New Media
Prints and Drawings
Around 100,000 youths are reached through the Art Adventure Program for students, and a half-million patrons come through the doors annually to behold the treasures within. Admission to the museum is free, so come by to see art, participate in interactive media programs, or learn about the vast history of art and culture under one roof.
State Theatre
The State Theatre is one of a mere four historic theatres that have been restored in the Hennepin Theatre District. It opened in 1921 on the site of the 1874 mansion owned by T.B. Walker on Hennepin Avenue. At the time, the State Theatre was thought to be the most elaborate and technologically advanced theatre in the United States. The theatre has 2,181 seats and often fills to capacity for shows.
Here, locals and visitors can experience an array of Broadway offerings and touring shows such as Sweeney Todd and Avenue Q. World premieres of films are held here, as well as concerts by Gordon Lightfoot, Patti Smith, and many others. As a smaller and more intimate venue, State Theater provides patrons with a more personalized experience.
Stone Arch Bridge Festival
For more than 20 years, the Stone Arch Bridge Festival has been a traditional event for Twin Cities residents interested in viewing, buying, or learning more about art. Stone Arch Bridge crosses the mighty Mississippi River and is alive with activities, art, and vendors all year long. The festival draws 75,000+ attendees, and most proceeds go to benefit the art community.
The Stone Arch Bridge Festival is the prime opportunity for artisans to display their talents, and more than 200 of them typically come out and participate in exhibitions. We're not talking about just traditional art, but culinary artisans, too!
Festival-goers can head over to the car show, where classic, modern, and artistic cars are displayed. Hit up the food trucks, which are some of the best in the city, and enjoy the fare and live music. One doesn't have to be an art lover to enjoy a day at this annual fest.
Adventures in Minneapolis
Minneapolis is home to numerous adventure opportunities and things to do. From hiking and strolling Minneapolis' gardens and parks to thrilling sporting events, these are some outings favored by locals.
Lyndale Park Gardens
Along the Northeast shore of Lake Harriet, one can soak in the beauty of nature at Lyndale Park Gardens. There are several installations of public artworks in addition to glorious and decorative fountains. Throughout the park, there are open spaces and paths to stroll around with hidden gems along with sculptures and flowers galore.
Choose to tour one or all four of the uniquely themed gardens. The annual-perennial garden is alive with colorful blooms and greenery throughout the year, with spring and summer growth changing into new blooms in the fall and winter.
There are also border gardens featuring perennials and gorgeous butterflies and hummingbirds who enjoy their blooms' nectar. Another garden is solely dedicated to roses from around the world, and the colors are simply stunning. Find some zen in the peace garden, where fountains, rock features, and benches sit among flowers and greenery.
Professional Sports in Minneapolis
There are two professional sports teams in town: the Minnesota Twins and the Minnesota Vikings. The Twins are a professional Major League Baseball team named after the Twin Cities and are a member of the American League Central Division. The team plays at Target Field in the historic warehouse district downtown. The field is named after the Target Corporation, a proud Minneapolis-based retailer.
The Minnesota Vikings are a professional football team that plays in the NFL as part of the National Football Conference North Division. Founded as an expansion team in 1960, the Vikings play at the new U.S. Bank Stadium downtown. Come out and support these home teams while having a great time.
Tour Paisley Park
For most of his decades-long career, the incredible artist known as Prince envisioned his estate, Paisley Park, becoming something remarkable to share with the public. In his original song "Paisley Park," this special place was to be a place of peace and love free of rules and limitations upon creativity.
Indeed, his dream became a reality, with Paisley Park opening its doors in 1987. For three decades, the facility served as the musician's home and sanctuary, as well as his recording and production studio. Today, the studio still records artists, and the complex is an active museum and concert venue.
Audiophiles, fans, and musicians alike come out to the park for festivals and special events. Tours of Paisley Park include viewing the studio, garage, music room, and many of Prince's costumes and stunning custom shoes. As a place that continues the legacy of Prince, it's not to be missed by locals or visitors.
What to Expect Seasonally in Minneapolis When Visiting
Summer is a prime time to visit Minneapolis, with sunny days and warm nights. It's the sunniest month by far, and those who love the farmers' market eagerly await summer offerings. Many events and festivals also take place throughout the city:
Grand Old Day (June)
Rock the Garden (June)
Minneapolis Aquatennial (July)
Basilica Block Party (July)
Uptown Art Fair (August)
Minnesota State Fair (August-September)
September through November brings about the changing colors of the leaves and initially brisk days that transition into cold ones by November. College students return to the city, bringing in a reviving vigor. Events and festivals in fall include:
Minnesota State Fair (August-September)
Medtronic Twin Cities Marathon (October)
Minnesota Craft Beer Festival (November)
December through February can see below-freezing temperatures and lots of snow. Fortunately, the city diligently plows the streets and pathways, allowing for reliable travel. Hotel rates are most affordable in winter, which is good news for visitors coming to experience Holidazzle in December or the Saint Paul Winter Carnival in January and February.
March through May is when the temperatures warm up and the days are sunnier, though they're sometimes dotted with spring showers. However, this isn't always the case, as one week can be sunny, and the next might bring on an unexpected flurry of snow. Hotel prices are rather reasonable, so taking a chance in spring should be considered. Events to look forward to in May include the Minneapolis–Saint Paul International Film Festival and Art-A-Whirl.
Come and Play in Minneapolis—You'll Want to Stay Forever
While Minneapolis is a remarkable place to visit, it's an even better place to call home with its competitive housing market. Come explore the rivers, lakes, and attractions. Satisfy the palate at some of the nation's top restaurants. It's all here waiting for you.
If Minneapolis is the city for you, contact Kris Lindahl Real Estate at 1-(855) 967-7653 to get in touch with a local real estate agent who can help you find your dream home today.