8 Affordable Neighborhoods in St Paul: Best Bang For Your Buck
Posted by Kris Lindahl on Monday, January 10, 2022 at 11:58:10 PM
By Kris Lindahl / January 10, 2022
Comment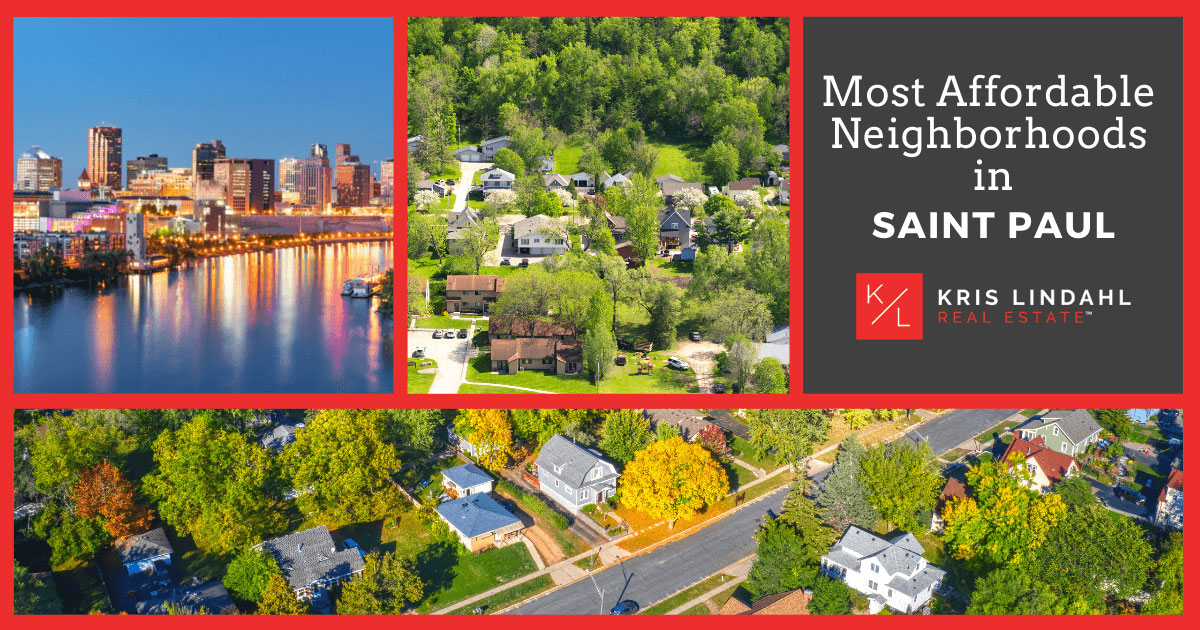 The beautiful city of St. Paul is both Minnesota's capital and its second-most populous city. This special place boasts four distinct seasons, breathtaking views of the Mississippi River, and a booming economy. Every year, the city experiences an uptick of new residents drawn to the city's peaceful atmosphere, diverse culture, and the optimistic job market.
While there are 17 distinct neighborhoods in St. Paul, the following eight provide their residents with a reasonable cost of housing and vibrant, unique communities. Read on to learn more about the most affordable neighborhoods in St. Paul.
Thomas Dale
Thomas Dale Amenities
Frogtown Farm
Frogtown Market
IDUN
Ngon Bistro
The neighborhood of Thomas Dale, known by locals as Frogtown, is St. Paul's District 7. The community sits in the northwest area, just a short drive from downtown, and boasts a laid-back, historic atmosphere.
Most homes in this area were built before 1940, with some dating back to 1860. The historic homes brim with charm and character while blending seamlessly with the modern St. Paul new construction homes that are becoming more common in the neighborhood.
In addition to aesthetically pleasing landmarks and beautiful old homes, Thomas Dale offers its residents many diverse dining options. Most of these restaurants and eateries are congregated around University Avenue, a busy commercial street running west to east through the neighborhood.
A few University Ave favorites include Hickory Hut's counter service comfort foods, King Thai Asian Cuisine's Southeast Asian dishes, and Los Ocampo Restaurant & Bar's authentic Mexican meals.
With the neighborhood's excellent location and convenient amenities, real estate in Thomas Dale remains affordable. Home prices for single-family properties hover between $300,000 and $500,000. Condominiums are slightly less expensive, starting at $150,000 and selling for approximately $300,000.
Payne Phalen
Payne Phalen Amenities
Brunson's Pub
Karibu Grocery and Deli
Phalen Poetry Park
Caydence Records & Coffee
Payne Phalen boasts a population of over 30,000 residents, making St. Paul's Fifth District its largest. The neighborhood is just east of downtown, allowing residents to be close to the city's center while providing a relaxing and peaceful respite.
Payne Avenue is the community's major road. It has become a hotspot for renovations and commercial spaces in recent years. Bars, restaurants, retail stores, medical offices, and grocery stores dot the busy street and provide numerous job opportunities for residents of Payne Phalen and the neighboring communities.
While retail has a strong presence in the neighborhood, nature is what steals the spotlight in Payne Phalen. Lake Phalen provides a quiet and relaxing environment for fishing and swimming. Meanwhile, Swede Hollow Park provides miles of trail and greenspace for bikers, walkers, and joggers.
The neighborhood remains relatively affordable despite desirable amenities and plans for continued development. Single-family homes range in price from $200,000 to $500,000. Condos hover between $150,000 and $300,000.
Prospective homeowners interested in Payne Phalen real estate can expect plenty of space, even at modest prices. The average single-family home in Payne Phalen boasts at least 1,500 square feet of living space and three or more bedrooms.
North End
North End Amenities
The Rice Street Branch of the St. Paul Public Library
Gateway Trail
Maplewood Mall
Thai Street Market
North End is St. Paul's Sixth District. Located north of the city's downtown area, the neighborhood is primarily residential, with commercial businesses congregated around the Rice Street area.
With the area's lively atmosphere, it's not surprising that North End real estate is a sought-after asset. Thankfully for prospective residents, there are plenty of options available. Single- and multi-family homes dot the streets of North End, and condominium units are plentiful.
Despite the neighborhood's desirability, housing prices remain affordable. Single-family homes typically sell for between $200,000 and $400,000. The average single-family home boasts at least 1,500 square feet, three or more bedrooms, and multiple bathrooms.
Architectural styles of homes vary. The Victorian-style dwellings that make up many St. Paul homes are famous for having a significant presence in the neighborhood. Other types include the charming cottages and quaint bungalows popular at the neighborhood's inception.
Two popular eateries in the area's commercial section include Conny's Creamy Cone and Dar's Double Scoop. On St. Paul's warm, sunny days, these hotspots are brimming with customers eager for ice cream, burgers, hotdogs, and pizza.
Greater East Side
Greater East Side Amenities
Hmong Village Shopping Center
El Guanaco Bakery Y Cafe
Bymore Supermercado
Eastside Pizzeria
Greater East Side is tucked into the northeastern corner of St. Paul. The neighborhood consists of seven even smaller factions: Forest Lake, Hillcrest, Prosperity Heights, Beaver Lake, Hazel Park, and Phalen Village.
While each of these seven neighborhoods has its distinct atmosphere, the housing prices in the Greater East Side are relatively consistent. For a single-family home in the area, prices typically hover between $150,000 and $300,000.
Most home sizes are 1,000 square feet of living space or more, with at least three bedrooms. Many Greater East Side homes boast spacious yards with unique stonework exteriors and paved driveways.
The neighborhood was intended for major corporations' employees in the area. Whirlpool and 3M were major corporations headquartered in the city for several decades before their eventual departure. Now, residents move to the Greater East Side for its affordable housing, proximity to major nearby cities, and diverse retail and culinary offerings.
Downtown St. Paul is only minutes away from these neighborhoods. Still, the Greater East Side residents don't need to go far to enjoy a drink or two. 11 Wells Spirits on Minnehaha Avenue and Sherwood Lounge on the popular White Bear Avenue both serve patrons with a full bar and classic pub fare.
Dayton's Bluff
Dayton's Bluff Amenities
Manana Salvadorian Restaurant
Holman's Table
Swede Hollow Cafe
Saint Paul Brewing
This neighborhood boasts a lively atmosphere and stunning views of the Mississippi River waterfront. Elevated by a plateau and bordered by the scenic shoreline, Dayton's Bluff real estate has managed to stay affordable despite its desirability.
Single-family homes in the area typically sell for approximately $250,000 and $500,000. Homes in the area are spacious, typically with three or more bedrooms and multiple bathrooms. The average home in Dayton's Bluff offers at least 1,500 square feet of living space.
Most homes in Dayton's Bluff were built before 1950, so the neighborhood's character accurately reflects the architectural styles of its buildings. Most homes are in the 19th-century style, with Queen Anne, Victorian, and Italianate homes typical throughout the area.
While plenty of homes date back decades, there is now a pleasant mix of new construction. Brand-new condominium buildings contain residents eager to take advantage of the neighborhood's proximity to downtown St. Paul. Units come in all sizes and typically sell for between $100,000 and $250,000.
The views in Dayton's Bluff are some of the best in the city. Some of the best neighborhood parks to appreciate the sights include Swede Hollow Park, Mears Park, and Bruce Vento Nature Sanctuary.
Battle Creek Highwood
Battle Creek Highwood Amenities
Sun Ray Shopping Center
Sun Ray Lanes
McKnight's Kitchen & Tap
Little Free Library
Southeast of downtown St. Paul is Battle Creek Highwood. The neighborhood is bordered by Minnehaha Avenue, McKnight Road, and the breathtaking Mississippi River. A relatively new community, most homes in the area were built after 1970.
These new constructions are primarily single-family homes. Prices for these properties range between $200,000 and $400,000, making the neighborhood accessible for a wide range of budgets.
Home interiors in the area are spacious, typically boasting between 1,500 and 2,500 square feet. Three bedrooms and multiple bathrooms are standard, and often, properties boast gorgeous views of St. Paul's skyline and the Mississippi River.
In the 1970s, the Battle Creek Highwood real estate market experienced an influx of construction. With these new, modern buildings came condominiums. These units sell at a lower price tag than single- and multi-family homes in the area, typically falling between $100,000 and $250,000.
Battle Creek Highwood also offers scenic parks and green spaces to enjoy, a significant draw for prospective homebuyers — so much so that over 35% of Battle Creek Highwood contains parks and green spaces.
Some of the most popular parks in the area include Pig's Eye Lake, a significant conservation area for various bird species, and Battle Creek Park, offering miles of trails for hikers, joggers, and bikers.
West Side
West Side Amenities
Wabasha Street Caves
Harriet Island Regional Park
River View Branch Library
Cherokee Park
St. Paul's District 3, otherwise known as West Side, is actually south of the city's downtown. The West Side is a slight misnomer, its name coming from its location on the west bank of the Mississippi River.
The neighborhood is perfect for commuters traveling to downtown St. Paul or Minneapolis. Robert Street and Caesar Chavez Street are both West Side streets that lead directly to major State Highways 52 and 49.
Prospective homebuyers may be surprised by the neighborhood's affordability considering its ideal location. Single-family homes in West Side sell for between $300,000 and $500,000. Condos are slightly less expensive, with the average price per unit hovering between $200,000 and $400,000.
Homes typically boast 1,600 square feet of living space or more. Most have the benefit of three or more bedrooms and multiple bathrooms. Condos on the West Side are smaller but typically have building amenities, including swimming pools and on-site fitness centers.
Another favorite quirk of the neighborhood is its vibrant District del Sol. This small pedestrian-friendly center boasts authentic Mexican restaurants, including the ever-popular El Burrito Mercado and Boca Chica's Taco House.
Como
Como Amenities
Gabe's By the Park
Lake Como
Cozy's Pub
Dock and Paddle at Como's Lakeside Pavilion
What once started as farmland is now the bustling neighborhood of Como, a picturesque area in northwestern St. Paul. Known as the city's Garden District, this quiet and peaceful neighborhood has a few commercial and retail hotspots. However, most residents fall in love with the parks and recreational areas the neighborhood offers.
Residents of Como have front-row seats to some of the best views in all of St. Paul. The homes and businesses located in Como are centered around the beautiful Como Park, which has a seemingly endless number of trails, picnic areas, fields, and event pavilions for residents to take advantage of.
Most single-family homes in the area sell for $200,000 to $400,000. Como real estate sizes are modest, with less than 1,500 square feet of living space on average. Typically, homes boast three bedrooms and one or two bathrooms.
Como Park is also home to Como Park Zoo and Conservatory, one of the most tourist-frequented attractions in the Midwest. With over 1,700 animals in residence and more than 600 plant species, this is a beautiful and completely free way to spend a day in Como.
Make One of St. Paul's Most Affordable Neighborhoods Your New Home
Home prices in these neighborhoods have managed to stay budget-friendly, even with their proximity to downtown, beautiful views of the Mississippi River banks, and the many conveniences and amenities they offer their residents. For these reasons, prospective homebuyers are eager to move into one of St. Paul's many gorgeous and affordable neighborhoods.
If Saint Paul is the city for you, contact Kris Lindahl Real Estate at 1-(855) 967-7653 to get in touch with a local real estate agent who can help you find your dream home today.