Most Expensive Neighborhoods in Minneapolis: Minneapolis, MN Luxury Living Guide
Posted by Kris Lindahl on Monday, October 26, 2020 at 10:45:51 PM
By Kris Lindahl / October 26, 2020
Comment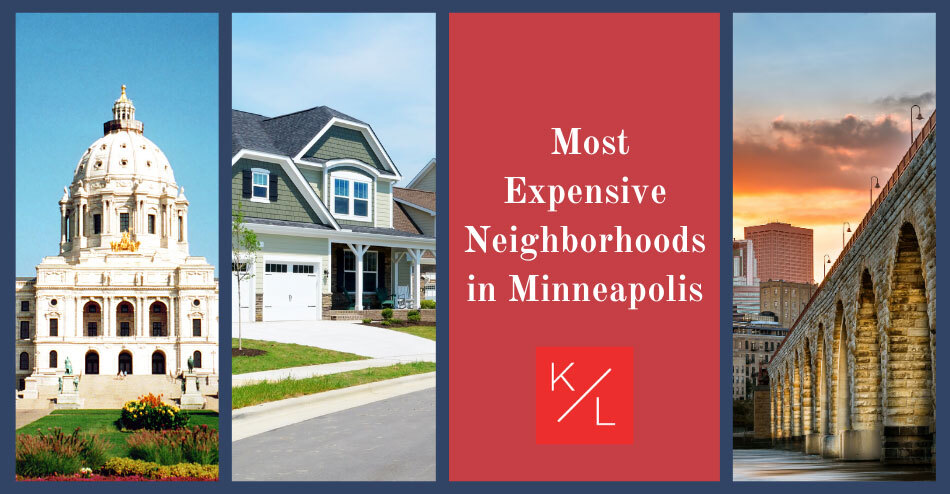 Most Expensive Neighborhoods in Minneapolis: Minneapolis, MN Luxury Living Guide
From bars to numerous retail, restaurants, parks, and employment opportunities, Minneapolis is a remarkable city to call home. Forming the Twin Cities with St. Paul, Minneapolis has a growing population of close to 430,000 residents. Those who are eager to live in the area have many neighborhoods to explore before making their final decision. To experience luxury living at its finest, new residents can consider the following most expensive neighborhoods that Minneapolis has to offer.
Kenwood
Kenwood Amenities
Lakefront living
Cedar Lake
Lots of green space
Lake of the Isles
Kenwood Park
Cedar Lake East Beach
Topping the list is Kenwood, an upscale neighborhood featuring some of the largest and most expensive homes in Minneapolis. Highly sought after as one of the most high-end neighborhoods in the city, luxury homes line Kenwood's parkways.
Kenwood is situated around the Chain of Lakes, a beautiful area just southwest of downtown Minneapolis. Theneighborhood is situated within the Calhoun Isles community, with its boundaries running from Kenwood Parkway to the north, Kenilworth Place to the south, Cedar Lake Parkway to the west, and West Lake of the Isles Parkway to the east.
With a population of just 1,535 residents, Kenwood offers many bars, restaurants, coffee shops, and an abundance of parks for people to discover. Kenwood's median household income is $165,796. With Cedar Lake to the west and the Lake of the Isles to the east, homes with water views will make residents never want to leave. House prices range from $580,000 up to the $2 million mark, making the current average sale price around $825,000.
Outdoor enthusiasts will enjoy exploring the Kenilworth Trail, which runs through the neighborhood from north to south. With almost three miles of trails, it naturally attracts walkers and joggers in the summer and ice skaters and cross-country skiers in the winter.
Downtown East
Kenwood Amenities
Mill district
Views of St. Anthony Falls
Riverside Green spaces
Mill City Museum
Guthrie Theater
Contemporary eateries & cafés
One of the most expensive neighborhoods in Minneapolis is Downtown East, another highly sought-after area due to its proximity to the city. The Downtown East community is located south of the Mississippi River and north of 5th Street South, situated between I-35 W and Portland Avenue. What makes this area so unique is that within Downtown East, one will find the Mill District, which contains numerous former industrial properties from when Minneapolis was the Flour Milling Capital of the World. However, many of these old mills and factories have been converted into apartments.
Most of the homes in the Downtown East area are an urban style and are usually located in buildings with more than four units. What makes real estate in this area so attractive is the range of style and character, where people can find stunning apartments and lofts. High-end listings can be found for over $3.5 million.
Lovers of the arts will find the award-winning Guthrie Theater founded in 1963, a premium center for theater performance, production, education, and the training of professionals. Gold Medal Park and the Mill City Museum add to the list of places to visit in this exciting and vibrant neighborhood. Transport in the area is a breeze, as it is serviced by the Metro Transit system.
Lowry Hill
Lowry Hill Amenities
Walker Art Center
Cinema and a theater
Minneapolis Sculpture Garden
Green spaces
Lowry Park
Loring Park
Another neighborhood that tops the list of the most expensive in Minneapolis is Lowry Hill, with a population of approximately 4,000 residents. This is one of the oldest neighborhoods in Minneapolis with an abundance of gorgeous Victorian-style homes. People will find boulevard shade trees and well-spaced houses with broad lawns, all designed in the early 1900s. The neighborhood boasts a number of architectural treasures, including a number of homes listed on the National Register of Historic Places. Lowry Hill offers spacious houses with generous porches and exquisite exterior details, ranging in price up to $6 million.
Located only five minutes from downtown, Lowry Hill is close to many of Minneapolis's best-loved cultural attractions. People will find the Walker Art Center, one of the leading contemporary art institutions in the country, along with the Minneapolis Sculpture Garden. There are plenty of activities to get involved in year-round, including music festivals and concerts in the summer and Holidazzle in the winter.
Bordered by Loring Park, Lowry Hill is home to unique retail shops, renowned restaurants, iconic theaters, and eclectic arts centers. For those searching for the excitement and convenience of city living, Lowry Hill has it all.
Fulton
Fulton Amenities
Lake Harriet
Suburban living
Weekly farmer's market
Proximity to schools
Neighborhoods part of a "Block Club"
A more luxury neighborhood in the southwest suburbs of Minneapolis is Fulton, home to a population of over 6,000 residents. The Fulton boundary runs from West 47th Street to the north, West 54th Street to the south, Penn Avenue South to the east, and France Avenue South to the west. There are also three lively commercial areas that sit along West 50th Street at France, Xerxes, and Penn avenues.
Those living in Fulton enjoy a dense suburban feel, where 87% of residents own their homes. With a median sales price just under $520,000, Fulton is a great area with easy access to schools and a booming night life.
Only 19 minutes to downtown Minneapolis, house prices in Fulton range from $300,000 to $3.5 million. Walkable and bikeable, it's the perfect place to find a bar, restaurant, or shopping within a few minutes of home. Fulton is the place to live for those who want to be within walking distance of amazing recreational activities.
Lynnhurst
Lynnhurst Amenities
Suburban living
Lynnhurst Garden Tour
Minnehaha Creek
Lake Harriett
Lynnhurst Park
Lynnhurst Community Center
With a population of almost 6,000 people, Lynnhurst offers a suburban feel where most residents own their home. Many bars, restaurants, coffee shops, parks, and public schools can be found in this area.
Lynnhurst is a picturesque neighborhood in the Southwest community of Minneapolis, where the boundary runs from 46th Street to the north, 54th Street to the south, Lyndale Avenue to the east, and Penn Avenue to the west. It's located along the southeastern shore of Lake Harriet, and the outflows from the lake run for several city blocks to reach Minnehaha Creek, which attracts plenty of canoers and kayakers.
For those who love biking, the 15-mile scenic trail system takes in Lake Harriet and connects to four other lakes in the area. During summer, residents love to stroll along the scenic pedestrian walkway or take a swim at Lake Harriet South Beach. In the freezing winter, they will turn to ice fishing, ice hockey, and snowshoeing.
Only 20 minutes from downtown Minneapolis, the average commute takes 24 minutes where job options, entertainment, and cultural activities are endless.
Visit the Most Expensive Neighborhoods in Minneapolis Today
Most people want a home that mixes fun with comfort, which is something that Minneapolis does well. Arts lovers, foodies, and creators of all kinds are attracted to the lifestyle and opportunities that can be found in the city. Paired with the cost of living, local amenities, affordable neighborhoods, wide array of school districts, and job opportunities, Minneapolis is a place where many people want to call home.
In addition to the mighty Mississippi River lining its banks, what makes moving to Minneapolis so enticing is that it has one of the best park systems in the United States, surrounded by stunning lakes and rivers. With magnificent parks and waterways, come explore all that these neighborhoods have to offer.
If Minneapolis is the city for you, contact Kris Lindahl Real Estate at 1-(855) 967-7653 to get in touch with a local real estate agent who can help you find your dream home today.