8 Most Expensive Saint Paul Neighborhoods: Luxury Awaits
Posted by Kris Lindahl on Friday, January 7, 2022 at 12:28:28 AM
By Kris Lindahl / January 7, 2022
Comment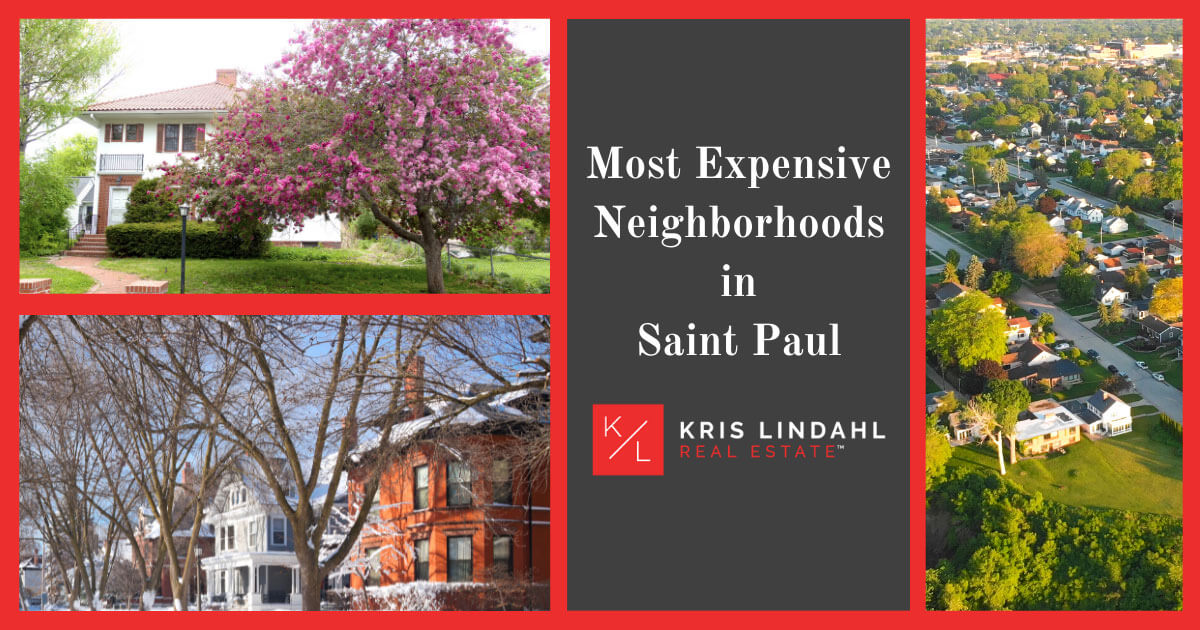 When it comes to luxury homes in the Twin Cities, Saint Paul real estate holds many amazing options within the most expensive neighborhoods in town. With a population of over 300,000 people, there are enough upscale attractions in this mid-sized city to make residents feel right at home.
People moving to Saint Paul will discover eclectic restaurants, endless shopping options, and easy access to the beautiful Mississippi River. Together with the city's breathtaking scenery, these amenities mean that some neighborhoods come at a higher price tag than others. Keep reading to learn about the eight most expensive neighborhoods in Saint Paul.
Famous Summit Hill
Summit Hill Amenities
The Governor's Mansion
The Cathedral of St. Paul
Grand Ole Creamery & Grand Pizzeria
Red Rabbit
One of the city's most famous neighborhoods, Summit Hill, is southwest of downtown and home to the iconic Summit Avenue area. Properties that once belonged to James J. Hill and F. Scott Fitzgerald can be found amid other historic sites on a tour of Summit Hill in St. Paul.
The community strives to maintain its historical reputation, so new construction is minimal. The streets of Summit Hill are lined with stately homes. Popular architectural styles include Georgian Revival, Queen Anne, Italianate, and Tudor.
In addition to its historic homes, Summit Hill has plenty of shopping and dining options at its pedestrian-friendly epicenter. Most of the neighborhood's commercial and retail spaces are on bustling Grand Avenue. Tavern on Grand, The Uptowner Cafe on Grand, and Brasa Premium Rotisserie are three such restaurants called Grand Avenue home.
With all the neighborhood has to offer, it comes as no surprise that homes here have a higher-than-average price tag. Homes for sale in Summit Hill often cost between $500,000 and $2 million.
These properties offer over 2,000 square feet of spacious interiors, three or more bedrooms, and more than two bathrooms. Condos come with a smaller price tag, typically selling for between $150,000 and $550,000.
Vibrant Macalester Groveland
Macalester Groveland Amenities
Colossal Cafe
Groveland Tap
French Meadow Bakery & Cafe
DeWitt Wallace Library
Referred to by locals as Mac-Groveland, this St. Paul neighborhood sits just east of the Mississippi River and is a short drive from downtown. This community boasts a vibrant and upbeat atmosphere, so it may come as a surprise that it dates back to the 1800s.
Most of the city's activity is focused around Grand Avenue, a primarily commercial street that runs east to west through the neighborhood. I Like You Too, a quirky gift shop, and Poppy Fun Fashion, a fashionable boutique, are both staples of the Grand Avenue retail scene.
While Macalester Groveland is a desirable neighborhood in the city, residents will be happy to know a wide range of housing options are available. Macalester-Groveland homes for sale cost between $300,000 and $2 million. Condominium prices range from $100,000 to $300,000, making the neighborhood accessible to a wide range of budgets.
While there is plenty of new construction in the neighborhood, most homes were built in the early half of the 1900s. Colonial Revival and Tudor homes are prevalent throughout this gorgeous neighborhood.
Charming Highland Park
Highland Park Amenities
St. Catherine University
Mann Highland Theatre
Agra Culture Kitchen Highland Park
Highland Cafe and Bakery
Unlike the nearby bustling areas, Highland Park has a small-town atmosphere despite its proximity to two major cities. Tucked away in the southwestern corner of St. Paul, Highland Park is located in District 15.
One of the best locations in St. Paul, the neighborhood offers breathtaking views of the Mississippi River to the west. Prices for Highland Park real estate typically start around $500,000 and can be as much as $3 million. Condominiums are sparse but do come on the market from time to time. These units typically sell between $100,000 and $300,000.
Prospective homebuyers have plenty of home types to choose from. The streets are lined with a seemingly endless number of architectural styles, including bungalows, cottages, Cape Cods, and Tudors. Both historic homes and new constructions can be found in the area.
Many homes in the neighborhood offer waterfront views. However, there is no shortage of public spaces to appreciate the picturesque community even without this luxury. Hillcrest Park, Hidden Falls Regional Park, and Dawson Park are all located within Highland Park and offer plenty of trails, green space, and nature for residents to enjoy.
Pleasant St. Anthony Park
St. Anthony Park Amenities
Minnesota State Fairgrounds
The University of Minnesota at St. Paul
Scarborough Fair Shop
Tim & Tom's Speedy Market
Situated in an ideal location on the Mississippi River, St. Anthony Park is St. Paul's District 12. The area is scenic and centrally located, just a few minutes' drive to downtown St. Paul and nearby Minneapolis.
U.S. Route 10 and State Highway 280 run north to south through the neighborhood, making it an ideal location for commuters. However, the area manages to remain a pleasant respite from the hustle and bustle of the nearby downtown.
With just under 10,000 residents, the neighborhood itself is intimate and primarily residential. There are commercial spaces dotted throughout the neighborhood's streets. St. Anthony Park's most popular hotspots are Keys Cafe on Raymond Avenue and The Finnish Bistro on Como Avenue. Both of these are cozy options for lovers of coffee and ambient atmosphere.
St. Anthony Park real estate is costly, but it's not the most expensive neighborhood in St. Paul. Most single-family home prices start at $200,000 and can be as much as $700,000. Homes are gorgeous and spacious, frequently with breathtaking views of the Mississippi River.
Convenient Merriam Park/Lexington Hamline
Merriam Park/Lexington Hamline Amenities
Merriam Park Library
Merriam Park Community Center
Shadow Falls Park
Cahoots Coffee Bar
Merriam Park/Lexington Hamline are neighborhoods located between downtown St. Paul and nearby Minneapolis. Bordered by Interstate 94 and University Avenue, these neighborhoods are ideal for commuters and frequent travelers.
River-side parks, eateries, bars, and theaters are readily available to entertain residents of these communities. In addition to commercial and retail spaces, these close-knit neighborhoods are also home to two universities.
Concordia College is a prominent liberal arts college that serves close to 1,500 students and offers more than 50 majors. Nearby, the University of St. Thomas has a sprawling campus that takes up over 80 acres. A student body of nearly 10,000 students, making it the largest private university in Minnesota.
There is plenty to love about the Merriam Park/Lexington Hamline real estate. Most single-family properties sell for between $300,000 and $900,000. The most luxurious homes, typically multi-acre estates located on the Mississippi River beds, can sell for $3 million or more.
Architectural styles remain consistent in both the Merriam Park and Lexington Hamline neighborhoods. From modest Prairie- and Colonial-style homes to stately Gothic and Tudor manors, there is something for every taste in the Merriam Park and Lexington Hamline neighborhoods.
Legendary Summit University
Summit University Amenities
Rondo Community Outreach Library
Sweeney's Saloon
Uni-Dale Mall
Ginkgo Coffee House
Summit University, a neighborhood just west of downtown St. Paul, is part of St. Paul's District 8. The neighborhood also has a secret: while Summit Hill is typically credited as being the hometown of F. Scott Fitzgerald, the famous author spent his childhood in the quaint neighborhood of Summit University.
That is just a tiny piece of the area's impressive history. Many of the community's original homes still grace the neighborhood's scenic streets. Popular architectural styles in Summit University include Federal, Italianate, and Queen Anne.
Homes for sale in Summit University are slightly more expensive than the average St. Paul home, with single-family properties selling for between $400,000 and $900,000. In addition to their beautifully-built exteriors, most homes in the area have more than 2,000 square feet of living space, three or more bedrooms, and multiple bathrooms.
Condominium units have also risen in popularity within the neighborhood. Modern high-rises are now blended with Summit University's historic buildings. Condos typically come with a lower price tag, selling for between $100,000 and $300,000.
Several restaurants and retail spaces in the neighborhood, including local favorites Red Cow, Thai Garden, and the Handsome Hog. The eclectic culture of the neighborhood lends itself to the huge range of restaurants and cuisines available to residents.
Lively Downtown St. Paul
Downtown St. Paul Amenities
CHS Field
Science Museum of Minnesota
Minnesota History Museum
Minnesota Museum of American Art
Downtown St. Paul is where all the action in the city is. Residents lucky enough to live here appreciate the area's walkability and easy access to the world-class dining, shopping, museums, and entertainment the city has to offer.
The area is not without the history St. Paul is known for. The state's iconic capitol building is located in downtown St. Paul. Likewise, the St. Paul Hotel and St. Paul Library are historical landmarks located in the city's downtown area.
Located in St. Paul's District 17, the downtown neighborhood was primarily industrial. Over the years, it has begun leaning heavily towards residential living. Once, giant warehouses and industrial buildings have been converted into condominiums, apartment buildings, and lofts.
St. Paul condos for sale are significantly more common in the area than single-family homes. Downtown St. Paul real estate prices range from $400,000 to $1.5 million and boast breathtaking views of St. Paul's skyline and the Mississippi River.
While some condos are located in historic buildings, other newer developments boast luxury features like floor-to-ceiling windows, swimming pools, fitness centers, and in-unit washer dryers.
Historic West Seventh
West Seventh Amenities
Xcel Energy Center
Cossetta's
Mancini's Char House and Lounge
Keg and Case Market
West Seventh, also known as the "West End," is aptly named after its location on the west side of the Mississippi River. Located in St. Paul's District 9, this neighborhood is just north of the city's downtown area.
Homes for sale in West Seventh often boast both city and waterfront views. The average West Seventh homes for sale in the area go for prices between $300,000 and $700,000. These homes typically have 2,000 square feet and at least three bedrooms.
While there has been plenty of new construction in the area, historic homes still stand on the tree-lined streets of West Seventh. Architectural styles popular in the neighborhood include the Queen Anne Victorians that St. Paul is known for.
Residents of West Seventh are kept busy by the bustling commercial area located within the neighborhood. West Seventh's commercial residents are split between recent transplants and decades-old businesses considered neighborhood staples.
Two such businesses are Bad Weather Brewing and Summit Brewing Company. While Bad Weather Brewing just came to St. Paul within the last decade, Summit Brewing Company has been serving St. Paul since 1986.
Discover Luxury Homes in Saint Paul
These neighborhoods offer St. Paul luxury homes for sale within short commutes of the downtown area. They offer waterfront views of the Mississippi River and easy access to all of the parks, museums, green spaces, and culinary delights the city has to offer.
When considering these amenities and conveniences, it is no surprise that housing in these areas comes at a higher price tag. However, most residents would say the additional cost is worth the many benefits of living in some of the best neighborhoods in Saint Paul.
If Saint Paul is the city for you, contact Kris Lindahl Real Estate at 1-(855) 967-7653 to get in touch with a local real estate agent who can help you find your dream home today.