8 St Paul Neighborhoods Walkers Love: Enjoy the Stroll [2022]
Posted by Kris Lindahl on Monday, March 7, 2022 at 9:32:31 PM
By Kris Lindahl / March 7, 2022
Comment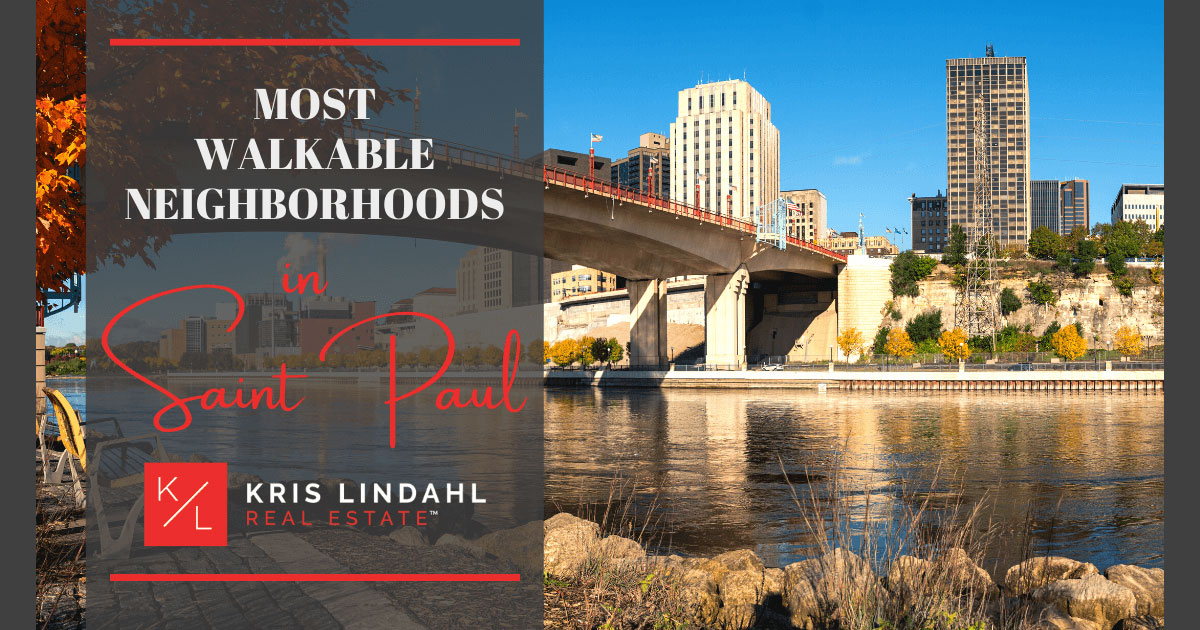 As the capital of Minnesota, Saint Paul real estate is thriving with several walkable neighborhoods filled with local shops, exciting entertainment venues, and delicious restaurants.
When browsing the best neighborhoods in St Paul, walkability is a leading factor for many people. The ability to step out the front door and stroll to public transportation or jobs in Saint Paul can drastically increase an owner's quality of life. Put on your walking shoes and keep reading to learn about the most walkable neighborhoods in Saint Paul.
Table of Contents
Downtown St. Paul
Downtown St. Paul Amenities
Xcel Energy Center
Science Museum of Minnesota
Rice Park
CHS Field
Dark Horse Bar & Eatery
Lunds & Byerlys
Also known as Lowertown, the bustling neighborhood of Downtown St. Paul is a pleasing mixture of big-city atmosphere and small-town charm. Breathtaking views from the bluffs of the Mississippi River are juxtaposed against the commercial areas' vibrant and lively atmospheres.
Decades ago, Downtown St. Paul was predominantly commercial. Since then, the area has quickly become a residential hotbed. Warehouses and other industrial buildings have been converted into lofts and St Paul condos for sale are located at the center of the city's action.
Downtown St. Paul is one of the best neighborhoods in the city when it comes to walkability. Bars and restaurants line every street— Loon Cafe, Gopher Bar, and Barrio are just a few local favorites.
The neighborhood is also home to St. Paul's Skyway system, a network of interconnected, covered, and heated public walkways. This Skyway system allows pedestrians to easily and comfortably navigate the neighborhood on foot in any season.
Real estate in Downtown St. Paul is mainly made up of condominium units. The price for one of these properties starts at $150,000 and drops off around $600,000. Thanks to many of the buildings' industrial histories, many units contain dramatic features like floor-to-ceiling windows, breathtaking city views, exposed brick, and soaring ceilings.
Thomas Dale Neighborhood (Frogtown)
Thomas Dale Amenities
So Mala Cafe and Grill
Kolap Restaurant
Great River Water Park
ALDI
Los Ocampo Restaurant and Bar
Rugged North Fitness
Located just northwest of Downtown St. Paul is the Thomas Dale neighborhood. Thomas Dale, an area affectionately known by locals as Frogtown, is perfect for pedestrians. With shops, cafes, restaurants, and entertainment opportunities on just about every corner, walking is the primary mode of transportation for many Frogtown residents.
Thomas Dale is a unique neighborhood, brimming with character due to Frogtown's rich history. Most homes were built before 1940, and some of the neighborhood's oldest properties date back to 1860. This blend of older homes and newly constructed properties give the neighborhood a unique and appealing atmosphere.
Thomas Dale homes for sale range between $150,000 and $400,000 for a single-family property. Homes boast at least 1,000 square feet, two or more bedrooms, and multiple bathrooms. Most properties are within a short walk of at least one of the over ten St. Paul public transportation stops in the neighborhood. These buses provide service to both Downtown St. Paul and the neighboring city of Minneapolis.
Frogtown also offers the opportunity to sample a wide range of cuisine. Several international markets within walking distance, including Dragon Star Oriental Foods, Shang Hur Supermarket, and HmongTown Marketplace.
Cathedral Hill
Cathedral Hill Amenities
W.A. Frost
Moscow on the Hill
Red Cow
St. Paul Curling Club
Nina's Coffee Shop
Boyd Park
Cathedral Hill is just a skip, hop, and a jump from Downtown St. Paul. At its inception in the 1870s, this gorgeous and historical neighborhood provided more space for residents looking to stretch out. The area is home to several landmarks, including the meticulously-designed Cathedral of St. Paul.
Both Selby and Summit Avenues run through the neighborhood, making it easy to explore Cathedral Hill on foot. These streets are home to some of the best restaurants in all of St. Paul. Mango Thai, Revival, and La Grolla are restaurants all located on Selby Avenue, within easy walking distance for most residents.
Restaurants, cafes, and counter-service eateries can be found on practically every street in Cathedral Hill. For residents that need to travel a bit further, Metro Transit bus lines 21 and 65 have stops within the neighborhood. There is also a light rail station located on Western Avenue.
Cathedral Hill homes for sale sell for anywhere between $200,000 for modest condos and $1,500,000 for modern new constructions. Home features include fireplaces, hardwood floors, and open floor plans.
Merriam Park/Lexington Hamline
Merriam Park/Lexington Hamline Amenities
Merriam Park Library
The Town and Country Club
Lula
Bark and the Bite
Shadow Falls Park
St. Paul Midway YMCA
Equidistant between downtown St. Paul and the Downtown Minneapolis area, Merriam Park/Lexington Hamline is ideal for people who love to walk.
In addition to being ideally located, the neighborhood is meticulously planned. Colonel John Merriam once owned the majority of Merriam Park/Lexington Hamline. Due to the strict rules and regulations imposed by Mr. Merriam, the neighborhood transformed into a beautifully-organized grid in his vision. Today, planning for the neighborhood is overseen by the Union Park District Council.
This grid isn't just pleasing from an aesthetic standpoint— it makes travel a breeze for pedestrians. With so much to do in the neighborhood, it's easy for residents to walk out their front door and make their way to their nearest market, library, cafe, or restaurant. Cafes, in particular, are popular in the area, with some of the most popular being Ding Tea St. Paul, Yellowbird Coffee Bar, and Starbucks for those that love the classics.
Merriam Park/Lexington Hamline homes for sale are highly sought-after due to the unmatched convenience of the neighborhood's location. Properties in the area sell for between $200,000 and $3,500,000. Most homes have two and four bedrooms and at least 2,000 square feet of living space.
Summit University
Summit University Amenities
Boyd Park
Summit Overlook Park
Cathedral Hill Park
Bon Vie Cafe
Golden Thyme Coffee & Cafe
Summit University is located in the southwestern section of the city. The neighborhood has a rich history and is filled with significant landmarks, including the Temple of Aaron and St. Luke's Catholic Church, that architecture enthusiasts travel for miles to see.
While Summit University was once filled with historic but outdated homes and commercial businesses, the neighborhood transformed in the 1990s. Now, Summit Hill is an impressively modernized collection of updated homes, trendy businesses, and hip restaurants.
The transformation focused on Summit Hill becoming a pedestrian paradise. Just steps away from most homes are restaurants like Tommie's Pizza, a breeze for residents looking to pick up dinner on the walk home from the bus stop, and The Gnome Craft Pub, the perfect place to meet friends for dinner and drinks not far from home.
The prices of homes for sale in Summit University can range from anywhere between $200,000 and $650,000. Most properties on the market are townhomes and condominium units. These property types are often in older, character-filled buildings. Units boast sought-after features like fireplaces, custom woodwork, and dramatic windows that let in tons of light.
Hamline Midway
Hamline Midway Amenities
Can Can Wonderland
Groundswell
Hamline Midway Public Library
Midway Halaal Shop
ALDI
Midway Grocery
Midway Marketplace
St. Paul's Hamline Midway neighborhood is right in the middle of the Twin Cities metro area. This central location makes the neighborhood a sought-after destination for prospective homebuyers looking in the area.
Even more appealing, the Hamline Midway neighborhood is ideal for residents that prefer walking. Commercial and retail properties are dotted amongst residences, and public transportation stations, grocery stores, and restaurants are all walking distance.
Cuisine, in particular, is a favorite pastime of Hamline Midway residents, with culturally-diverse food options taking center stage in the neighborhood. Ethiopian (Fasika Restaurant), Thai (On's Kitchen), and Korean (Mirror of Korea) are just a few of the cuisines represented in the neighborhood.
The closest light rail station is Hamline Avenue Station, which provides service between the downtown areas of St. Paul and Minneapolis. The busiest areas of the neighborhood are the business districts located on Snelling Avenue and University Avenue.
Hamline Midway real estate prices span between $200,000 and $800,000. Most have between two and four bedrooms and at least 1,000 square feet of living space. Condominiums sell in the $200,000s and $300,000s, with the most sought-after units on bustling West Minnehaha Avenue or lively University Avenue West.
Summit Hill
Summit Hill Amenities
Coconut Thai
CorePower Yoga
Spa Oro Blanco
Café Latte
Kowalski's Market
Golden Fig Fine Foods
Just southwest of Downtown St. Paul is the beautiful and well-established neighborhood of Summit Hill or Crocus Hill to the locals. Bustling with energy and activity, homes for sale in Summit Hill go for anywhere from $100,000 for a studio condominium unit with 700 square feet to $1,000,000 or more for a grand estate on an acre of land.
The neighborhood boasts a high volume of historic and well-preserved Gilded Age mansions on famous Summit Avenue. Some of the favorites on the list include the Governor's Residence, Julian H. Sleeper House, James J. Hill House, and F. Scott Fitzgerald's home. These landmarks make the neighborhood a hotspot for walking tours of Summit Hill.
Outside of Summit Hill's grand estates, plenty of neighborhood attractions will entertain residents just steps from their front doors. Grand Avenue is another famous street in this small neighborhood, lined with upscale shops and fine dining.
Some local favorite boutiques on this unique and lively street include EVEREVE, Trade Winds, Atelier957, and Irish on Grand. After shopping, residents can stop by Red Rabbit St. Paul for some decadent Italian or go a few doors down and enjoy drinks and a bite to eat at the Iron Ranger.
St. Anthony Park
St. Anthony Park Amenities
College Park
The Dubliner Pub
Nico's Taco Bar on Como
Tim & Tom's Speedy Market Inc.
Caffe Biaggio
Pho 79
St. Anthony Park, also known by locals as SAP, was initially a neighborhood built for housing railroad workers. Eventually, the neighborhood grew into a community of residents that loved the neighborhood's convenience and its quaint, small-town atmosphere.
Despite the neighborhood's tight-knit and cozy feel, bustling commercial businesses are dotted throughout the residential streets. Cafes in St. Anthony Park are walkable and trendy, and some local favorites include Keys Cafe, Finnish Bistro, and Colossal Cafe.
There is also two METRO Green Line Light Rail stops in St. Anthony Paul. One-stop is located on University Avenue and the other at Westgate. The likelihood of one of these stops being within walking distance of a St. Anthony Park residence is high.
Homes for sale in St. Anthony Park are relatively affordable compared with the $1,000,000 and above estates in neighborhoods like Summit Hill and Cathedral Hill. Most homes have at least 1,500 square feet, three bedrooms, and multiple bathrooms. While homes are older, most have had recent updates and have been well-maintained throughout the years.
Stroll Through Your Favorite Saint Paul Neighborhoods
For prospective homebuyers looking for a walkable neighborhood in St. Paul, Minneapolis, there are plenty of options that fit the bill. From bustling downtown areas to lush park-filled communities, the walkable communities of St. Paul have something suit any lifestyle. Each neighborhood has a unique atmosphere, so prospective residents need to do their due diligence and determine which pedestrian-friendly St. Paul neighborhood works best for their needs.
If Saint Paul is the city for you, contact Kris Lindahl Real Estate at 1-(855) 967-7653 to get in touch with a local real estate agent who can help you find your dream home today.