Moving to Blaine: Blaine, MN Relocation & Homebuyer Guide
Posted by Kris Lindahl on Wednesday, May 24, 2023 at 2:50:30 PM
By Kris Lindahl / May 24, 2023
Comment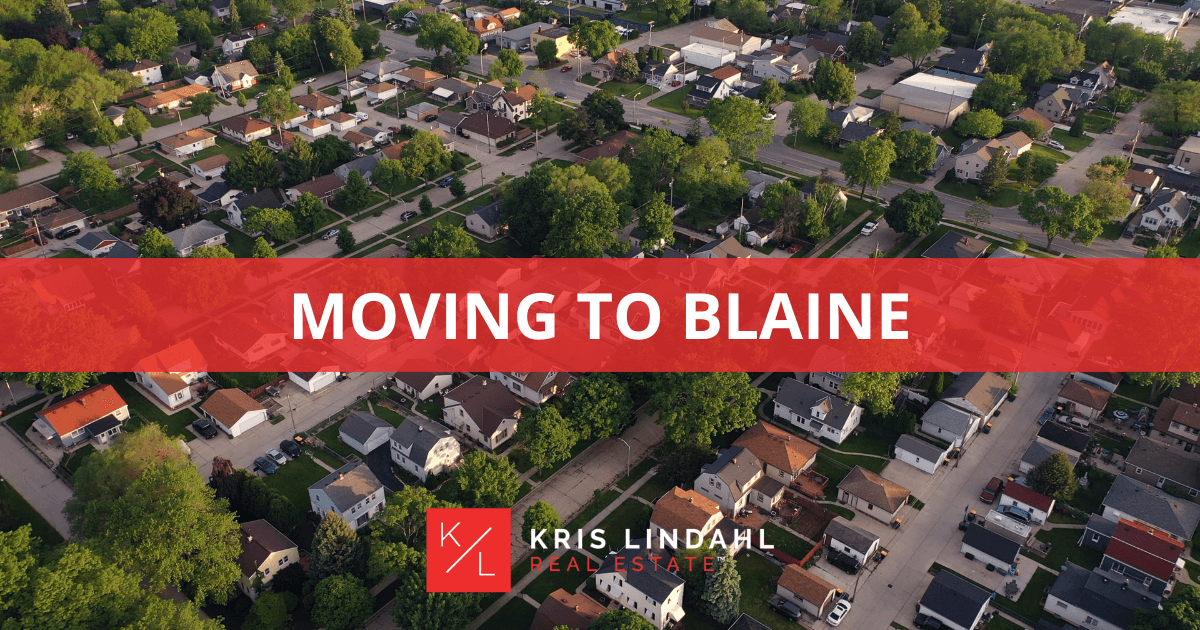 Just 12 miles north of the
city of Minneapolis
, Blaine is a wonderful suburb to reside in. It's close to the city and provides the comforts of small-town living—but that's not to say the
city of Blaine
is small. In fact, over 70,000 residents live in the area, and the population continues to increase each year. Providing a suburban feel while keeping all modern conveniences in arms' reach—from small, locally owned businesses to recognizable chains—there are plenty of reasons why Blaine is a great place to live. Here's what you can expect when you're moving to Blaine.
6 Reasons to Live in Blaine
Residents enjoy easy access to Minneapolis and St. Paul for shopping, dining, and other activities.
Thanks to its proximity to the Twin Cities and its own large number of company headquarters, Blaine has a strong job market.
Blaine is home to TPC Twin Cities, the only PGA Tour golf course in the state.
Over 60 parks and hundreds of miles of trails give residents plenty of chances to enjoy time outside.
The National Sports Center has a golf course, artificial turf field, dozens of soccer fields, an ice arena, and more.
Public school students are served by three different school districts: Anoka-Hennepin, Spring Lake Park, and Centennial.
Blaine Cost of Living
In Blaine, Minnesota, residents experience a cost of living index of 104.5, or 4.5% higher than the rest of the United States. The main category responsible for this higher cost of living is housing.
The median home value in Blaine is $263,500; meanwhile, the average home price for a
Blaine condo
is closer to $300,000, and a
Blaine luxury home
will go for significantly more. A large majority of the homes feature at least three bedrooms and two bathrooms, but there are a number of houses that only have two bedrooms while others have four or more. Many homes include a fireplace, heated floorboards, and a basement. Those who rent in Blaine pay $1,441 per month on average. A small studio apartment averages $1,100, while a four-bedroom rental can have a monthly cost of $2,325. Most of the rentals in Blaine are apartments, but there are a few homes that are rented for $2,000 to $3,000 per month. Blaine's gas prices are in line with the rest of the country and come in at around $3.30 per gallon, and residents save the most on healthcare. Compare other cost of living factors in Blaine to the rest of the state and the country below:
| | | | |
| --- | --- | --- | --- |
| Cost of Living | Blaine | Minnesota | USA |
| Overall | 104.5 | 97.2 | 100 |
| Grocery | 101.5 | 97.2 | 100 |
| Health | 74.7 | 78.3 | 100 |
| Housing | 112.4 | 102.9 | 100 |
| Median Home Cost | $326,400 | $309,500 | $338,100 |
| Utilities | 100.8 | 95.7 | 100 |
| Transportation | 109.8 | 96.4 | 100 |
| Miscellaneous | 131 | 117.4 | 100 |
Cost of Living information from BestPlaces.com.
The average resident of Blaine can expect to have an annual salary of around $40,000, whereas a larger household will average roughly $90,000. In comparison to the rest of the United States, the average resident brings in about $30,000, and the household generates closer to $70,000. Blaine's residents pay 7.13% in sales tax and 7.1% in income tax.
More information about cost of living in Blaine:
Blaine Job Market
The city of Blaine is centrally located near major roadways, which makes it the perfect place for businesses to grow and flourish.
Companies have easy access to I-35 on the east, Highway 65 in the center of town, and Highway 10 connecting the north metro to the south and west of the city.
This ideal positioning has allowed Blaine to become the home to 200 industrial businesses, 11 industrial parks, and six large company headquarters, including Aveda Corporation and General Pattern. With a large number of companies and all the city residents, businesses throughout Blaine have a healthy workforce. The Aveda Corporation is best known for its hair and beauty products. The company employs nearly 800 individuals, making it the single-largest employer in the area. Infinite Campus, Cub Food, and Carley Foundry all employ between 400 and 600 residents. Ultimately, the ever-expanding region of Blaine continues to create new positions for the workforce.
More information about finding a job in Blaine:
Popular Industries in Blaine
Manufacturing is the largest industry in Blaine and throughout the state of Minnesota as well. Most of the largest manufacturing companies in Blaine began in the 1980s and have grown into international companies. However, these companies still keep their headquarters in Blaine. Health is the second-largest industry in Blaine and also the fastest-growing. From pharmaceuticals to healthcare, the number of businesses opening their doors in Blaine increases annually. Residents can find a number of jobs in health at every skill level.
Things to Do in Blaine
It's no secret that Blaine, Minnesota, can be cold in the winter. However, the summers are beautiful for
outdoor activities
. Whatever their taste, there is something for everyone to do indoors and outside year-round.
From indoor golfing and shopping to ninja gyms, bowling, and snowboarding, people can find something they enjoy.
Outdoor Activities
Blaine is home to beautiful
golf courses
that keep people coming back for more. Additionally,
hiking trails
can be enjoyed throughout the Blaine Wetland Sanctuary and
East Anoka County Regional Trail
. The renowned National Sports Center and exciting helicopter tours are also worth experiencing, while the
best lakes in Blaine
give residents plenty of
water activities
to enjoy.
Restaurants, Breweries, and Bars
There is no shortage of good food in Blaine. You can find a number of popular chain restaurants in addition to locally owned and family-owned businesses, ranging from American to seafood, Asian, and Latin. There is one brewery in the heart of Blaine, which is close to two other top-rated breweries in neighboring cities. Invictus Brewing Company can easily be accessed anywhere in Blaine within 15 minutes. Torg Brewery is to the south of the city and is located in
Spring Lake Park
, while HammerHeart Brewing Co. is to the north in
Lino Lakes
. Whatever their sport, people will be able to find a sports bar in Blaine with its game on the TV. People can also find a good selection of spirits at any restaurant bar in the area. They can even enjoy some free popcorn that is offered at nearly every bar they visit!
Nightlife
Due to the cold winters, the nightlife here is somewhat limited; most of the
things to do in Blaine
come night include partaking in bars around the city. However, if someone prefers sports and enjoys fireplaces, then they can hang out at Wild Bill's Sports Saloon. Otherwise, they can take a short 20-minute drive to Minneapolis to explore a wider selection of nightlife offered in the city.
Blaine Climate
Blaine has a comfort index of 6.5 out of 10, which is average compared to the rest of Minnesota. People can expect Blaine to have nearly 55 inches of snow every year, in addition to 32 inches of rain. The rest of the United States has an average of only 38 inches of rain and 28 inches of snow. Blaine has 194 days of sunshine and summer highs of 83 °F. Only 8 days in the entire year reach above 90 °F on average. However, the winter low can reach 4.4 °F or lower, depending on the year. Most winter seasons will see nearly 30 days when temperatures drop below 0 °F.
The most comfortable months in Blaine are June, July, and August because of the mild temperature and sunny skies.
During these months, temperatures rarely exceed 75 °F or drop below 50 °F.
Due to the low temperatures and snow, December and January are the least comfortable months.
More information about the climate in Blaine:
Blaine Traffic
When driving in Blaine, drivers experience peak traffic between 6:00 a.m. and 9:00 a.m. and from 4:00 p.m. to approximately 6:00 p.m.
Nearly 85% of the residents drive their own vehicle, while 8% carpool. The average commute is anywhere from 26 to 32 minutes, which is similar to the United States' average. During the winter, the city of Blaine monitors all roadways for snow and ice to prevent as many traffic delays and accidents as possible. Most of Blaine's residents have been driving up north their entire lives, so they are usually familiar with how to handle the roadways. However, those who have never driven in these winter conditions may consider taking mass transit until they are comfortable driving in the snow. Fortunately, it's easy to get to Minneapolis and the
city of St. Paul
quickly from Blaine, as both of these cities can usually be reached within 20 minutes. Those who want to take a weekend getaway can reach Chicago by car in six hours, while Kansas City is accessible in just seven hours. Those who want to explore the history of the Upper Peninsula of Wisconsin can reach the westernmost point in six hours or the easternmost point in nine hours.
More information about traffic in Blaine:
Alternative Routes
Few alternative routes exist in the heart of Blaine. With over 350 cul-de-sacs in the city, many roads leading into neighborhoods do not have an exit. While some side roads are available, some lights and traffic in the city are unavoidable. When I-35E or W is experiencing traffic, it is possible to take Highway 65 to avoid the congestion. This can be especially helpful when driving towards Minneapolis. Those who are heading to St. Paul can use Highway 610 in place of U-694 and I-94.
Public Transportation in Blaine
Those who prefer public transportation have two options for commuting in the heart of Blaine and into Minneapolis. Both options are operated by
Metro Transit
, which makes payments simple.
The Metro Transit bus system offers a number of fixed routes throughout Blaine and the metro area. Rates are dependent on what time the ride is taken.
During non-rush-hour times, one-way rides are only $2.00, while rush-hour times are $2.50. Children and senior citizens receive a reduced rate. Those who are only riding in downtown pay $0.50, regardless of what time of day it is. All-day passes are available online for $5 during the week and $4 during the weekend. Residents who need to commute into Minneapolis for work can take advantage of the Northstar Commuter Rail, which offers wider trains allowing for more space. Additionally, the trains offer work tables, bike storage, restrooms, and free Wi-Fi. People can access the train by riding their bike or parking in Coon Rapids, which is less than 10 minutes away. The Northstar Commuter Rail is a great option for anyone who needs to get some work done on the way to the office.
Schools in Blaine
There are several different options for
schools in Blaine
when considering where to enroll your students.
Blaine is zoned by three popular school districts, and parents can request for their children to attend schools in either of these districts.
However, the districts do not provide guaranteed bus transportation, so parents may need to drive their children to the requested schools. The Anoka-Hennepin Public School District offers preschool through 12th grade between 51 schools. Many of the schools offer AP, IB, and gifted programs. Only seven minutes south of Blaine, Spring Lake Park Public School District is smaller, with only 12 schools. It offers preschool through 12th grade for its 6,000+ students, and the average student-to-teacher ratio is 18 to 1.
Ready to Move to Blaine?
Blaine, Minnesota, is a growing suburb of Minneapolis and St. Paul. With proximity to these cities, residents in the city's
best neighborhoods
are never far from the action. With a variety of delicious restaurants, a growing job market, numerous schools, and cold, snowy winters, Blaine is a wonderful place to call home. #hw-pillar-cta-bottom-blaine# #hw-pillar-formatting#