Living in Duluth: 11 Things to Know Before Moving to Duluth [2023]
Posted by Kris Lindahl on Wednesday, May 17, 2023 at 7:00:45 PM
By Kris Lindahl / May 17, 2023
Comment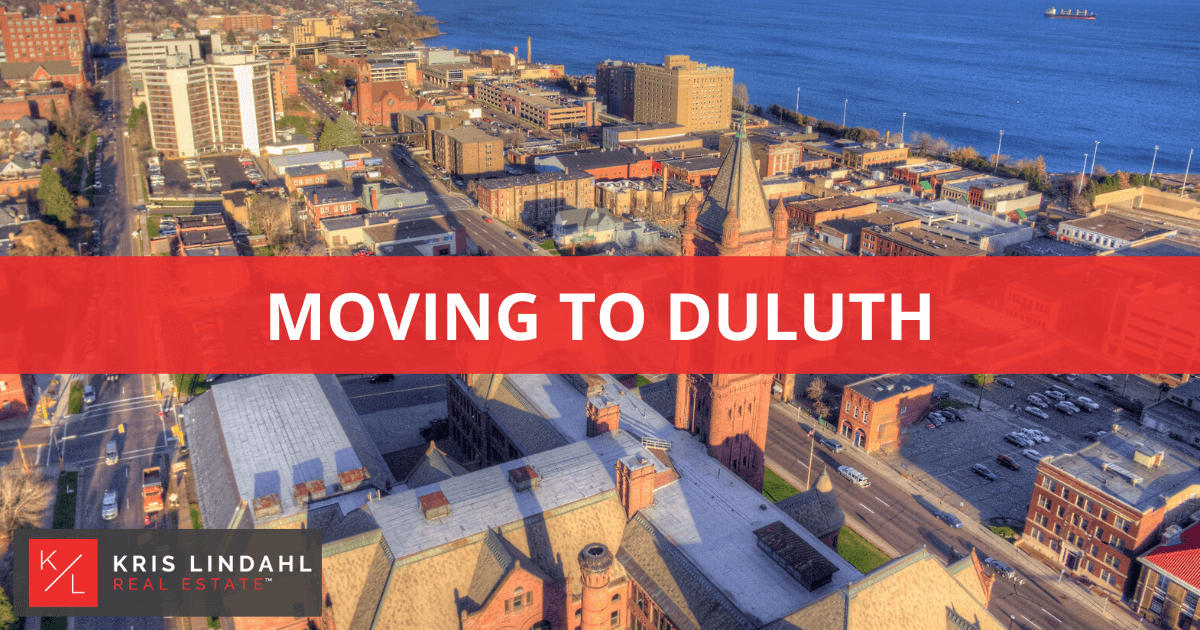 Duluth is a medium-sized city on the shores of Lake Superior in northern Minnesota with many appealing qualities. The overall cost of living is lower than the national and state averages, the job market is thriving and diverse, there are plenty of things to do indoors and out, and the city has excellent transportation infrastructure and area access. These are all important considerations when weighing a move to Duluth, MN, but they're just the beginning. The city—located about two hours from the
walkable neighborhoods of Minneapolis
and the
condos in St. Paul
—also has many parks, hiking and biking trails within city limits, and a fantastic restaurant scene. Duluth is also a dream for beer enthusiasts, with several local and craft breweries. Thanks to its strategic location on Lake Superior, the city has a rich history rooted in fur trading, copper and ore mining, and the railroad. As such, it offers a nice mix of older and newer ones, including condos and new-construction homes. Whether you're a nature lover, history buff, foodie, or want to live on Lake Superior, Duluth is a great place to live and deserving of a spot on your shortlist.
7 Reasons to Live in Duluth
From extensive trail systems and parks to plenty of places to camp, Duluth residents enjoy a range of outdoor activities.
Duluth boasts a cost of living lower than both the state and national averages.
Students in Duluth have access to numerous schooling options, including the University of Minnesota Duluth.
Like much of the area, Duluth has four distinct and beautiful seasons.
Much of Duluth is right on the shores of Lake Superior, where visitors can go fishing, canoeing, and more.
Living in Canal Park and other downtown areas puts residents near amazing spots for food, shopping, and entertainment.
Museums, galleries, and other attractions like the Duluth Art Institute and the Great Lakes Aquarium are easy ways to spend a day.
Cost of Living in Duluth
Living in Duluth comes with a cost of living lower than the state and national averages in nearly every category.
This is one of the biggest draws of moving to Duluth! On the cost of living scale, 100 is the national average in the US. Minnesota's overall cost of living is 97.2, while that number drops to 85.7 in Duluth—a considerable drop from the average national and state cost of living.
Homes for sale in Duluth
typically list from the low $100s. The median housing cost in Duluth is nearly 25% lower than the national average and more than 27% lower than the Minnesota average. There's no question that Duluth is an excellent option for stretching your housing dollars a bit further. Duluth's groceries and other food cost is on par with the Minnesota average and just slightly below the national average. Healthcare is the one category where Duluth is higher than the state average but is still considerably lower than the national average.
Duluth Job Market
Duluth is a medium-sized city of about 87,000 people, and there are plenty of opportunities to work in several industries.
Numerous large companies call Duluth home, and many more from around the country do business in Duluth. One company headquartered in Duluth is Cirrus Aircraft. Cirrus has been building small single-engine and personal jet airplanes since 1984, and the company employs about 1,700 people in the Duluth area. Nearly 17% of its employees attended the University of Minnesota Duluth, so Cirrus is notoriously very involved in the local community and recruits lots of "home-grown" talent. Essentia Health is one of the biggest employers in Duluth, with just shy of 11,000 employees across its 71 clinics and 14 hospitals throughout Minnesota, North Dakota, Wisconsin, and Idaho. Though its network is beginning to spread out, Essentia's headquarters is in Duluth, along with many of its employees. Essentia has opportunities from entry-level administrative positions up to surgeons and management roles. Duluth is the county seat of
St. Louis County
, another large employer in the city that employs more than 3,000 people. The team oversees and ensures various aspects of the county, including public health and safety, transportation and infrastructure, and overall growth and prosperity in the community.
Popular Industries in the Area
While there are several sizable industries in Duluth, the largest is healthcare
. The medical district encompasses a six-block area in downtown Duluth, where thousands of medical professionals work across several companies. Notably, Essentia Health and St. Luke's Hospital, two of the largest area employees and healthcare systems, have buildings in the medical district. Duluth's aviation industry is quickly growing as well. In addition to Cirrus Aircraft, the area is home to AAR Corp, Monaco Air, and an international airport, all of which provide opportunities for those working in the aviation industry. Throughout history, Duluth has consistently had a strong manufacturing industry. This is largely due to its convenient access by water, rail, air, and roads connecting this medium-sized city with the entire world. The technology industry in Duluth is also growing exceptionally quickly.
Things to Do in Duluth
The city's diversity doesn't stop in its job market; there are plenty of things to do in Duluth for everyone.
With its proximity to Lake Superior and several other natural spaces, museums, parks, restaurants, and much more, Duluth is an excellent place to have fun, find an adventure, and stay perpetually entertained
. Duluth has many outdoor recreation opportunities, including fishing, hiking, camping, winter sports, and water-based activities such as canoeing, kayaking, and water skiing. The city also hosts several special events throughout the year and has plenty of shopping, museums, restaurants, and unique spots to explore.
Outdoor Activities
Adventure seekers will be right at home in Duluth.
Without leaving the city limits, you'll find nearly 200 miles of wooded hiking trails and over 9,000 acres of parks and open natural areas. There's even more hiking and nature to enjoy in the areas surrounding Duluth. Lake Superior offers fantastic fishing, boating, and other water activities year-round. Renting a paddleboard or kayak, or going on a guided fishing charter, are great ways to spend an afternoon on the water. Northern Minnesota has notoriously cold winters, but that doesn't stop the fun outdoors. Skiers and snowboarders can head to Spirit Mountain to enjoy snow sports or visit a frozen lake for ice fishing or hockey.
Local Attractions
You don't have to travel far to find great things to do in Duluth.
The city has lots of fun activities for everyone, practically right in your backyard.
The Lake Superior Zoo and Great Lakes Aquarium are excellent places to visit, where you can have fun while learning about animal conservation and protection. Duluth also has several excellent museums, such as the
Duluth Children's Museum
, Lake Superior Maritime Visitors Center, Lake Superior Railroad Museum, and the Tweed Museum of Art. These are great options for cold or rainy days, in particular.
Restaurants and Nightlife
It may not be the first thing that comes to mind when you hear "nightlife," but don't be fooled—Duluth's nightlife scene is quickly growing.
Being in the Midwest, you're bound to find sports bars and taverns on seemingly every corner. Duluth has more to offer, however. There are tons of breweries and a surprisingly robust variety of restaurants across the city, and you can also often find live music and late-night parties.
Climate in Duluth
It's no secret that winters in Duluth get cold, but all four seasons are beautiful in Duluth, and each has unique perks.
There's generally a nice transition between the seasons, and you'll experience colorful fall foliage, heavy snow in the winter, bright flower blooms throughout the spring, and mild summer temperatures with some humidity. By the end of November, daily averages are 33º for the high and 22º for the low. January is the coldest month, with averages of 22º for the high, 6º for the low, and some days where temperatures may be in the negatives when the wind chill is factored in. In the spring, March begins with high temperatures around 33º, and they steadily climb to around 67º by early June. July is generally the hottest month of the year, with an average high of 77º and lows of around 60º. Snow is guaranteed in the winter, but it's not usually too heavy. There's a chance of snow anywhere from the end of October through the beginning of May, but the highest average snowfall every year is in March, with about 4.3 inches.
Duluth Traffic
Although Duluth is somewhat of an older city, it isn't plagued by notoriously terrible traffic or outdated road systems.
The city's road infrastructure is well-planned, and residents have quick access to highways, allowing thru traffic to easily bypass the city at peak traffic times. Around 75% of Duluth residents commute to work in their own vehicles. Many people also take advantage of carpooling or public transportation. Even with the occasional slowdown due to winter storms or an accident, the average commute in Duluth is just 17 minutes one way.
Alternate Routes
The main thoroughfare through the city is I-35, which runs parallel to the shore of Lake Superior.
This multi-lane highway begins in Duluth and runs through Minneapolis, the rest of the state, and all the way to the US-Mexico border in Laredo, Texas.
The interstate flows pretty smoothly most of the time, but in the event of a significant backup, there are a few different ways to get around it. Duluth has plenty of streets running through the city that all eventually interconnect. This means if one route is blocked, there's almost always at least one alternative. The best way to find the quickest available route is to use a navigation app such as Google Maps or Waze, which frequently updates with live traffic info to create the best route.
Public Transportation in Duluth
Public transportation in Duluth is well-connected and very easy to use, even for people completely new to the city.
More than 80% of Duluth residents (as well as those across the state border in Superior, Wisconsin) live within easy walking distance of a bus stop, so chances are, there's a bus available for days when you can't or don't want to drive.
Duluth Transit Authority
(DTA) operates 21 bus routes with more than 1,700 bus stops. The bus fare costs $1.50 during peak hours (7-9:00 am and 2:30-6:00 pm on weekdays) and just 75 cents during off-peak hours. Fares can be paid with cash or the DTA EZ-Card. Students at a partnering university can ride DTA buses free anytime. Passengers are also welcome to transport their bicycles on the racks on the front of any bus at no charge. A trolley also makes a loop through downtown Duluth in the summer months. A ride costs 50 cents for a one-way ride or $4 for a day pass. In addition, several scenic railroads and a high-speed train are proposed to connect Duluth to the Twin Cities in the near future. If the bus or trolley routes don't get you where you need to go, you can always take a taxi or order a ride through a rideshare app such as Uber or Lyft.
Duluth Schools
Duluth has many schools to choose from, including Duluth Public Schools, private, charter, independent, and Catholic schools for children up to grade 12.
There are also several higher-education institutions in the city. Duluth Grade Schools:
Nine public elementary schools
Two public middle schools
Two public high schools
Four charter schools
Six alternative public schools
Three independent schools
Two Catholic schools
Three private, non-Catholic schools
Within the metro area, there are also several other school districts with plenty of options for children and teachers or professors considering living in Duluth, MN. After graduation, several colleges and universities are available in the Duluth area. Many have programs and pathways that include both education programs and post-education career help transition students into the local workforce. Duluth Colleges & Universities:
University of Minnesota Duluth
The College of St. Scholastica
Lake Superior College
Duluth Business University
Itasca Community College
Cosmetology Careers Unlimited
A Lakeside City Full of Opportunity
Duluth offers residents a fantastic variety of things: jobs, activities and entertainment, food, schools, weather, and even ways to get around. The current well-established industries, a budding tech field, and convenient accessibility by water, air, rail, and road all make doing any business in Duluth a great option. #hw-pillar-cta-bottom-duluth#
#hw-pillar-formatting#