Moving to Minneapolis: 10 Reasons to Love Living in Minneapolis
Posted by Kris Lindahl on Monday, June 12, 2023 at 6:30 AM
By Kris Lindahl / June 12, 2023
Comment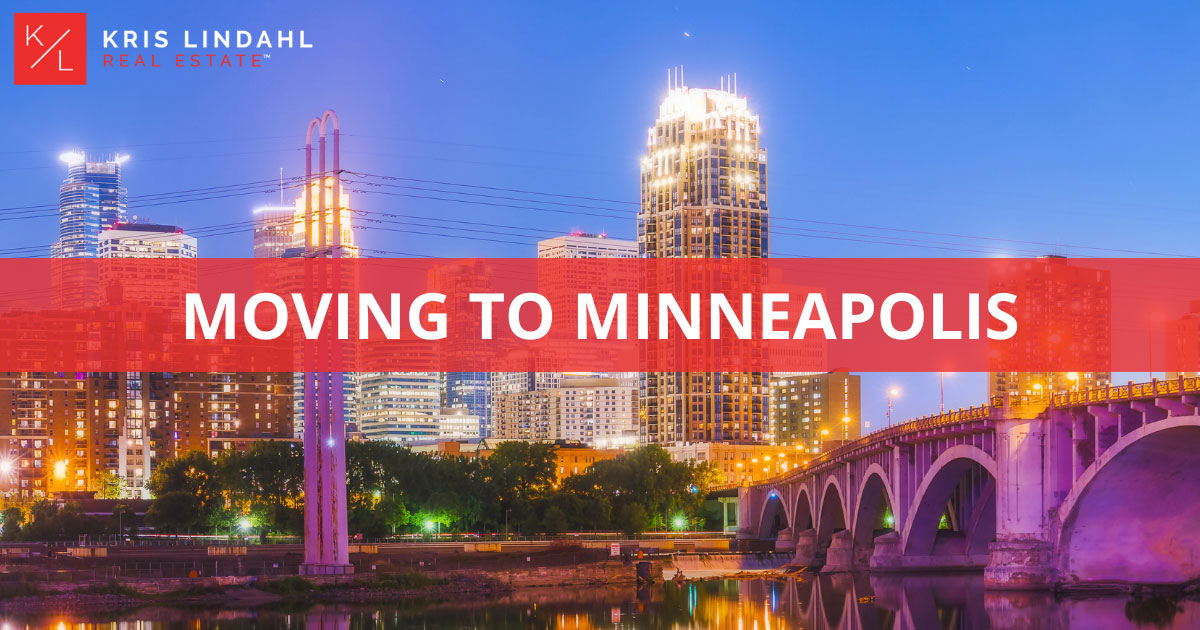 Minneapolis is a thriving city with abundant economic opportunities, a successful tourism industry, cultural venues, and beautiful lakes. From its busy downtown to its rich dining and culture scenes, it offers the perfect blend of natural beauty and urban amenities. Overall, the
city of Minneapolis
is a great place to live thanks to the range of things to do and the excellent cost of housing. Read on to learn all about the many benefits of moving to Minneapolis, MN.
10 Reasons to Live in Minneapolis
Why move to Minneapolis? There are too many reasons to list, but here are some to get you started.
Outdoor activities year-round
Affordable cost of living for a metro area
Excellent dining and craft beer scene
Plenty of job opportunities
Access to its fair share of Minnesota's many lakes
Four professional sports teams and one just next door in St. Paul
Numerous museums, including the Walker Art Center
Convenient education options
Reasonable traffic for a metro area
Minneapolis-Saint Paul International Airport is near downtown
Minneapolis Cost of Living
The cost of living in Minneapolis is about 5% higher than the national average, which is much lower compared to other large cities around the country.
For example, the cost of living in San Francisco is more than 79% above the national average, the cost of living in New York City is 68% more than the national average, and the cost of living in Washington, D.C. is more than 50% above the national average. For a city steeped with culture, economic opportunity, and a thriving suburban-metro area, Minneapolis is very affordable.
The median cost to buy a house in Minnesota is around $335,000, while a townhome or condo can be found at lower prices. The median cost to buy a house in the United States is about $430,000
. The cost to rent an apartment in Minneapolis is comparable to the national average, though slightly higher overall. Below are prices one can expect to see if they are looking for an apartment in Minneapolis.
Studio apartment - $1,100
1-bedroom apartment - $1,370
2-bedroom apartment - $1,940
3-bedroom apartment - $1,950
Minneapolis is much like other cities in the United States: space is valued highly. The median cost to
rent a house in Minneapolis
is $1,500, which is a bit over the average cost to rent a house nationally.
Groceries
The cost to buy groceries in Minneapolis is mid-range, compared to the cost of groceries in other parts of the United States.
A gallon of milk costs about $2.30, while eggs cost about $1.85 and bananas cost around $0.65 per pound.
Utilities
Basic utilities (electricity, heating, cooling, water, garbage) in Minneapolis cost approximately $170 per month, while Internet costs an average of about $60 per month.
Gas and Public Transportation
A one-way ticket for local transportation costs about $2.50, while a monthly pass for public transportation costs around $90 in Minneapolis. Gasoline prices are always fluctuating, but the area will cost around $3.50 per gallon.
Minneapolis Job Market
Minneapolis has a thriving job market and is home to many nationally known companies such as Target, Thrivent Financial for Lutherans, Ameriprise Financial, and U.S. Bancorp.
The neighboring
city of St. Paul
is also home to a few nationally known companies like Securian Financial Group and Ecolab. The unemployment rate usually ranges between 2.5 and 3 percent in Minneapolis. Companies like Medtronic, Upsher-Smith, Boston Scientific, and the National Marrow Donor Program are all major employers in the area. Additionally, companies such as Mortenson Construction in the
city of Golden Valley
, Andersen Corp in the
city of Bayport
, and Xcel Energy in Minneapolis are also major employers in the area.
The top 10 employers include Cargill in the city of Wayzata, US Bank in Minneapolis, and 3M in the city of Maplewood, proving that Minneapolis and its surrounding areas have a strong economy and can employ a variety of workers across many industries.
Popular Industries in Minneapolis
Science, technology, and retail industries are strong in Minneapolis. Electronics, machinery, milling, production of medical products, graphic arts, and food processing are all areas where residents are able to secure employment. Thirty of the Fortune 1000 companies are headquartered in Minneapolis or one of its neighboring cities.
People from the technology industry are usually drawn to Minneapolis; in fact, Minneapolis is home to one of the largest concentrations of high-technology firms in the nation.
Things to Do in Minneapolis
There are plenty of
things to do in Minneapolis
, as the city is well-known as a tourist destination, especially for people in the Midwest. With attractions like the Mall of America in nearby the
city of Bloomington
, museums such as the Mill City Museum, and a range of tasty restaurants to eat at, many people are drawn to Minneapolis for the wealth of things to do here. Whether they enjoy doing things outdoors or inside, exploring museums, or attending big events like concerts, Minneapolis is a place where people can always remain entertained.
Outdoor Recreation
While people in Minneapolis enjoy a variety of indoor and outdoor activities, the area is rich with outdoor hiking trails and parks. The following
outdoor activities in Minneapolis
are just some of the dozens of residents to enjoy.
Midtown Greenway is a three-lane trail that includes space for runners and bikers.
The trails are lit at night and are open year-round. The snow is also plowed here during winter, which makes it an easy route to traverse at all times of the year.
The circular(ish) road of the Grand Rounds National Scenic Byway is open to cars, pedestrians, and bikers.
The road is about 50 miles long and passes by a variety of environments, including lagoons, gardens, parkways, woodlands, lakes, and more.
The Chain of Lakes park offers many trails, boasts impressive views, and connects a variety of lakes in the surrounding areas of Minneapolis.
Restaurants, Breweries, and Bars
There are many excellent restaurants, breweries, and bars to discover in Minneapolis.
Jefe Urban Cocina is a Mexican restaurant where people can enjoy an outdoor meal on the patio during summer. This is a great place for people to go for a special occasion or a night out. Martina restaurant serves a combination of Argentinian and Italian dishes, including delightful pasta and seafood. This Minneapolis Italian restaurant provides a clean, modern vibe, and the food is often described as amazing. Bauhaus Brew Labs has excellent food and brews as well as a funky, industrial vibe. Additionally, this brewery offers comedy shows for those who love a good laugh while enjoying their beer.
Nightlife
Dakota is a jazz club and bar where people can enjoy great food and great brews, along with fun entertainment.
This popular location is just one of the many enjoyable
bars in the Minneapolis area
.
Fine Line
is a music venue located in the
Warehouse District
, where people can see nationally and locally known acts.
Minneapolis Climate
Minneapolis receives approximately 32 inches of rain each year, which is slightly less than the average rainfall in the United States.
What Minneapolis lacks in rain, it more than makes up for in snow, as Minneapolis receives about 52 inches of snow each year. In the United States, 28 inches of snow is average. However, for 198 days out of the year, Minneapolis is sunny. Cold winters in Minneapolis see an average temperature in January of about 9 ºF, making Minneapolis a dream come true for those who enjoy the snow. Minnesota occasionally experiences state-wide snow days due to extensive snowfall and large snowstorms. Those planning to move to Minneapolis should have a car that can handle driving on ice and snow. Summers in Minneapolis are warm and humid, with July seeing an average high temperature of 83 °F. Rain occurs frequently during summer in Minneapolis, while spring and fall have mild temperatures.
The best time of year to visit Minneapolis is generally during summer, from June through September, when tourism is at its highest and the city is filled with many events.
Minneapolis Traffic
Those new to Minneapolis will be glad to find traffic is relatively light compared to other urban areas, which makes driving in Minneapolis a breeze.
Even at the height of rush hour in the densely populated parts of the city, traffic in Minneapolis is usually fast-moving. The hours on the road when traffic is the most congested are between 7:30 a.m. and 8:30 p.m. in the morning and again between 4:00 p.m. and 5:30 p.m. in the evening. Traffic congestion in Minneapolis is often its worst during events such as blizzards, major snowstorms, ice storms, holiday weekends, and major events.
Busiest Roads and Highways
The roads and highways that are busiest during the day are the highways that connect the suburbs to Minneapolis. The following highways tend to be most congested with traffic during rush hour:
Interstate 35
Interstate 94
Interstate 494
Interstate 694
Interstate 394
Parking
Minneapolis Municipal Parking System has 10 lots for parking as well as 8,000 metered spaces within the city's limits.
Parking costs are overall reasonable, starting at about $1 per hour. However, costs vary depending on location.
Minneapolis Public Transportation
Public transportation in Minneapolis
is widely available, as buses, trains, taxis, and rideshare companies operate throughout the city.
Single-ride fares for buses and trains cost $2 for a one-way ticket and $2.50 at rush hour.
Single-ride passes are valid for a ride up to 2.5 hours in any direction, including transfers. People can purchase tickets on board buses, at light rail stations, online, or through the
Metro Transit
mobile app.
Taxi fares from the airport to Minneapolis range between $41 and $51, or between $33 and $3841from the airport to St. Paul.
The flag drop fee for a taxi is $2.50, in addition to a $4.50 airport access fee that must be paid when riding a taxi from the airport. Two rideshare companies operate throughout Minneapolis: Lyft and Uber.
Schools in Minneapolis
Minneapolis schools range from over 300 preschools and nearly 200 public district schools to almost 300 private schools.
For those moving to the area with children, school districts should be taken into consideration before purchasing a home. There are also 27 colleges in the area, including the University of Minnesota and Macalester College.
Minneapolis Welcomes You!
People relocating to Minneapolis are often impressed by its many economic opportunities as well as its manageable traffic, affordable housing, and fun things to do. It is a great city for those who enjoy snowy winters and warm summers, and it provides easy access to many public transportation options and schools to attend. Explore Minneapolis today to discover all it has to offer its residents and visitors. #hw-pillar-cta-bottom-minneapolis#
#hw-pillar-formatting#