10 Reasons to Love Living in Plymouth, MN: Is Plymouth a Good Place to Live?
Posted by Kris Lindahl on Thursday, June 29, 2023 at 2:47:51 PM
By Kris Lindahl / June 29, 2023
Comment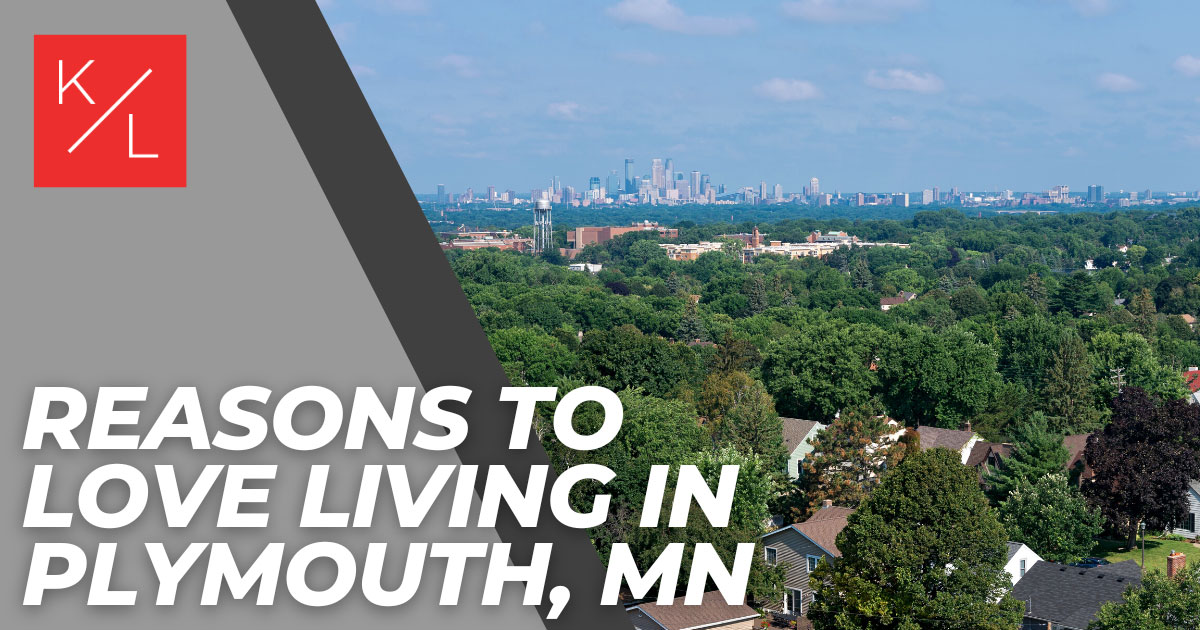 Nestled in the scenic Minnesota landscape a mere 10 miles from the
city of Minneapolis
and just over 20 miles from
downtown St. Paul
, Plymouth emerges as an alluring residential destination for those seeking a serene and vibrant lifestyle. This article unveils the captivating allure of living in Plymouth, MN, focusing on its real estate market, amenities, and reasons why it's one of the best places to live in the greater Twin Cities area. Plymouth's residential landscape caters to diverse tastes and preferences by offering a harmonious blend of natural splendor, a thriving economy, and a strong sense of community. It's home to one of the
best lakes near Minneapolis
(Medicine Lake), educational options, and a range of housing options. From modern apartments to spacious single-family homes, the real estate offerings in Plymouth are as varied as the community amenities enjoyed by those living there.
10 Reasons to Love Living in Plymouth, MN
Just 11 miles from Downtown Minneapolis
Eight lakes and three public beaches
Good mix of public, private & charter schools
Plymouth Ice Center & Wayzata Youth Hockey Association
Wide range of housing types, including new construction homes
Lots of open green spaces to enjoy
43 neighborhood and school parks
Close to multiple Fortune 500 and technology employers
147 miles of outdoor trails
Honey & Mackie's ice cream & french fries!
The Plymouth Lifestyle
Plymouth is the perfect mix of urban and suburban living.
The bounty of things to do in Minneapolis—including fine dining, entertainment, nightlife, and abundant employment opportunities—is a short drive away on accessible freeways.
Back in the neighborhood, there are open spaces, large lakes, fresh air, and a bit of "elbow room" between neighbors. Beautiful, tree-lined streets and nice yards are the norm here. Interstate 494 and the Floyd Olson Memorial Highway (Hwy 55) intersect near Plymouth's center, providing easy access to the rest of the region. Shopping and dining are concentrated mainly along these major roads, with the rest of Plymouth reserved for residential neighborhoods and green spaces. The average commute for workers living in Plymouth is less than 20 minutes.
Types of Housing in Plymouth
Plymouth has an excellent range of home types to suit any buyer. Traditional, well-established neighborhoods of Ranch, Bungalow, Craftsman, and Post-War-style homes exist. Many of the lakes in the city have newer
Plymouth lakefront homes
built along them. There are even more upscale neighborhoods with gated community homes and luxury homes, while
Plymouth condos
tend to be concentrated close to the larger roads and freeways.
The median price for homes for sale in Plymouth is in the mid- to high $400s, which is higher than in the rest of the Minneapolis metro area.
More than 70 percent of residents living in the city own their homes.
Plymouth Amenities
Plymouth has plenty of amenities for homeowners, including a public transit system and a community center.
A major hospital in the city means people don't have to face driving in downtown Minneapolis for healthcare services.
All grocery and other shopping needs can be fulfilled in Plymouth as well. Here's a closer look at the amenities Plymouth has to offer.
Neighborhood Services
The public transportation service here is called the
Plymouth MetroLink
. The bus system offers many routes into Downtown Minneapolis and the University of Minnesota, primarily via Interstate 394. There are routes throughout the city and five convenient Park and Ride stations. The Plymouth Community Center for teens and adults to enjoy fitness classes year-round. The center has an indoor walking track, fitness rooms, and a gym. It also offers kids' programs and activities. Swimmers or people wanting to learn to swim should check out the Plymouth Creek Athletic Club. Abbott Northwestern is the city's central hospital, with over 50 family and specialty physician clinics in its network.
Neighborhood Shopping
Cub is a major grocery store chain in the Midwest. It has several grocery and pharmacy branches in Plymouth and carries household goods, pet supplies, and other necessities. The major shopping centers in Plymouth tend to be concentrated along Highway 55, I-494, and Rockford Road. The Rockford Road Plaza is a major mall where shoppers can find major chains carrying apparel, beauty shops and supplies, tech gadgets, pet supplies, and much more.
Things to Do in Plymouth
Often mentioned among the best suburbs of Minneapolis, Plymouth is a beautiful community with public lakes, parks, green spaces, and year-round outdoor activities.
The dining scene is excellent, with a selection of nice restaurants and bars to explore. The city is also close to nearby attractions for the whole family to enjoy. Here are some of the many things to do in Plymouth.
Outdoor Activities
Plymouth has a ton of beautiful parks to explore, including two large regional parks.
Eagle Lake Regional Park
offers biking and hiking trails, cross-country skiing, dog trails, fishing, geocaching, and other activities. French Regional Park has a public swimming beach, boat launch, playgrounds, a sledding hill, and many other activities. Millennium Garden is located at the community center and offers multiple gardens, fountains, and a labyrinth to explore. Plymouth also has 147 miles of public trails to explore.
Golfers have two private country clubs and a public course that's considered one of the best golf courses near Minneapolis:
Golden Valley Country Club (Private, members-only)
Spring Hill Golf Club (Private, members-only)
Theodore Wirth Golf Club (Public course)
Restaurants, Breweries & Bars
Here are some Plymouth hot spots for a meal and drinks:
La Cocina de Ana: Mexican restaurant with take-and-bake family meals on offer
Gina Maria's Pizzeria: Pizza, salads, pasta, garlic knots, and beer on tap
Kadai Indian Kitchen: Traditional Indian fare with a wide range of menu selections
Honey & Mackie's: This popular spot skips the burgers and goes straight for the ice cream & fries
Rock Elm Tavern: Traditional pub fare with a gourmet twist
Lucky's 13 Pub: Brewpub with an upscale seasonal menu
The Sunshine Bar & Grill: Cocktails, beer, wine, and happy hour in the lounge; family dining in the restaurant section
Nearby Attractions
Minneapolis has six professional sports teams that all play their home games less than 30 minutes from Plymouth. Whether you're an NFL, MLB, NHL, NBA, WNBA, or MLS fan, there's always some sports action going on nearby, not to mention collegiate and amateur sports. Nickelodeon Universe at the Mall of America is one of the largest amusement parks in the region. The mall itself has a ton of additional family attractions. There are two casinos in the area for adults to enjoy. Minneapolis's arts and culture scene offers many theaters, museums, and other venues to explore.
Employers Near Plymouth
Prudential Financial, Wayzata, Zayo Group, Medtronic, Aimia, and TCF Bank are some of the largest employers in Plymouth and provide more than 10,000 total jobs in the city. Major companies like Select Comfort, Tonka Water, and OneBeacon are all headquartered in Plymouth.
It takes less than 20 minutes to drive to the massive Minneapolis economy, so the job market for the much larger city is also easily accessible for workers living here.
The median household income in Plymouth is estimated to be around $96,000.
Public Schools Near Plymouth
Plymouth covers a wide geographic area with a population of around 80,000 people.
Four different public school districts serve the city. The largest is Wayzata Public Schools, which covers about 60 percent of Plymouth.
Robbinsdale Area Schools cover another 20 percent. About 12 percent of Plymouth is served by Osseo Area Schools and the remainder by Hopkins Public Schools. The district map shows which parts of Plymouth are covered by each school district. Parents can then call their local district to determine which schools their children attend.
Private Schools & Higher Education
Private schools in Plymouth include:
Providence Academy (Catholic, pre-K–12)
Fourth Baptist Christian School (pre-K–12)
West Lutheran High School (9–12)
Step by Step Montessori Schools (pre-K & Kindergarten)
Franklin Center (K–12 specialty school for autistic & special needs children)
St. Cloud State is about an hour's drive to the northwest. For those who don't want to make the drive every day, the St. Cloud State at Plymouth branch campus is an option, although it only has five classrooms. The Plymouth branch offers graduate courses in Business and Science and Engineering. The University of Minnesota, Twin Cities is a large public research university with Minneapolis and St. Paul campuses. The college is divided into 19 academic disciplines, with around 45,000 students enrolled each year. The "Golden Gophers" compete in NCAA Division I sports.
Finding Your Home in Plymouth
Plymouth is a testament to the allure of a Minneapolis-area residential haven that captures the essence of serene living. The real estate market in Plymouth offers a wide range of housing options, appealing to discerning individuals seeking a tranquil yet thriving community. With its scenic landscapes, proximity to urban amenities, and strong community spirit, Plymouth is an enchanting locale that gives residents rich opportunities for a fulfilling lifestyle. Whether a homebuyer is interested in contemporary apartments or
luxury homes in Plymouth
, the city's real estate market is primed to cater to its residents' unique desires and aspirations. #hw-pillar-cta-bottom-plymouth# #hw-pillar-formatting#