Canal Park Duluth: 4 Things to Do When You Live Near Canal Park
Posted by Kris Lindahl on Monday, April 10, 2023 at 5:47:39 PM
By Kris Lindahl / April 10, 2023
Comment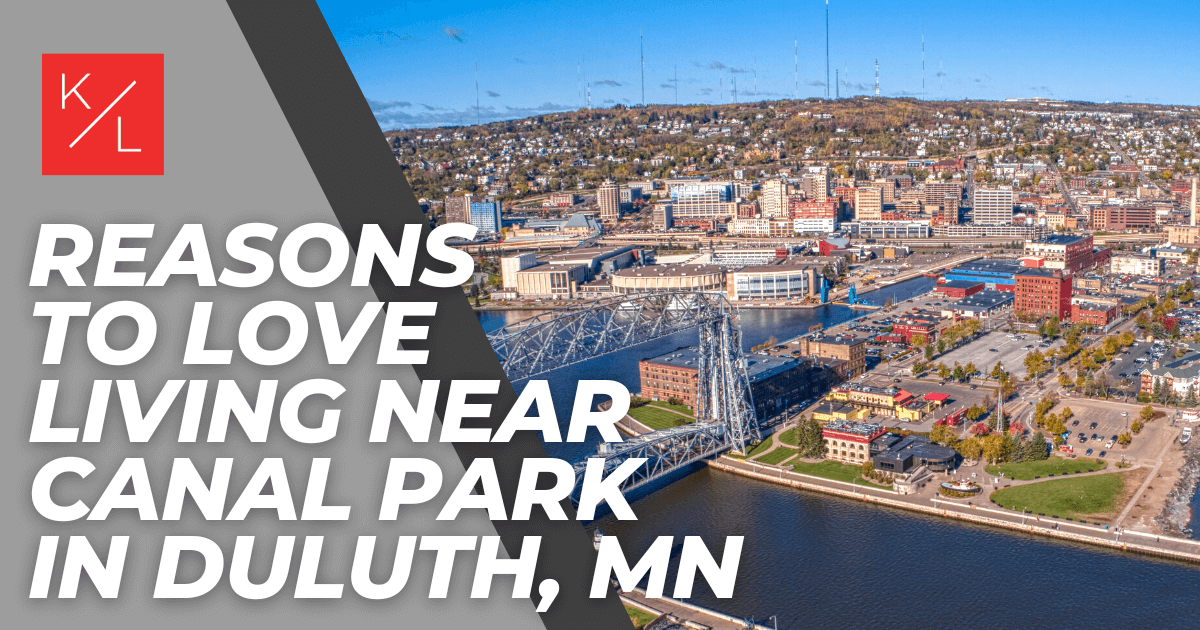 The Canal Park area of the
city of Duluth
is one of Minnesota's most popular tourist destinations. It's on the North Shore of Lake Superior, so living here puts residents close to all the action this part of town offers. Just southeast of downtown Duluth, Canal Park has multiple waterfront parks for locals to enjoy year-round, cruises on the lake, quaint lighthouses to tour, and the iconic Aerial Lift Bridge on Lake Avenue. Living here also provides easy access to fine dining and the city's nightlife. Here's what to know about living near Canal Park in Duluth, Minnesota.
Life on the Water
The "North Shore" of Lake Superior is a truly beautiful part of the state, which is why so many visitors come to enjoy it each year.
One way to really enjoy the Canal Park area is to spend an hour or two on the Lakewalk. This city-maintained trail is eight miles long and runs from the North Pier to East Water Street in the
Endion neighborhood
. The path is paved and is a perfect place for a hike, bike ride, or birdwatching on Lake Superior. Leif Erikson Park and the Duluth Rose Garden are located on the North Shore, northeast of Canal Park. Duluth is a large freshwater port, so visitors should pause at some point to watch the Aerial Lift Bridge as it's raised and lowered to allow ships in and out of the harbor. Those wanting to tour the lighthouses on the North Shore can choose from four just south of Canal Park. Visitors can take a dinner cruise on the lake from May through October with Vista Fleet, an excellent way to see the city from another angle.
Built-in Entertainment
Living close to Canal Park means residents always have something exciting to do nearby. There's something truly relaxing about lakeside living that isn't available in other parts of the city.
The Duluth Entertainment Convention Center in Canal Park always has something going on, including the following events
:
World-famous rock & roll, country, and hip-hop performances
University of Minnesota-Duluth hockey games
Duluth Superior Symphony Orchestra concerts
Circus performances, comedy shows, and dance competitions
And that doesn't even include the many conventions held at the DECC each year! The Lake Superior Maritime Visitor Center Museum is free to attend and offers a close-up view of the Aerial Lift Bridge in action. Canal Park's Great Lakes Aquarium has freshwater and saltwater critters from around the world for visitors to enjoy. For those who want to get up close and personal with Lake Superior, multiple fishing charter operations also run near the area.
Heart of the City
Downtown Duluth is one of the most vibrant areas along the North Shore.
Living nearby keeps people close to many exciting events, festivals, and things to do throughout the year.
The
Bayfront Festival Park
is the largest and most beautiful park in Duluth. Located on the waterfront, this park is home to Duluth's annual fireworks shows. It's also where locals come for various live music, entertainment, art, and food festivals. During winter, a public ice skating rink is set up. Leashed dogs are welcome in the park with their owners. Glensheen Mansion is another amazing attraction close to downtown. This is one of the city's most unique and historic luxury homes, and it's open for public tours daily. The mansion has 39 rooms and 12 acres of surrounding gardens and beautifully landscaped architecture. It also hosts annual events like a Beer Garden and live music on a 100-foot pier stretching onto Lake Superior. Visitors can bring a camera and take pictures on the grounds or inside the mansion.
Dining & Nightlife
The Canal Park area is home to Duluth's eclectic dining and nightlife scene.
From luxurious settings to good old-fashioned American pub fare, there's a little bit of everything available in Canal Park. Here are some favorite local hot spots:
Northern Waters Smokehaus: One of the best places in Canal Park to pick up some fresh seafood, this restaurant offers local pick-up, delivery, and catering. Visitors can also pick up some delicious smoked salmon and other items at the deli.
Lake Avenue Restaurant and Bar: This waterfront restaurant in Canal Park is where diners can enjoy the views of the Aerial Lift Bridge while they eat. They also serve brunch and have an extensive wine list. In the same part of Canal Park, visitors will love to check out Grandma's Saloon and Bar and the Red Wagon Popcorn Store.
Vikre Distillery: Offering a limited menu but a wide range of cocktails, this waterfront venue allows leashed dogs inside its cocktail room.
Amazing Grace Cafe: This organic coffee shop serves quick bites for a relaxing lunch near the water.
Duluth Coffee Company: This cafe and fresh roastery features coffee from around the world.
Belisio's: This restaurant is Canal Park's choice for authentic Italian cuisine and wines.
Taste of Saigon: Head here for traditional Vietnamese, Mandarin, and Sichuan dishes.
Experience North Shore Living at Its Best in Canal Park
More than six million visitors come to Canal Park each year because it's truly one of the most fabulous places to experience the North Shore of Lake Superior. Living here year-round means never having to miss any of the special events, festivals, and activities taking place. Canal Park's waterfront parks, dining experiences, and stunning waterfront views make this area a special place to call home when
living in Duluth
.