Back to School in Saint Paul: 2022 Saint Paul Public Schools Guide
Posted by Kris Lindahl on Tuesday, December 14, 2021 at 1:50:56 AM
By Kris Lindahl / December 14, 2021
Comment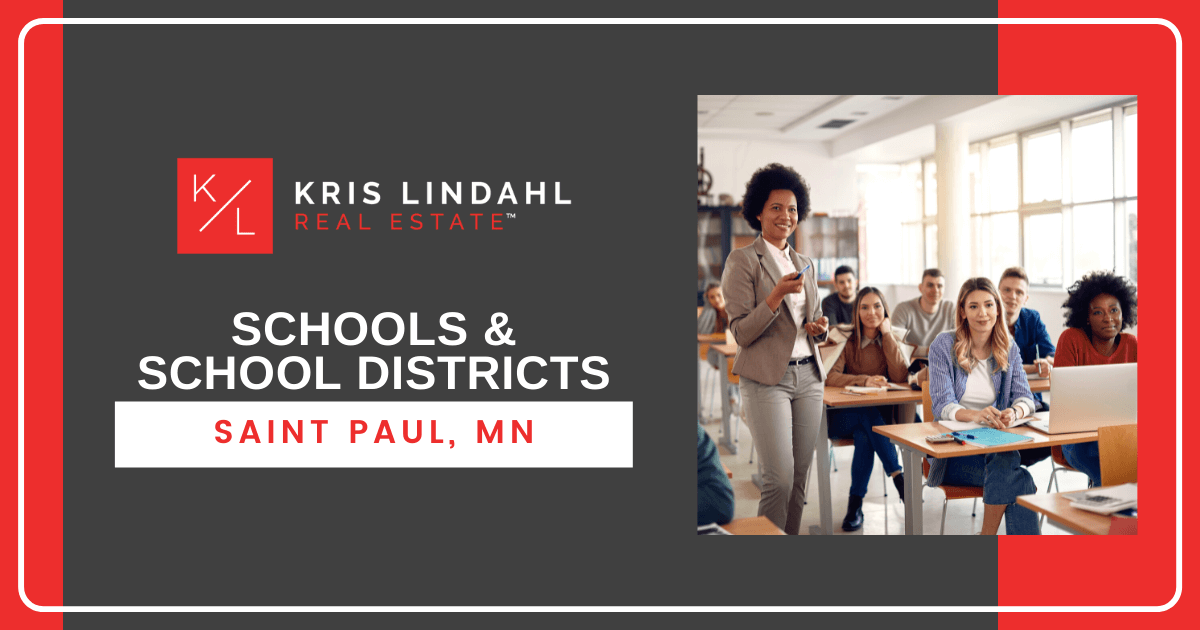 When deciding to move to Saint Paul, many factors play a role in the process. Having a community with numerous educational options may prove valuable for those with children or planning to go back to school. The homes for sale in St. Paul are surrounded by public, private, and charter schools for all grade levels. From preschool to college, there's an abundance of educational institutions available in Ramsey County. Keep reading to learn all about the schools and school districts in Saint Paul.
Public School Districts Serving Saint Paul
Saint Paul Public Schools (SPPS) is the largest district in the city and is the largest in the state. It serves over 38,000 students. The district is made up of:
48 elementary schools
Eight middle schools
Seven high schools
Three alternative schools
One special education school
SPPS Online School
The district has over 6,500 employees, including both teachers and staff.
In addition to this, the SPPS also offers a program for pre-kindergarten students, providing early childhood education to students as young as three years of age. These are located in stand-alone schools and some of the elementary schools serving the community. The Early Childhood Family Education (ECFE) program is designed to foster children's cognitive, physical, emotional, language, and social skills. There are 35 pre-K programs.
SPPS provides options for the International Baccalaureate and language immersions programs. It also offers a Montessori-style educational program and community school programs. SPPS offers before and after-school children for parents who need it. This includes breakfast programs for students.
Also, SPPS has an extensive adult learning program, which aims to help provide education to those over the age of 18 who wish to seek out their GED, learn to read, take language courses, or obtain other learning opportunities. The community offers a full GED diploma.
Another opportunity provided by the SPPS is the Limited English Achievement Program or LEAP. This program was established in 1994 as a component of the school district. It aims to help students between the ages of 16 and 24 whose needs are not commonly met by the traditional high school environment.
Saint Paul Charter Schools
In 1992, Saint Paul was the first city in the country to open a charter school. Now, these are found in most cities in the country. Today, there are 21 charter schools of different affiliations serving residents in St. Paul.
Saint Paul has numerous charter schools to meet most needs. One of them is St. Paul City Schools, a public pre-k to 12th-grade school. It provides education to about 600 students in the community to propel students forward academically and socially. Some of the schools within this program include St. Paul City Primary School, St. Paul City Middle School, and River's Edge Academy High School. This school program is funded by the city but can design its curriculum differently from traditional public schools. Outside school, the charter school creates connections, support, and leadership opportunities.
Another extensive charter school program in the area is Nova Classical Academy. It, too, provides education from K-12 grade and is a public charter school. This program is at no cost to students and families. It aims to provide an exceptional education to students in a classical setting, sometimes including numerous extracurriculars. This program provides education to over 950 students. There are three kindergarten programs, three sections of 1st to 10th grade, and two sections of grades 11 and 12. Student class sizes are typically smaller than traditional public schools, with between 12 and 32 students per class in upper grades.
Saint Paul Private Schools
As a large community, St. Paul has several private schools. In total, the area has 108 private schools. There are over 20,440 students enrolled in private schools in St. Paul. Of those, there are 87 private schools, 59 elementary schools, and 22 high schools.
In terms of costs, the average tuition for a private school in St. Paul is around $10,000. That is higher than the average cost of tuition in the state, which was $7,036 in 2020.
One of the largest public schools in the area is Cretin Derham Hall. It is a Roman Catholic high school serving 9th to 12th grade. There are over 1200 students in attendance at this school. It is sponsored by the Brothers of the Christian Schools and the Sisters of St. Paul. This school strives to support students as they prepare for continued education or vocational training after graduation. It was founded in 1871, making it one of the oldest schools in the area. It is a member of the National Catholic Educational Association.
St. Paul Academy – Summit School is another large school with over 900 students. It provides education for K-12th grade. It is a coeducational, college-prep school. The school is Christian-based, focusing on applying education to a student's talents and preparing them to embrace their potential.
Colleges and Universities Near Saint Paul
St. Paul is also home to several colleges and universities. There are also a number of them located throughout the area, creating opportunities for students seeking numerous paths. After Boston, St. Paul is second in terms of higher education locations per capita. There are eight private colleges in the area and three public colleges. There are also five post-secondary institutions here.
Some of the most notable colleges and universities in the area include Saint Catherine University, Hamline University, University of St. Thomas, and Concordia University. Saint Paul College offers a law school called Mitchell Hamline School of Law, which is noteworthy.
Other notable colleges include Bethel College, a 4-year liberal arts institution, Century College, a community-centered college with a technical school, and Inver Hills Community College, a small, private college. Macalester College is a private liberal arts college, while Metropolitan State University is an urban public university.
Class Is in Session in Saint Paul
When it comes time to consider purchasing from one of the new construction homes or the condos and townhomes in St. Paul, knowing a bit about the schools in the region can prove helpful. As a thriving community, St. Paul is large enough to offer a range of private and public school options to meet most needs. That includes fully online programs at many levels of education as well. When factored in with research about the Saint Paul economy, learning about local schools can help you decide if Saint Paul is the right city for you.
If Saint Paul is the city for you, contact Kris Lindahl Real Estate at 1-(855) 967-7653 to get in touch with a local real estate agent who can help you find your dream home today.