Things to Do in St. Paul: Best Outdoor Adventures, Shopping & Nightlife in St. Paul
Posted by Kris Lindahl on Friday, December 23, 2022 at 6:17:59 PM
By Kris Lindahl / December 23, 2022
Comment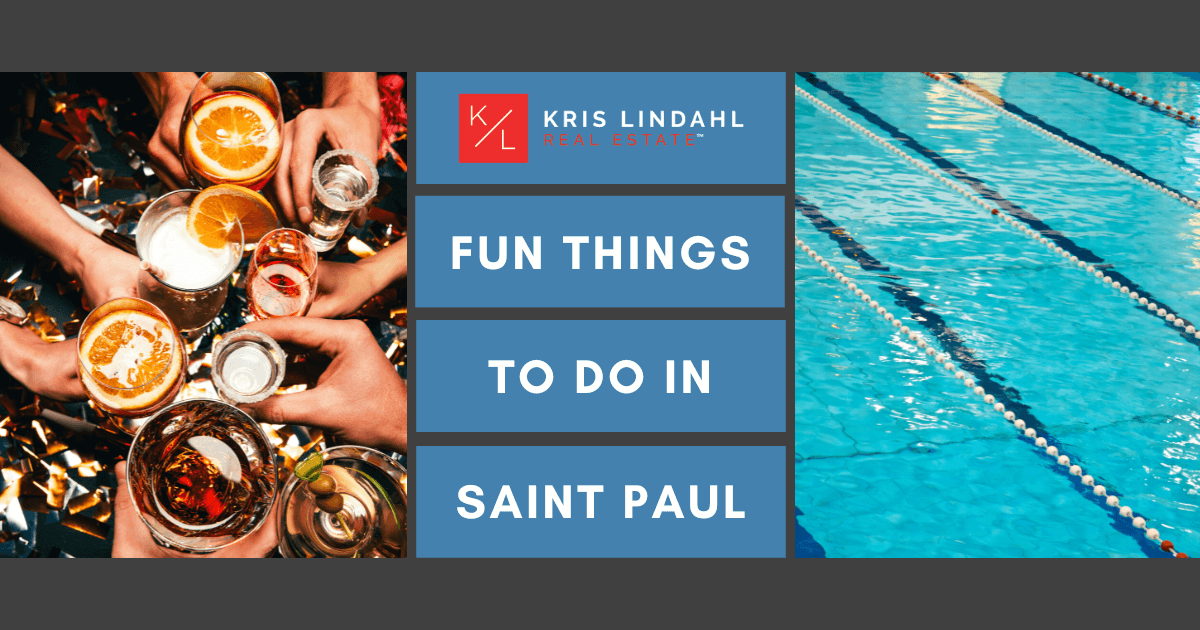 The
city of St. Paul
is a great place to live because of its high-quality leisure and culture. Like most mid-sized cities, Saint Paul has a wide variety of things for residents to see and do throughout the year. For anyone
moving to St. Paul
or visiting, here's a guide to some of the best things to do in the city.
St. Paul Outdoor Adventures
The city has numerous ways for residents to get outside, enjoy nature and fresh air, and engage in active recreation.
Prospective homebuyers love that favorite local parks, gardens, water fun, and hiking trails are all proximal to Saint Paul's best neighborhoods.
Parks
A landscape architect designed Hidden Falls Regional Park in 1887, and it's still one of the most beautiful sites in St. Paul. It has a beautiful spring-fed waterfall and miles of hiking trails in a wooded area and is an excellent spot for a picnic. Another lovely area is the Changsha China Friendship Park, which honors St. Paul's sister city in China.
Rice Park, adjacent to homes in Downtown Saint Paul, becomes a winter wonderland during the colder months. It's the site of many city activities throughout the year and has a beautiful and relaxing fountain to enjoy.
Another great "outdoorsy" park to visit is Crosby Lake Regional Park. It has several miles of paved trails through wooded areas. Visitors can follow a pathway along the Mississippi River bottomlands and arrive at beautiful Crosby Lake.
Water Recreation
Phalen Regional Park Beach is a free beach within the park open annually from Memorial Day to Labor Day. It has lifeguards on duty at designated times for public safety. The
Great River Water Park
is an indoor facility with plenty of aquatic activities for all ages. It has a splash pool for toddlers, a couple of water slides, and a full-sized pool for lap swimming or recreation.
The Northview Pool, complete with a toddler splash area, is located in Northview Park in St. Paul.
It's open during the summer months with lifeguards on duty.
Hiking & Biking Trails
Fort Snelling State Park within the Twin Cities has 18 miles of unpaved trails to enjoy and several miles of paved trails.
It's a great park to hike or bike through since it's located right where the Minnesota River flows into the Mississippi.
The Mississippi Gorge Loop Trail in the middle of Saint Paul is another great way to get outdoors and view the river. The best place to start this loop is within Mississippi Gorge Park. It's a 5.6-mile loop that crosses the river at both ends and is considered an "easy" hike. The western and southern areas of Battle Creek Regional Park are filled with several miles of unpaved trails to get out and enjoy the trees and fresh air. It's also a designated off-leash area for dogs within Saint Paul. These outdoor adventures should be enough to get anyone started exploring Saint Paul. To truly take advantage of everything the city offers, it's well worth finding these great locations along with many more in
St. Paul's best suburbs
.
St. Paul Shopping
Downtown Saint Paul is the best place to find eclectic, locally-owned stores that visitors won't find anywhere else in the world. Heime's Haberdashery in the Hamm Building is one of the oldest and most famous shops downtown—it's been selling men's accessories since 1921. Eclipse Records is a vinyl-only store for people who can't let go of their record players after all these years, and Anthony Scornavacco Antiques has been open for 40 years and sells antiques from the 17th through the 19th centuries.
The Plaza at Rosedale Center, located in the area of homes for sale in Como, is a large shopping mall in the suburbs just north of St. Paul.
It has recognizable brands like Kohl's and Best Buy, dozens of shops and cinemas, and several locally-owned stores. The Signal Hills Shopping Center is another strip mall, found on on South Robert Street in St. Paul, and has many national chain stores, places to eat, and local small businesses.
St. Paul Restaurants
The options and variety for dining in the city are robust.
The St. Paul Grill is a restaurant in the St. Paul Hotel and is a local favorite. After every St. Paul Saints minor league baseball game, locals can wear their beer-filled hats to the restaurant for refills. The food's great, too! Kyatchi is an Asian dining spot that has a location in Minneapolis and another one in St. Paul. The sushi is delicious, but the real draw here is the ramen. Another option is Grand Catch, and as the name implies, it's a beautiful seafood restaurant. It's a great place to stop for fish and chips, cheesy fries, and various grilled seafood menu items. Fine gourmet dining is available at W.A. Frost & Co. During the summer months, visitors can eat on the outdoor patio and enjoy the breeze. Revival has three Twin Cities locations, serving various kinds of fried chicken and "southern comfort" foods.
Arts & Culture in St. Paul
As mentioned above, the cultural experiences in St. Paul make the city a great place to live.
Museums, art galleries, and dance and theater venues throughout the city provide both entertainment and enlightenment for residents, complementing the education provided by Saint Paul schools.
Here are a few local can't-miss favorites.
Museums
No historical tour of the city would be complete without a tour of Summit Hill. Summit Avenue houses some of St. Paul's luxury homes for sale, and this is the longest street filled with Victorian mansions in the US.
Historic Fort Snelling is another must-see attraction. It's a fully preserved 1820 stone-walled military fortress, and costumed guides are waiting to give tours. The Minnesota Children's Museum is another popular museum in St. Paul. It has a make-believe town for kids to enjoy, a four-story climbing wall, crafting workshops for kids, and much more. The Science Museum of Minnesota is also located in St. Paul. It has everything from Egyptian mummies to large dinosaur fossils to marvel at.
Art Galleries
The Minnesota Museum of American Art—called "The M" by local art lovers—is the best place to find rotating exhibits from contemporary and past American artists.
It has regular educational programs for students and other community activities. Artista Bottega is a fun gallery with paintings, sculptures, and regular exhibits, and it offers vintage clothing and handmade jewelry for sale. The St. Paul Art Crawl is held each spring and fall. There are numerous galleries in the Downtown area, and they all showcase local artists' for-sale paintings and sketches.
Dance & Theatre
More than 500 shows grace the stage at the Ordway Center for the Performing Arts in St. Paul each year.
This venue is the home of the Minnesota Opera and the St. Paul Chamber Orchestra. Stage plays, Broadway musicals, and dance routines are all regularly featured at the Center.
The Fitzgerald Theater is a small venue named after one of St. Paul's most famous former residents, author F. Scott Fitzgerald. It primarily hosts stage plays and dance concerts. It would take St. Paul residents several years to take in all the city's arts and cultural experiences. And with regularly rotating shows at art museums and concert halls, there is always something new to delight visitors.
St. Paul Nightlife
The nightlife in St. Paul is lively and robust, and residents enjoy that most hot spots are in St. Paul's walkable neighborhoods.
The Xcel Energy Center is the home of the Minnesota Wild hockey team, and it's also a great space for some of the biggest rock concerts in Minnesota every year. It's considered one of the world's premier sports and concert venues. The Xcel is right next door to the St. Paul Civic Center, where Minnesota performing artist Prince used to play in the early days of his career. The Laugh Camp Comedy Club is a great place and a show from up-and-coming stand-up comics. Visitors can enjoy food and cocktails while enjoying lots of laughs with their neighbors. The Dubliner Club and Cafe is a stylish Irish pub that features Irish music, dance, and all things Irish. The Dubliner has been open for over three decades and has frequently been voted the Best Pub in the Cities. Stogies on Grand is the only cigar lounge in the Twin Cities, where visitors can select a fine cigar from the humidor and enjoy a beer. There are plenty of sports and beers on tap at Half Time Rec, a pub considered one of the friendliest and most welcoming to locals and out-of-towners.
Enjoying Everything St. Paul Has to Offer
Whether a person is craving peace and quiet on a nature outing or a rowdy night on the town, there is a little something for everyone in St. Paul. This bustling city continues to be a favorite tourist destination and a great place to live, so be sure to check out the beautiful homes in Saint Paul. #hw-pillar-cta-bottom-st-paul#
#hw-pillar-formatting#