What School Options Are There In Minneapolis, MN?
Posted by Kris Lindahl on Thursday, July 22, 2021 at 10:50 PM
By Kris Lindahl / July 22, 2021
Comment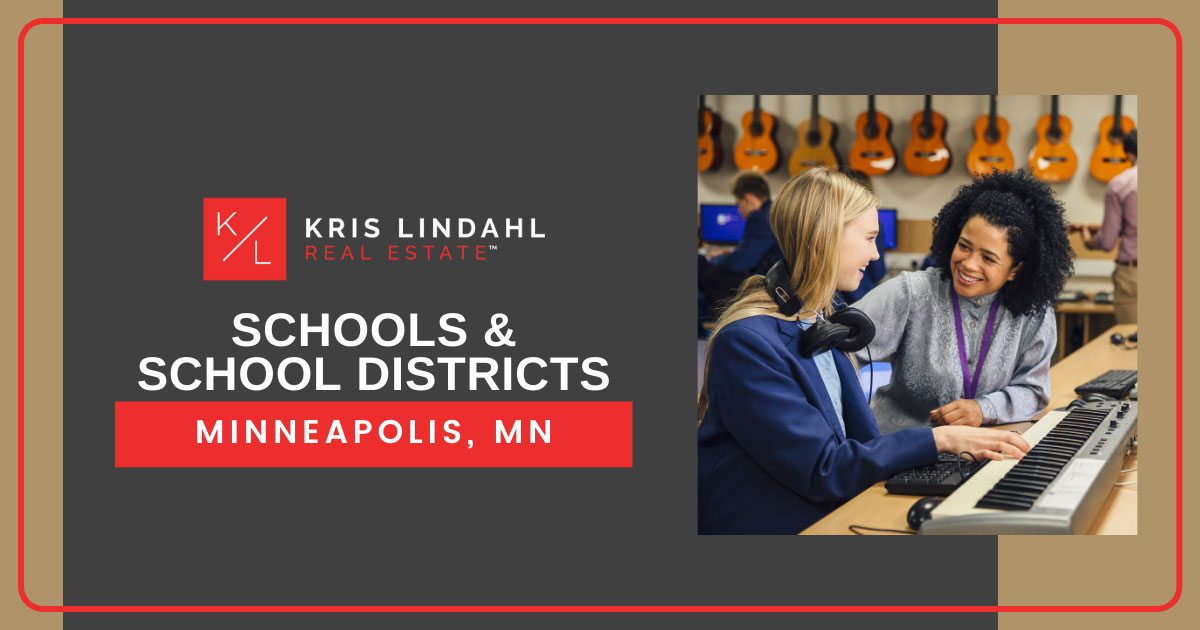 When residents are looking to purchase new construction homes or condos and townhomes in Minneapolis, one of the most common questions is regarding the surrounding schools. Whether people have young children, teenagers, or want to go back to school themselves, they want to fully understand the available education. People moving to Minneapolis have access to hundreds of schools, including public, charter, and private schools. For those who want to continue their education, several universities and colleges are nearby. Read on for a detailed list of the education opportunities near homes in Minneapolis.
Public School Districts Serving Minneapolis
Only one school district governs the public education system in Minneapolis. Minneapolis Public Schools offers in-person classrooms and online classes. Of the 71 total schools in the district, 46 schools offer elementary education, 12 schools offer middle school education, and 15 schools offer high school education. Certain schools in the list below offer a combination of those education levels.
High school students have access to International Baccalaureate (IB) programs, College in Schools (CIS), Career and Technical Education, advanced World Language programs, and Advanced Placement (AP) programs at all 12 high schools in the Minneapolis Public Schools system. For younger students, before- and after-school care programs may also be available.
Parents are encouraged to visit different institutions, talk with administrators, and learn more about ongoing changes for each option. This is the best way for families to find a place where their children will feel comfortable, so they can concentrate on their lessons.
Minneapolis Charter Schools
America's first charter schools were founded in Minnesota in 1992. Today, the state continues to be a leader in charter school education. Currently, 168 charter schools operate throughout the state, educating over 63,000 students between pre-K and 12th grade. Specifically, in the Minneapolis area, 59 charter schools are in operation. Some of the largest charter schools are outlined below.
Yinghua Academy offers Chinese immersion education to students in kindergarten to 8th grade. Currently, over 800 students are enrolled at the charter school annually. Immersion education allows students to master the language.
Best Academy was established in 2007 to provide Kindergarten to 8th-grade education. Students are immersed in African culture throughout their time at the charter school. The curriculum compensates for five factors the administration finds missing in traditional public education: preparation, time, belief, teaching, and leadership. Over 750 students are currently enrolled.
New City School strives to create an ethical and caring community for the future. The curriculum focuses on instilling leadership skills in students from Kindergarten to 8th grade. Over 300 students are enrolled.
Metro Schools Charter has worked since 2004 to prepare students for college. The facility has a middle school for students from 5th to 8th grade and a high school for students from 9th to 12th grade. In addition to prioritizing academic success, the school works to help students develop healthy self-esteem. The school believes that a holistic approach creates graduates who are socially and academically prepared for careers in the 21st century.
Minneapolis Private Schools
Minneapolis is also home to several private schools. In fact, for the 2021 school year, 121 Minneapolis private schools were in operation, teaching over 21,700 students between pre-K to 12th grade. The costs of tuition can vary drastically from one school to the next.
Maranatha Christian Academy blends the state-mandated curriculum with faith-based lessons. About 630 students are enrolled from pre-K to 12th grade. The annual tuition for the school is over $11,000. The school also offers opportunities for financial aid.
Benilde-St Margaret's School provides middle school and high school private education. Students learn Roman Catholic faith-based lessons in addition to courses that are geared toward college preparation. The co-ed facility currently educates more than 1,100 students annually. The average tuition is $13,000/year per student.
The Blake School/Upper School is a non-religious private school serving Minneapolis. Over 1,300 students attend the school's three campuses. The school has over 350 teachers available to provide pre-K to 12th-grade education. The school focuses on leadership lessons and skills needed to pass the SAT, ACT, and college courses. Tuition for pre-K to 5th grade is $32,710/year, 6th grade and 7th grade are $34,245/year, 8th grade is $36,122/year (includes overnight D.C. trip), and 9th grade through 12th grade is $35,435/year.
Colleges and Universities Near Minneapolis
Over 20 facilities in and near Minneapolis provide higher education. Whether students are looking to attend a university or a smaller college, they are sure to find one that fits their needs.
The University of Minnesota is the largest university in the area and the entire state. Over 200 fields of study are offered. Students may attend undergraduate and/or graduate programs. Tuition is typically $24,000 per year for in-state students.
Augsburg University is a small university with just over 2,000 students. Over 50 undergrad majors and 11 graduate degrees are available. Tuition varies by the degree program but averages to $40,000 per year for in-state undergraduate students.
Minneapolis College is a popular public two-year college. Over 11,000 students are enrolled each year. The state-accredited school offers a range of associate degrees and career-related certificates. With both in-person and online classes available, students can create a flexible schedule that meets their needs. The average cost of tuition each year is $5,500.
Education Abounds in Minneapolis
Minneapolis offers a range of education options to fit any student's needs. Aside from the education in the area, Minneapolis is also home to a robust economy and plenty of things to do. Shopping, dining, hiking, boating, ice skating, and more are available to Minneapolis residents. With so many wonderful houses in Minneapolis, almost anyone can find the right one to call home.
If Minneapolis is the city for you, contact Kris Lindahl Real Estate at 1-(855) 967-7653 to get in touch with a local real estate agent who can help you find your dream home today.