Small Condo Ideas: Design Tips to Increase Storage & Living Space
Posted by Kris Lindahl on Friday, February 3, 2023 at 2:07:32 PM
By Kris Lindahl / February 3, 2023
Comment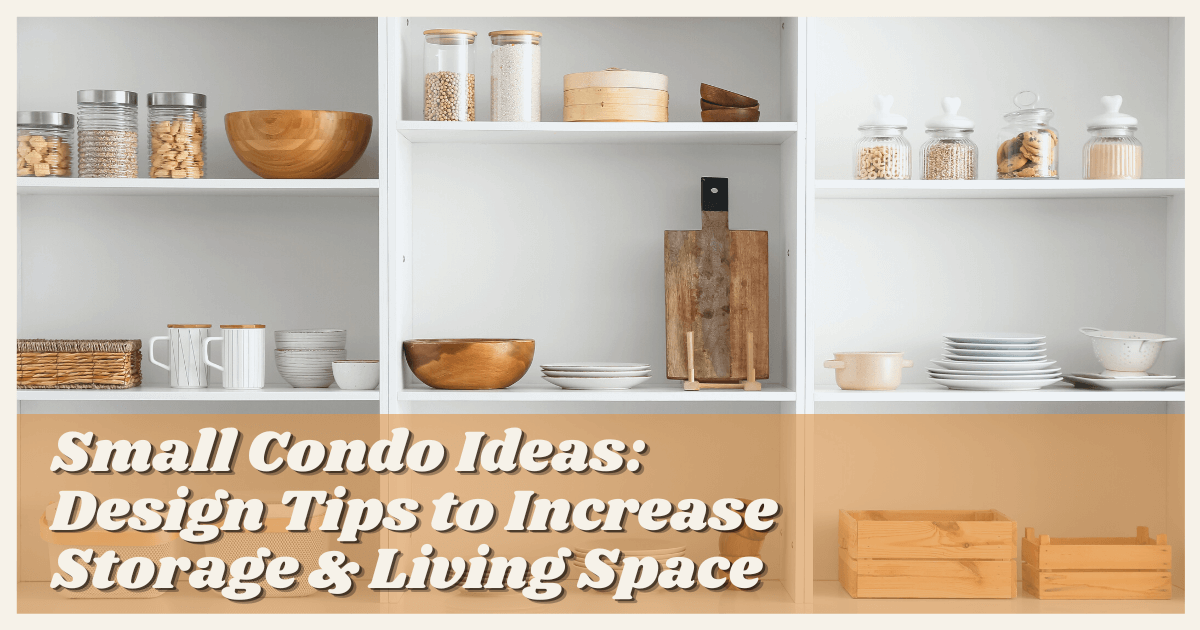 Looking for an affordable, low-maintenance home? It's time to check out the condos for sale in your area. There are many reasons to choose a condo over a single-family home or townhome, but would-be buyers are often deterred by the perceived lack of space. Condominiums can look, feel, and function as spacious as any other property, but you need to know how to do it. Here are four easy ways to increase storage and make the most of your condo's square footage.
Utility in Every Inch
Having limited space means that condos can easily become cluttered. Finding clever ways to keep clothing and other items out of sight helps prevent this. Multi-functional furniture is one solution for condo owners to consider. This type of furniture, including beds and tables, can be folded up to use less floor space. With the right storage solutions, condo owners won't have piles of clutter around. Multi-purpose furniture can provide hidden storage that keeps items out of sight. For example, some ottomans have a removable lid and a storage compartment where throw blankets, books, or other items can be kept. Some bed frames have built-in drawers underneath, which is a good place for storing clothing items or bedding. Using every inch of a condo includes looking for other ways to keep items hidden from view or neatly organized. Storage bins that fit under beds, closet organizers, and similar storage solutions can help condo owners maximize space and avoid visible clutter. Standalone shelving units that fit around toilets can provide extra storage space in bathrooms. Drawer organizers for kitchen cabinets can help condo owners get more use out of these areas for storage.
Paint Swatches & Reflective Surfaces
Some people confuse condos with apartments. Apartments are rental units that don't allow much design freedom, whereas owning a condo allows you to have full authority to paint or redesign your layout. Some condo layouts might include smaller rooms or areas rather than an open floor plan. Using the right paint colors on walls can make these areas look more spacious. Remember that darker colors make rooms appear smaller, while lighter colors create an open, airy appearance. Condo owners can choose the best wall colors to achieve a more open appearance. Painting the ceiling and far wall in the same color can make rooms look elongated. Using an accent color along the bottom part of walls up to roughly chair height is another way to make rooms appear larger. Painting the ceiling lighter than the walls can have the same effect, especially in rooms with low ceilings. Paint isn't the only way to create a more prominent appearance in condos. Reflective surfaces can also make hallways, rooms, and other areas look more spacious. For example, placing an oversized mirror on one wall can make a small room look bigger. This works better when the oversized mirror is frameless or has a small frame only. Pairing mirrors with light sources, such as a lamp or window, can also open rooms more.
Go Big on Key Furniture
Having a collection of many smaller pieces around can make it look cluttered. How can condo owners balance this out? The trick is to buy a few large furniture pieces for a condo rather than having several smaller ones. For example, consider putting a couch in the living room as the main seating area instead of filling it up with a love seat, a couple of armchairs, and other separate seating items scattered around. Having one large piece of furniture serves as a focal point and helps utilize empty space. Area rugs are another interior design basic that can create a cleaner visual effect in smaller condos. Placing a large area rug on the floor draws the eye and pulls the room together without having an overwhelming effect. When using a large patterned rug, avoid placing furniture items with bold or clashing designs on them. This can have a visually jarring effect that makes the room look crowded. Other pieces of furniture that can enhance a condo's appearance include a big armoire in a bedroom or a large entertainment unit in a living room.
Vertical Design
One of the most effective ways to maximize space in a condo is using vertical design rather than horizontal design. Placing wide, low items in condos take up more floor space, creating a cramped appearance. These items also leave significant amounts of wall space above them unused. Vertical design with tall, narrow items draws the eye upwards, making rooms appear taller. Tall bookshelves or other shelving units provide a great way to have more space for displaying items or storing them. These shelves are usually narrow, so they only take up a couple of feet of floor space. Wall-mounted shelving units take up no floor space while offering additional storage or display space. Vertical design items can be used for practical purposes in kitchens. Condo owners can store pots, pans, or other kitchen items on tall, narrow wall racks, freeing up cabinet space for other items. Vertical gardens for growing cooking herbs only take up wall space, leaving condo owners with more counter space.
Make the Most of Your Condo's Space
It doesn't take a ton of time, money, or effort to maximize condo space. No matter how small a condo is, these tips can help it look larger and provide plenty of storage space. From choosing the right paint colors to finding intelligent ways to store items, these interior design tips are sure to work in any of the best condo communities. This helps create a comfortable, visually appealing living space to call home.