Best Jobs in Saint Paul: 2022 Work Opportunities & Economic Guide
Posted by Kris Lindahl on Monday, November 22, 2021 at 11:40:30 PM
By Kris Lindahl / November 22, 2021
Comment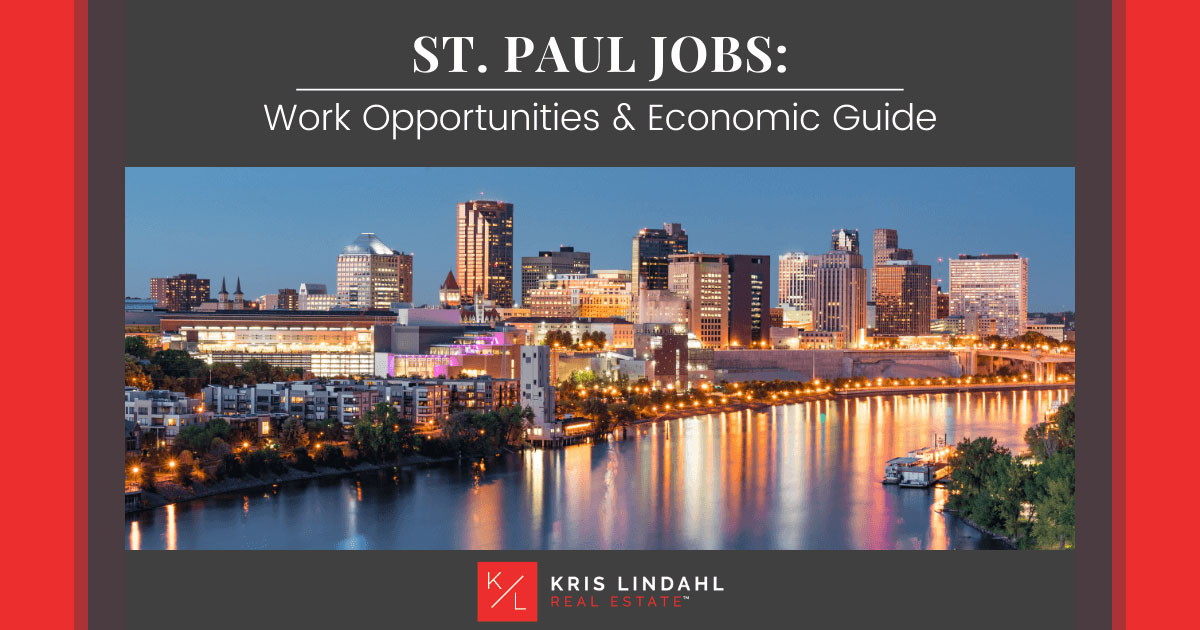 Saint Paul is one of Minnesota's twin cities and also the state's most iconic communities. The city's location at the confluence of the Mississippi and Minnesota Rivers helped it become a trading and transportation center. Today, it is one of the most commercially developed areas in the region.
It's home to countless companies, including 17 Fortune 500 companies, and boasts a surprisingly large concentration of tech firms. As a result, people who buy homes in St. Paul enjoy a robust economy, supported by diverse industries and a cost of living that reflects the same. Getting ready to move to Saint Paul? Keep reading to learn all about the local economy.
Saint Paul Economy Facts and Figures
Thanks to the presence of global conglomerates like 3M, multiple Fortune 500 companies, and countless already-established and upcoming companies, St. Paul's economy is quite strong. The cost of living in Saint Paul currently stands at 99.7%, making the area about 0.01% cheaper than most cities in the country.
Goods and service costs are relatively average, with utilities being about 0.03% cheaper than the country's average of 100, while housing is surprisingly affordable and is approximately 5% lower than the US average. However, residents have to part with a little more for groceries, which cost about 3% more than the national average. With a 78.9 rating, healthcare is more affordable in St. Paul compared to Minnesota, which has an average healthcare cost rating of 79.7.
Annual Per Capita Personal Income in Minneapolis-St. Paul-Bloomington
The median household income for most residents is about $48,358 per year. About 13.4% of the population earns under $15,000, followed by 12.4% of residents between the $100,000-$150,000 income bracket and 11.5% within the $75,000-$100,000 bracket. St. Paul, Minnesota, has an unemployment rate of about 4.9%, about 1.1% lower than the national average. Job opportunities abound and are expected to increase as the area's job market grows by 35.9% in the next decade.
This makes it a pretty attractive option for those looking to build their careers. The healthcare and social assistance sector is the city's largest employer, holding about 16.1% of the population, followed by the manufacturing industry, which employs about 11.2% of St. Paul's people.
Taxes are average. The median sales tax rate for St. Paul residents is 7.9%, about 0.6% higher than the country's average, while the income tax rate is 2.5% higher than the country's average.
Top Employers in Saint Paul
Since there are several Fortune 500 companies in Saint Paul and countless other notable entities, the local market offers limitless job opportunities for those seeking to grow or advance their careers. Ecolab, a global water, hygiene, and energy tech provider, is one of the area's top employers with over 48,000 employees. Ecolab reports 13.8 billion in annual revenue.
Goodwill-Easter Seals, located on Fairview Avenue in St. Paul, is yet another renowned employer. The company was established in 1919 and employs about 22,000 St. Paulites. It reports annual average revenue of $54.6 million and offers job training, placement, and related career navigation services to individuals with barriers to independent employment.
Patterson Companies Inc., a medical supplies giant, also has its headquarters in St. Paul. The company primarily distributes vet and dental products but also offers medical and rehabilitative supplies like wheelchairs. Established in 1878, Patterson Companies Inc. is one of the longest-running and top employers in the St. Paul area, with an employee base of about 7,500 people and average annual revenue of $3.2 billion.
Another top employer in the area is the Bremer Financial Corporation, a privately held company established in 1943. The Corporation owns 92% of Bremer Bank and has a staff base of about 2,000 employees. As one of the first financial entities established in the area and a key player in St. Paul's finance sector, the Bremer Corporation is quite a big deal and reports a whopping $213.7 million in annual revenue.
H.B Fuller, an adhesive manufacturer, and supplier, is also a notable employer in the area. The company has about 4,587 employees and collects about $3.0 billion in yearly revenue. Other top employers in St. Paul, Minnesota, include 3M (a Fortune 500 company), Atlas Staffing, the City of Saint Paul, Marsden Holding, and Securian Financial Group.
Additional Large Companies in St. Paul
AgriBank
Gander Outdoors
Saint Paul Public Schools
Children's Health Care
Midwest Staffing Group
United Hospital
St. Johns Hospital
Saint Paul Industries
The finance sector is one of St. Paul's leading industries. The financial sector in St. Paul has supported economic growth in the Twin Cities for hundreds of years. As Minneapolis grew and flourished as a milling city in the late 1800s, St. Paul thrived in finance and commerce. Its banks significantly financed the building of mills, railroads, and housing for the growing population in both cities.
Besides finance, education has always been an essential part of St. Paul's economy. It's among the best big college towns in America. The first university in the area, Hamline University, dates as far back as 1854, followed by Macalester University, established in 1856.
Number of People Employed By St. Paul Top Industries
Today, St. Paul is an academic hub for many, and the town's own, Saint Paul Public Schools, happens to be the second-largest school district in Minnesota, with over 82 schools, nearly 40,000 students, and more than 5,000 employees. So, it's no surprise that the educational services sector is one of the city's largest industries. Other top industries in this Midwest City include health care and social assistance, public administration and accommodation, and food service.
Top Industries in St. Paul
Health Care & Social Assistance
Educational Services
Manufacturing
Retail Trade
Accommodation & Food Services
Professional, Scientific, & Technical Services
Finance & Insurance
A Robust Economy Awaits in Saint Paul
St. Paul is a beloved community located by the shores of the Mississippi River. As the capital of Minnesota, it focuses heavily on local government. Yet, it has a little bit of everything, from a thriving job market characterized by Fortune 500 companies like Ecolab, diverse neighborhoods made up of distinct architectural styles such as luxury estates and St. Paul townhomes, to a rich cultural and historical heritage. This Midwest city boasts a dynamic economy and is a delightful place to call home.
If Saint Paul is the city for you, contact Kris Lindahl Real Estate at 1-(855) 967-7653 to get in touch with a local real estate agent who can help you find your dream home today.