Public Transportation in Saint Paul: MetroTransit Light Rail & Bus Guide
Posted by Kris Lindahl on Friday, December 10, 2021 at 9:02:18 PM
By Kris Lindahl / December 10, 2021
Comment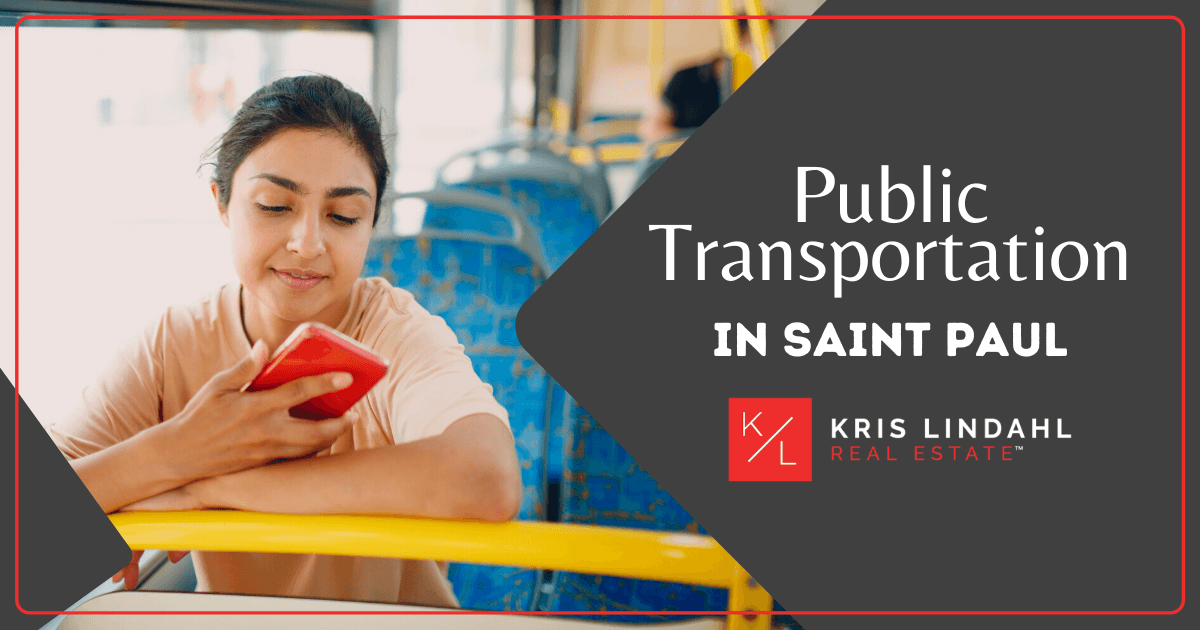 Saint Paul boasts big-city amenities such as museums and sports stadiums, but it has a very approachable Midwestern feel. The Twin Cities of Saint Paul and Minnesota are widely viewed as one expansive metropolitan area. However, St. Paul real estate is distinctly characterized by its one-of-a-kind charm and its robust array of amenities and services. Anyone moving to Saint Paul will want to get out and about, and the public transit options make it easy to do so. Keep reading to learn all about public transportation in Saint Paul.
MetroTransit Buses in Saint Paul
The backbone of the Saint Paul Metro Transit Bus System is the local bus that travels all across town and to several surrounding communities and offers transfer options for nationwide travel. There are stops and drop-off locations across town, and all buses on the system are ADA-friendly. More than 52 million rides have been taken on the Metro bus, and one can even bring along their bike at no additional charge. For those using multiple transits, there are bike lockers available, too.
MetroTransit Buses Ticket Costs
Local Bus Fares: $2 – $2.50
Express Bus Fares: $2.50 – $3.25
Passes: Monthly, Quarterly, and Annual Passes Available
Discounts: Special Rates For Students, Seniors, and People with Disabilities
Light Rail & Bus Rapid Transit in Saint Paul
The Metro Transit Light Rail and Bus Rapid Transit network operates 24/7 in the Twin Cities, with all day and night service being available on the Blue and Green Lines on the rapid bus and light rail's A and C Lines. The Bus Rapid Transit has dedicated roadways to get people where they need to be on time.
The Red Line travels between the Mall of America and Cedar Valley Avenue between 6 a.m. and 9 p.m. for the final routes. The Metro A Line predominantly follows a route along Snelling and 46th Street, linking into the Blue Line's main station. The Metro Line C mostly travels along Penn Avenue and connects the Brooklyn Center Transit to the rest of downtown Minneapolis. The Metro Green Line links Minneapolis public transit to the Downtown St. Paul area.
Light Rail & Bus Rapid Transit Ticket Costs
Local Bus Fares: $2 – $2.50
Express Bus Fares: $2.50 – $3.25
Passes: $24 for 31-Day Super Saver Pass | Rush Hour $120 for 31 days
Northstar Commuter Rail in Saint Paul
The Northstar Commuter Rail service is in entire operation during rush hours from Monday through Friday, with two trips heading across town every weekday. Service runs between downtown Minneapolis to Big Lake, with stops taking place at stations that include numerous towns in Anoka County. The rail also connects with bus services to and from the city of St. Cloud and Saint Paul.
Northstar connects with Metro Transit's Blue and Green Lines at Target Field and is within walking distance of the 5th Street Transit and Ramp B, where several routes are accessible. The Northstar Commuter Rail trains have onboard restrooms, bicycle storage, work stations, power outlets, and complimentary Wi-Fi for those looking to get a head start on the day.
Northstar also has several Park & Ride stations, and each has ticketing machines and Go-To Card readers, so passengers will have real-time maps and announcements of when the next train is coming. Overnight parking is available at most Northstar stations to drop-off and pick-up locations.
Northstar Commuter Rail Ticket Costs
Adults: $6.25
Reduced Fare: $4.75
Children five and under: Free
Bike Services, Carpooling & Transit Link in Saint Paul
One can take their bike on Metro Transit when taking the local Saint Paul Metro buses or trains. Take note that only non-motorized bikes are allowed, and there are storage lockers available at the majority of stations and park and ride lots that can be rented daily or at discounts every month. Current rates are $48 monthly, with reductions occurring monthly.
Commuters can cut their transit costs in Saint Paul by using the MnPass lanes on I-394, I-35W, and I-35E for free through the Carpooling Program. The system is easy to use and helps you find other eligible carpoolers to navigate that rush hour traffic with. There are perks such as free park and ride spaces for carpoolers who meet up, and some workplaces around town offer preferential parking and discounts for those participating in the program.
Saint Paul's Metro Vanpool can accommodate groups of five to 15 commuters looking to travel with others to and from work together three or more days per week. It's one of the best public transit options available to those who work in the seven-county metropolitan area that may not have bus or train service nearby. It's a huge money and time saver and benefits the planet by curbing carbon emissions.
To rent a van under the program, drivers must have an agreement in place with a minimum of five people. Drivers must have a good driving record and be 25 years of age or older. The ride must be shared a minimum of three days per week. Drivers in the seven-country metro area may qualify for a 55% subsidy of van rentals, and some top employers in Saint Paul offer assistance for vanpool expenses.
Each van operating under the program has a volunteer driver and backup drivers, with the van being rented each month to the primary driver. The primary driver gets $100 monthly after driving for six months, with backup drivers receiving $50 after six months and annual perks of $50 annually after that. Costs for passengers and drivers are determined by:
Distance traveled daily
Size of the van being rented
Number of passengers
Employer and Metro Council subsidy amounts
On average, passengers can expect to chip in $110 per month for vanpooling in Saint Paul, MN.
Taxis, Ridesharing, and Shuttles in Saint Paul
There are plenty of shuttle services around Saint Paul and options for taxi cabs and ridesharing companies like Uber and Lyft that can get locals where they want to be. Prices vary by location, with mileage charges on the starting point and the final destination. Multiple taxi services and shuttles are available, but one must check the online scheduling to learn more about pricing, timing, and location hubs.
Explore Saint Paul With Public Transportation
Being near the Land of 10,000 Lakes is a perk, but getting around to other counties and municipalities is simple with public transit in Saint Paul and the surrounding communities. Check out the city's Metro Transit website to obtain monthly passes or use the app for immediate access to your next ride. Wherever you live in Saint Paul, the local transit system can get you where you need to go.
If Saint Paul is the city for you, contact Kris Lindahl Real Estate at 1-(855) 967-7653 to get in touch with a local real estate agent who can help you find your dream home today.