Minneapolis, MN's 10 Best Resorts & Hotels [2022 Guide]
Posted by Kris Lindahl on Wednesday, August 4, 2021 at 10:03 PM
By Kris Lindahl / August 4, 2021
Comment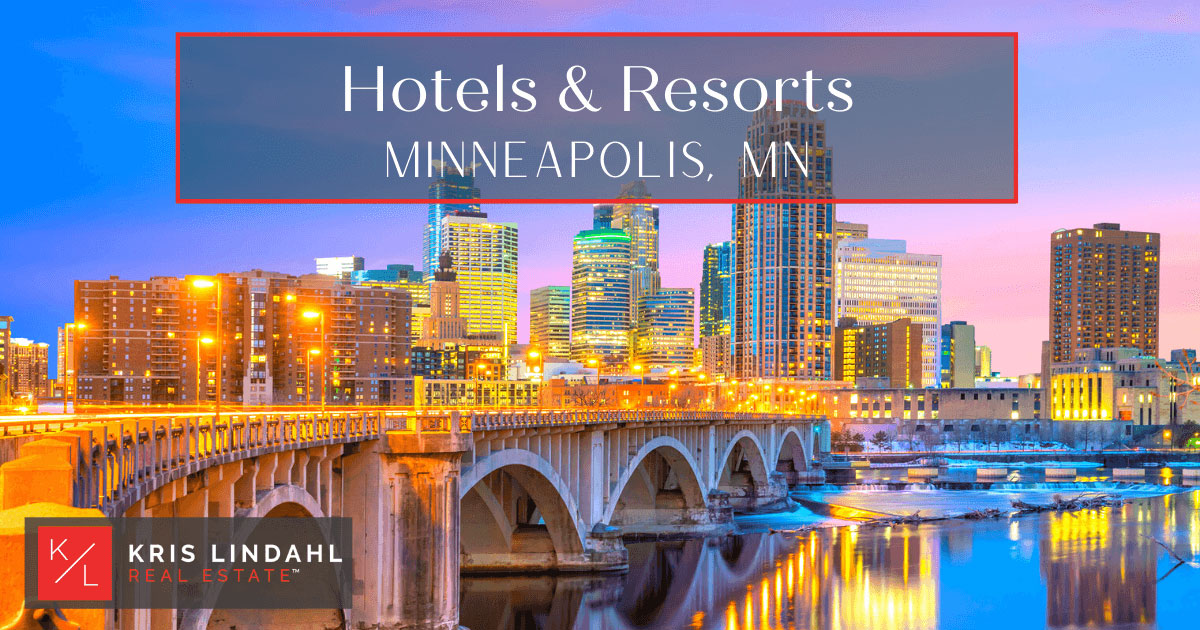 Between the city of Minneapolis and city of St. Paul, the Twin Cities area is filled with plenty of fun things to do. Tourists and locals alike flock to these cities to see professional sporting events, tour fascinating museums, explore the best shopping in Minneapolis, and catch live shows. With so many attractions, it's no wonder that Minneapolis is also home to luxe resorts, impressive hotels, and charming bed and breakfasts. Anyone planning a vacation or staycation in Minneapolis has an abundance of lodging options to choose from. Learn below about the top Twin Cities' resorts and hotels.
Resorts in Minneapolis, MN
Typically offering an array of high-end amenities, resorts are perfect for travelers looking for a special getaway. These top resorts in Minneapolis can appeal to almost any traveler with lodges that have hiking trails, spas, and specialized services.
The Outing Lodge at Pine Point
The Outing Lodge at Pine Point Amenities
Canopied beds
Free WiFi
Satellite TV
Electric fireplaces
Jetted bathtubs
The Outing Lodge at Pine Point is a historic countryside resort surrounded by 300 acres of lush parkland in the Stillwater community. The interior design pays homage to the style of the late 1800s when the lodge was originally founded.
Step back in time at The Outing Lodge, where every day starts with a fresh European-style breakfast of eggs, meats, pastries, cheeses, yogurt, granola, orange juice, and coffee. Ask the host about any special dietary needs, and requests will be fulfilled to the best of their ability. The Outing Lodge at Pine Point is one of the many dog-friendly places in Minneapolis. However, fees and rules apply.
The Outing Lodge at Pine Point Additional Information
Phone: 651-439-9747
Rates: Rooms start at $165 per night
Hotel Landing on Lake Minnetonka
Hotel Landing Amenities
Indoor/outdoor restaurant
Nordic-inspired spa
Luxurious bath amenities
Concierge services
Anyone looking for a unique boutique resort or hotel experience on the banks of Lake Minnetonka will love the bright and airy space at the Hotel Landing in the Wayzata, Minnesota community. Framed by innovative exterior architecture, the interior of this hip hotel is bustling with lively energy.
With 92 rooms, there is still a feeling of warmth here. Two fashionable restaurants and an in-house shop offer guests the conveniences of a downtown hotel. When the day is done, take a moment in the Laka Spa, where pampering is their specialty.
Hotel Landing Additional Information
Phone: 952-777-7900
Rates: Rooms start at $249 per night
Mystic Lake Casino Hotel
Mystic Lake Casino Hotel Amenities
Free parking
Free High-Speed Internet
Pool
Fitness Center with gym
Casino
Golf course
Looking for an exciting all-in-one resort destination? Head to the Mystic Lake Casino Hotel in the Prior Lake neighborhood. Restaurants, casino games, an on-site golf course, and so much more await guests at this resort. There are 700-plus rooms here, making Mystic Lake Casino Hotel one of the largest in the city. The resort motto, "Follow the Lights," is telling of the vibrant atmosphere here.
Guests will be treated to luxurious quarters after each fun-filled day. Additionally, the sauna and spa make it easy to unwind into vacation mode. After all, it's great to be mindful of wellness, even while on vacation.
Mystic Lake Casino Hotel Additional Information
Phone: 1-800-262-7799
Rates: Rooms start at $155 per night
Hotels in Minneapolis
There are plenty of hotels in Minneapolis, and researching them all is part of the fun. From historic to modern and vibrant, these are the top hotels in and around the Twin Cities.
Hewing Hotel
Hewing Hotel Amenities
Restaurant & bar
Five guest suite layouts
Rooftop lounge and pool
Sauna
Room service
First erected in 1897, the historic Hewing Hotel was constructed from logs straight from the Mississippi River. Before becoming a hotel, the structure first served as a farm implement warehouse.
However, after renovations, every attention to detail honors its rich history. For example, the original wood floors have been repurposed as tabletops, and the walls still retain as much of the original timber and bricks as possible.
Located in the North Loop neighborhood, this boutique hotel features more than 120 rooms and is known for its personalized service. The rooftop experience at the Hewing is unparalleled, and locals come here to relax and enjoy the Nordic-style sauna and heated pool while overlooking the city's fabulous skyline. The on-site restaurant also takes care to use locally sourced fare, often from independent vendors.
Hewing Hotel Additional Information
Phone: 1-651-468-0400
Rates: Start at $259 Nightly
Hotel Ivy
Hotel Ivy Amenities
Complimentary welcome glass of champagne
Full spa services
In-house Italian restaurant
Basement lounge
Luxurious limestone baths & hygiene products
Located in the heart of Minneapolis, Hotel Ivy offers upscale comfort and privacy. This four-star hotel is, arguably, one of the most opulent places to stay in Minneapolis. For romantic getaways, relaxing spa retreats, or a place to take respite on a business trip, one cannot go wrong when booking a room here. Guests can enjoy elegantly appointed rooms with amenities such as cable television and WiFi.
This downtown hotel boasts access to the Skyway, allowing guests to walk across the streets and sidewalks to the top attractions in the city. The hotel is housed within the restored 1930s Ziggurat-style Ivy Tower, which is on the National Register of Historic Places. Book a wellness package at Anda Spa for amazing massages, organic facials, nail services, and products to take home, including healing crystals. The hotel also features a fitness program. Try the fresh seafood and head down to the basement lounge for cocktails after a day exploring downtown.
Hotel Ivy Additional Information
Phone: 612-746-4600
Rates: Rooms start at $325 per night
Graduate Minneapolis
Graduate Minneapolis Amenities
On the University of Minnesota campus
Fireplace lounge
Food carts
As the only hotel located on the campus of the University of Minnesota, the Graduate Minneapolis is a popular choice among students, families and alumni. It is best described as a cosmopolitan hotel that offers a touch of unique fun around every corner.
Stately rooms offer the space and features that guests need, while the common areas provide places for everyone to connect with one another. The lounge features a cozy fireplace as well as plenty of tables that are ideal for meetings, conversations and more. In addition, guests are treated to food carts that roam the property, ready to deliver fresh local goods, including sandwiches, hot chocolate, and burritos.
Graduate Minneapolis Additional Information
Phone: 612-379-8888
Rates: Start at $169 Nightly
Kimpton Grand Hotel Minneapolis
Kimpton Grand Hotel Minneapolis Amenities
Spa services
Business center
Pool and hot tub
Pet-friendly
Complimentary bike program and yoga mats
Another gem in downtown Minneapolis, the Kimpton Grand Hotel Minneapolis was listed by Travel + Leisure as one of the 500 Best Hotels in the World. Guests can reserve one of 140 individually decorated rooms filled with colorful furnishings and all the amenities one needs for a delightful stay.
In addition to the luxurious rooms, this hotel features a 60,000-square-foot athletic club, including an indoor pool that features elegant artwork to make for a cultural aquatic experience. The lounge is usually lively with patrons each night. Pets stay for free in special pet-friendly accommodations.
Kimpton Grand Hotel Minneapolis Additional Information
Phone: 612-288-8888
Rates: Rooms start at $180 per night
Inns and Bed & Breakfasts
Nothing is quite as comfortable as a personalized stay at a quaint bed and breakfast or inn. There are many in the Twin Cities area, but these are top-rated by publications and guests.
300 Clifton: A Historic Home with a Fascinating Past
300 Clifton Amenities
In-room massages
Fresh floral arrangements
Year-round hot tub
Formal gardens
Free WiFi
Stay within an authentic historic mansion that reels in the glories of the late 19th century. 300 Clifton is in the Loring Park neighborhood. It offers premium accommodations throughout the house. Rooms are appointed with comfortable beds, period furnishings, and some have private baths and sitting areas.
300 Clifton is located within the Eugene J. Carpenter House, which is listed on the National Register of Historic Places. Beautifully updated, 300 Clifton offers a perfect blend of modern amenities and traditional charm.
300 Clifton Additional Information
Phone: 612-281-1550
Rates: Rates start at $99 per night
Historic District Bed & Breakfast
Historic District Bed & Breakfast Amenities
Hot breakfast
Package options
Short walk to downtown
Minutes from the Mall of America
Large rooms with views of the city
The Historic District Bed & Breakfast in St. Paul is a charming respite where travelers can get a great night's sleep and wake up to a savory home-cooked breakfast and beverages. Constructed in 1896, the home features a mixture of modern amenities and original structural accents.
This is the ideal place to stay for business travelers, sight seekers, and locals who want to get away from home for a few days. The innkeeper offers customized services upon request; all guests need to do is ask.
Historic District Bed & Breakfast Additional Information
Phone: 763-360-3717
Rates: Rooms start at $199 per night
Como Lake Bed & Breakfast
Como Lake Bed & Breakfast Amenities
Free Wi-Fi
Free home-cooked breakfast
Free parking
Pet-friendly
Lounge with fireplace
Front porch and gardens
Como Lake Bed & Breakfast is a three-story Craftsman Minnesota lakefront home constructed in 1915 by Elav Ericsson. The home was lovingly and accurately restored by the current innkeeper, Carla Sherman. There are four traditional rooms with a unique style, all their own. As a 5-star rated inn, guests can expect amenities such as mini-fridges, kitchenettes, and four-poster beds. Some even boast jetted bathtubs and private balconies.
Some rooms have private baths, while two share a facility just steps from their suite. Perfect for a romantic getaway or travelers, Como Lake Bed & Breakfast is near bus lines and is only 20 minutes away from the airport.
Como Lake Bed & Breakfast Additional Information
Phone: 651-402-7930
Rates: Rooms start at $95 per night
Relaxation and Entertainment: Minneapolis Hotels Have it All
The Twin Cities are rich with excitement, landmarks, lakes, museums, and, of course, modern and historic lodging options. Whether taking a vacation, traveling for business, or just stopping through on a longer journey, don't miss out on these top resorts, inns, and hotels in Minneapolis. Come and see what makes each one special, and take home memories for life. If a vacation in Minneapolis has become your go-to destination, consider buying a Minneapolis condo or lake house to have a home away from home that's all your own.
If Minneapolis is the city for you, contact Kris Lindahl Real Estate at 1-(855) 967-7653 to get in touch with a local real estate agent who can help you find your dream home today.