The Best Shopping Locations in Minneapolis, MN
Posted by Kris Lindahl on Monday, July 19, 2021 at 10:45 PM
By Kris Lindahl / July 19, 2021
Comment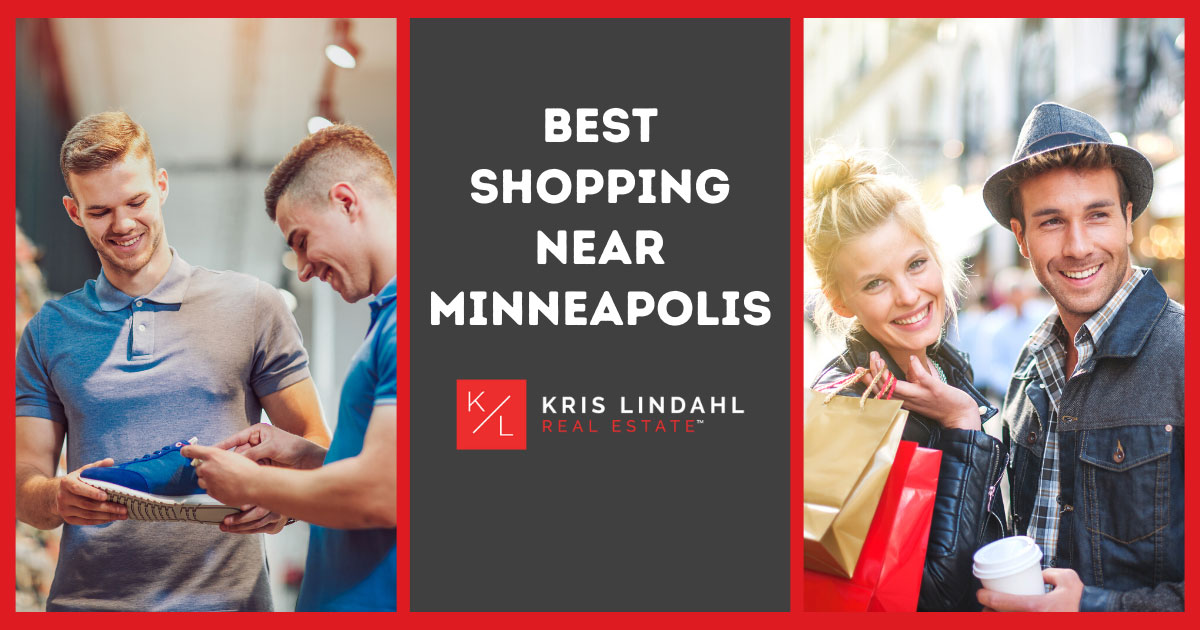 Those who live in the city of Minneapolis already know they live near world-renowned shopping centers that allow them to shop until they drop. However, people who just moved into new construction homes in Minneapolis may not know the retail landscape as well. Anyone who enjoys a diverse shopping network will love walking through the various malls and outdoor centers around Minneapolis. From local swimwear boutiques to infant clothing shops to the famous Mall of America, those living in Minneapolis have access to world-class shopping. Keep reading to discover the best shopping in Minneapolis.
Gaviidae Common
Gaviidae Common Shops
Cole Haan
Ann Taylor
Talbots
Morton's of Chicago
Caribou Coffee
Kuhlman & Co.
Gaviidae Common is a medium-sized mall in the middle of the central Minneapolis neighborhood. Anchored by Neiman Marcus and Saks Off Fifth, this mall spans over two city blocks. Visitors can find international brands like Cole Haan, Ann Taylor, Talbots, Morton's of Chicago, Caribou Coffee, and Kuhlman & Co. The mall is also attached to Wells Fargo Center, one of Minneapolis's tallest skyscrapers.
This downtown mall ranges from completely relaxed to fully sophisticated. Whether one is looking to spend 15 minutes or over eight hours in the mall, they are sure to find retailers and dining establishments to fit their needs. After spending a day shopping, visitors can easily meander through the downtown area and take in all of the sights of Minneapolis.
Hours: Monday - Friday 9 a.m. - 8 p.m. / Saturday: 9 a.m. - 6 p.m. / Sunday: 9 a.m. - 5 p.m.
Nicollet
Nicollet Shops
Brooks Brothers
Allen Edmonds
Hubert White
Shop the Runway
Marshalls
JB Hudson Jewelers
Juut Salonspa
Nordstrom Rack
IDS
Nicollet (formerly known as Nicollet Mall) is one of the area's most iconic shopping destinations. This mall features world-class sights, large anchor stores, and all-around shopping pleasures that anyone can enjoy. Located near some of the most walkable areas in Minneapolis, the mall was built as a pedestrian-forest oasis — motor traffic here is limited to just buses and taxis. The covered walkways allow visitors to move throughout Nicollet in any weather conditions.
Nicollet Avenue is also home to some of the top condos and townhomes in Minneapolis. Visitors can expect stores like Brooks Brothers, Allen Edmonds, Hubert White, Shop the Runway, Marshalls, JB Hudson Jewelers, Juut Salonspa, Walgreens, Nordstrom Rack, and IDS.
The entire Nicollet area is built on two stories but remains completely accessible for all guests. Visitors can use stairs, escalators, or elevators to move throughout the shopping center.
Nicollet provides a range of dining options. The bottom floor of the mall features sidewalk cafes offering indoor dining during the winter. Several dining options are also available just a few steps from the mall.
Hours: Monday - Sunday 9 a.m. - 8 p.m. (note: these are general times because all store and restaurant hours are independent and vary)
Southdale Center
Southdale Center Shops
Macy's Michael Kors
Madewell
Brighton Collectibles
J. Crew
Sephora
The Apple Store
Southdale Center was the first completely air-controlled indoor mall in the entire United States. Built in 1956, this shopping center in the town of Edina has undergone renovations over the years to make it more modern. However, the mall still pays homage to the classic feel of a typical American mall.
Southdale Center now features over 120 shopping and specialty stores. Guests can shop at their favorite brands like Macy's Michael Kors, Madewell, Brighton Collectibles, J. Crew, Sephora, and The Apple Store.
In addition to shopping, visitors can enjoy a wide range of dining options. From Cheesecake Factory and P.F. Changs to Qdoba Mexican Grill and Panda Express, guests can find the sit-down to take-out options they love inside Southdale Center. After shopping and dining, visitors are encouraged to catch the latest Hollywood movies at the AMC Megaplex.
Hours: Monday - Thursday 11 a.m. - 8 p.m. / Friday & Saturday 10 a.m. - 9 p.m. / Sunday: 12 p.m. - 6 p.m.
Karmel Mall
Karmel Mall Buildings
Shops
Barbershops
Coffee stands
Dining
Karmel Mall is a shopping center divided into two sections: Karmel Square and Karmel Plaza. Karmel Mall is the one-stop-shop for clothing, books, dining, and home furnishings. Locals often refer to Karmel Square as Old Karmel. Purchased in the 1990s, the square features various shops, barbershops, coffee stands, and dining.
Karmel Plaza was constructed in 2005 and is referred to as New Karmel. With over 120 stores, visitors can find a variety of jewelry, furniture, and clothing stores. There are even office spaces available for rent.
Hours: Monday - Sunday 8 a.m. - 10:30 p.m.
Seven Points (Calhoun Square)
Seven Points (Calhoun Square) Shops
Arc'teryx
Blush By Kay
H&M
Timberland
Seven Points is one of the newest additions to Minneapolis. Located in the Uptown neighborhood, the mall has been converted from the old Calhoun Square. Previously loved by many, the new owners of Seven Points aim to keep some of the elements of Calhoun Square as they continue their renovations.
Over 170,000 square feet of mixed-use space provides shopping, dining, and entertainment to visitors. Interior stores and street-facing locations make it easy for guests to find their favorite brands. Some office space is also available for rent, making Seven Points extra convenient for many surrounding neighborhoods.
Spanning three stories, Seven Points offers visitors the ability to spend a whole day shopping. The mall even features a five-level parking garage with free parking for over 700 vehicles. For those used to paying high parking fees in the heart of the city, the free parking is certainly a wonderful bonus when visiting Seven Points.
Hours: Monday - Saturday 10 a.m. - 9 p.m. / Sunday: 12 p.m. - 6 p.m.
Mall of America
Mall of America Shops
Air Traffic Toys
Barnes & Noble
L. L. Bean
Pro Image Sports
Home & Beyond
Yankee Candle Co.
Mall of America is the largest mall in the nation and the second-largest in North America, ranking behind West Edmonton Mall in Canada. With that being said, there's much to talk about when discussing the best shopping in Minneapolis.
The Mall of America opened its doors in the town of Bloomington in 1992 and now hosts over 400 events annually. Nearly 40 million visitors generate over $2 billion in economic revenue, directly impacting the entire state. Rather than using central heating, passive solar energy and lighting fixtures provide a cool and comfortable 70-degree temperature throughout the year. Additionally, over 30,000 plants and trees provide natural air purification, which saves electricity each year. Despite being the largest shopping center in the state and the nation, the Mall of America continues to enact green initiatives.
The entire mall has over 520 stores and 60 restaurants. A two-story Zara, a flagship Anthropologie, and Minnesota's first Toms location are just a small percentage of the notable stores within the Mall of America. Aside from world-renowned brands, the mall even features local Minneapolis brands. For those new to the area needing the best furniture for their new home, the Mall of America has numerous furniture stores offering delivery!
After working up an appetite, which every visitor will do as they walk through this massive shopping center, guests can make their way to the third floor. The Mall of America features an array of dining options that can rival the most iconic restaurants in Minneapolis. With a range of cuisines and a variety of sit-down or grab-and-go restaurants, guests can enjoy delicious Indian-style burritos, Asian stir fry, American burgers, Korean fried chicken, and much more!
Hours: Monday - Sunday 11 a.m. - 9 p.m.
Explore Minneapolis' Shopping Destinations
When it comes to finding the best shopping in Minneapolis, residents do not need to look any further than the malls mentioned in this guide. Despite the area's winter conditions, every mall makes it easy to continue shopping and beat the cold. Residents can almost forget that it's snowing outside once they step inside the malls' warm environments. Combined with the spectacular architecture throughout the city, exciting views, dining options, and a plethora of indoor and outdoor amenities, residents of Minneapolis can take part in numerous activities throughout the year. This city is truly one of the best in the nation to call home.
If Minneapolis is the city for you, contact Kris Lindahl Real Estate at 1-(855) 967-7653 to get in touch with a local real estate agent who can help you find your dream home today.