Most Walkable Suburbs in Minneapolis, MN
Posted by Kris Lindahl on Wednesday, December 16, 2020 at 1:50 AM
By Kris Lindahl / December 16, 2020
Comment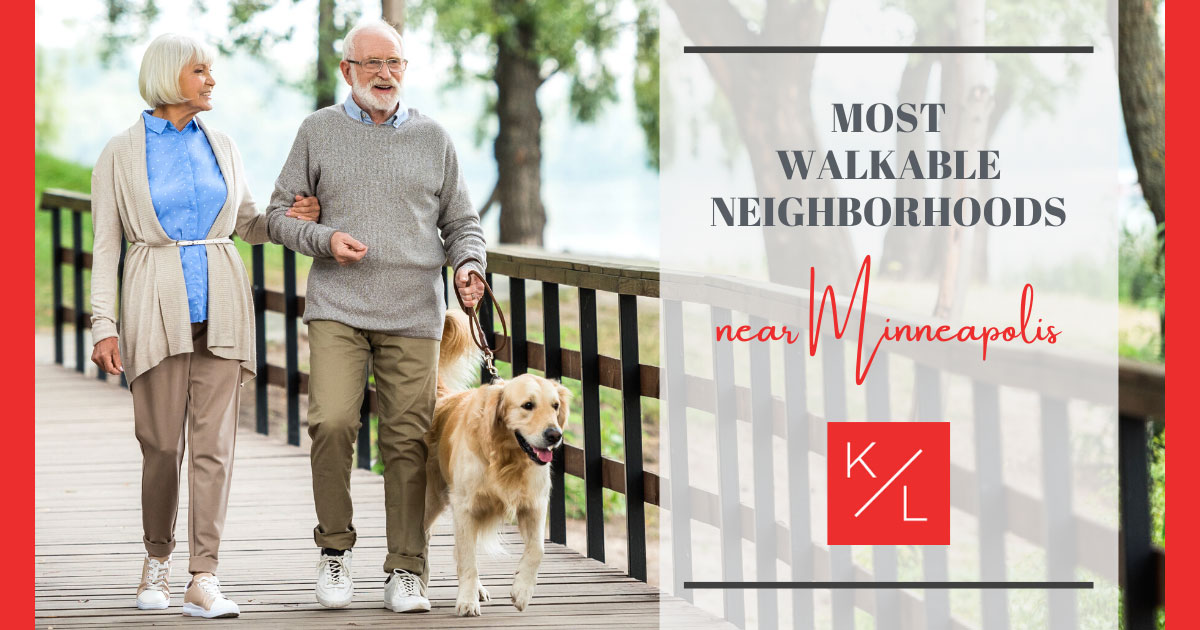 Minneapolis, Minnesota, is one half of the Twin Cities, along with St. Paul. More than 20 lakes and many well-maintained parks and trail systems make the Minneapolis metropolitan area a hub of outdoor recreation – even in the coldest parts of winter. In fact, Minneapolis and the surrounding communities are highly walkable year-round. The way the neighborhoods and trail systems have been planned, it's easy to walk or bike from one community to the next, including downtown Minneapolis.
Whether you have school-aged children and prefer a school nearby or are looking for nightlife and entertainment options within walking distance of your home, you'll find a charming, picturesque Minneapolis neighborhood that's a perfect fit. Here's a list of some of the most walkable neighborhoods in Minneapolis to get you started.
Wolfe Park
Wolfe Park Amenities
Multiple parks with lakes
Several grocery stores
St. Louis Park Rec Center
Cedar Lake Regional Trail
Wolfe Park is located in the town of St. Louis Park, a large suburb just 10 minutes outside of Minneapolis. It's the largest neighborhood in St. Louis Park, with 385.6 acres of land and just shy of 3,000 residents. The neighborhood is known for being extremely walkable and bike-friendly, as well as for having lots of parks. In fact, nearly 25% of the neighborhood's land is dedicated to parks and open space.
There are also a number of bike and pedestrian paths in Wolfe Creek, including the large Cedar Lake Regional Trail (also commonly called the LRT), which connects it to many other suburbs and downtown Minneapolis. In addition to the LRT, Wolfe Creek is home to the St. Louis Park Rec Center and the ROC (Recreation Outdoor Center). Several community events are held here throughout the year, and the ROC also has multi-use fields that can serve as a skating rink or host field sports.
Wolfe Park Hotspots
Wolfe Park Shopping
Target
Trader Joe's
Opitz Outlet and the adjacent Annex by Opitz
Wolfe Park Cafés
Caribou Coffee
Vibe Organic Juice Bar
Starbucks
Macalester-Groveland
Macalester-Groveland Amenities
Groveland Park Recreation Center
Proximity to two colleges
Numerous schools, including Central High School
Seasonal farmers' markets (April-October)
Multiple grocery stores
The St. Paul suburb of Macalester-Groveland is a picturesque historic college town. Anchoring the neighborhood is Macalester College, a small but very highly-regarded liberal arts school. There's also the University of St. Thomas in adjacent Merriam Park. In a nod to its namesake, most of the streets in Macalester-Groveland are named after universities, including Princeton and Amherst. Although "Mac Grove" is as authentic a college town as they come, there isn't a large resident population of students because many of them live on campus.
The Mississippi River creates Mac Grove's western boundary, so unsurprisingly, it's an active and highly walkable community. Residents can join a sports league or go ice skating at the Groveland Park Recreation Center, or participate in one of several community gardens. The Macalester-Groveland Community Council (MCGG) organizes numerous neighborhood events throughout the year, including lawn and garden awards, festivals, recycling initiatives, and block parties and clubs.
Macalester-Groveland Hotspots
Tangletown
Tangletown Amenities
Proximity to Minnehaha Creek and Falls
Walking and bicycle paths
Numerous schools
The winding streets and expansive, impeccably maintained gardens and lawns in Tangletown make you feel as if you're out in the country, several hours away from the city. Yet, you're in the neighborhood adjacent to Macalester-Groveland, tucked in just behind Macalester College. Minneapolis is just 10 minutes away. Minnehaha Creek runs right through Tangletown, and the bike path that runs along it is a favorite of locals. The creek provides numerous outdoor recreation opportunities, including swimming, fishing, tubing, and kayaking. It also leads directly to Minnehaha Falls and a series of small lakes.
Many homes in Tangletown were built in the 1920s and have been incredibly well-preserved. The neighborhood is characterized by numerous large, stunning estate-style homes, including a row of rare and iconic Lustron homes off of Nicollet Avenue. While Tangletown is primarily a residential neighborhood, there are several cafes, grocery stores, and bakeries located within its boundaries, so there are many amenities within easy walking distance.
Robbinsdale
There are two main theories about how Robbinsdale got its name. One is that it was named for Andrew Robbin, the man who bought the first plot of land in the community. The second theory is that Robbinsdale was named in honor of all the robins who nested in the area's abundance of elm trees. Being that the neighborhood is often called Bird Town, it's safe to assume which theory most locals prefer.
Robbinsdale is just 13 minutes from Minneapolis and offers a long list of outdoor recreation opportunities. There are numerous parks, lakes, trails for walking and biking, and even hills nearby where people can sled, slide, or tube. Downtown Robbinsdale is also well-established, with dozens of shops, eateries, cafes, and galleries. The community is also tightly-knit, with several festive events throughout the year and a highly involved Neighborhood Watch program that works closely with the Robbinsdale Police Department.
Richfield
Richfield Amenities
Wood Lake Nature Center and Preserve
Proximity to Mall of America
450+ acres of parks and open green space
Richfield is considered an "inner-ring suburb," bordered on all sides by other metropolitan areas. Minneapolis proper sits just to the north of Richfield, on the south side is Bloomington (where the world-famous Mall of America is), Edia is west, and the Minneapolis-St. Paul International Airport is on the east side. With such easy access to so many diverse attractions and landmarks, there's never a shortage of things to do in Richfield.
The community began as a farming community in the 1850s and was actually named for the area's notably fertile—or rich—land. Today, the importance of land in Richfield is still very much prioritized. There are over 20 parks and 450 acres of dedicated open space, plus the Wood Lake Nature Center and Preserve, with hiking trails and opportunities for wildlife viewing. Richfield is also home to a couple of large community pools, ice rinks, and several coffee shops. It's the type of community where residents are out walking and socializing all year-round.
Walking Minneapolis' Best Neighborhoods
Whether you're looking for a community with plenty of dining and nightlife options, neighborhood schools and community centers, easy access to everything the Twin Cities have to offer, or a little bit of everything, there's a perfect fit for you near Minneapolis, be it a new construction or a historic townhome!
If Minneapolis is the city for you, contact Kris Lindahl Real Estate at 1-(855) 967-7653 to get in touch with a local real estate agent who can help you find your dream home today.