Best Things to Do With Kids in Blaine: Blaine, MN Family-Friendly Activity Guide
Posted by Kris Lindahl on Thursday, February 4, 2021 at 3:59:54 AM
By Kris Lindahl / February 4, 2021
Comment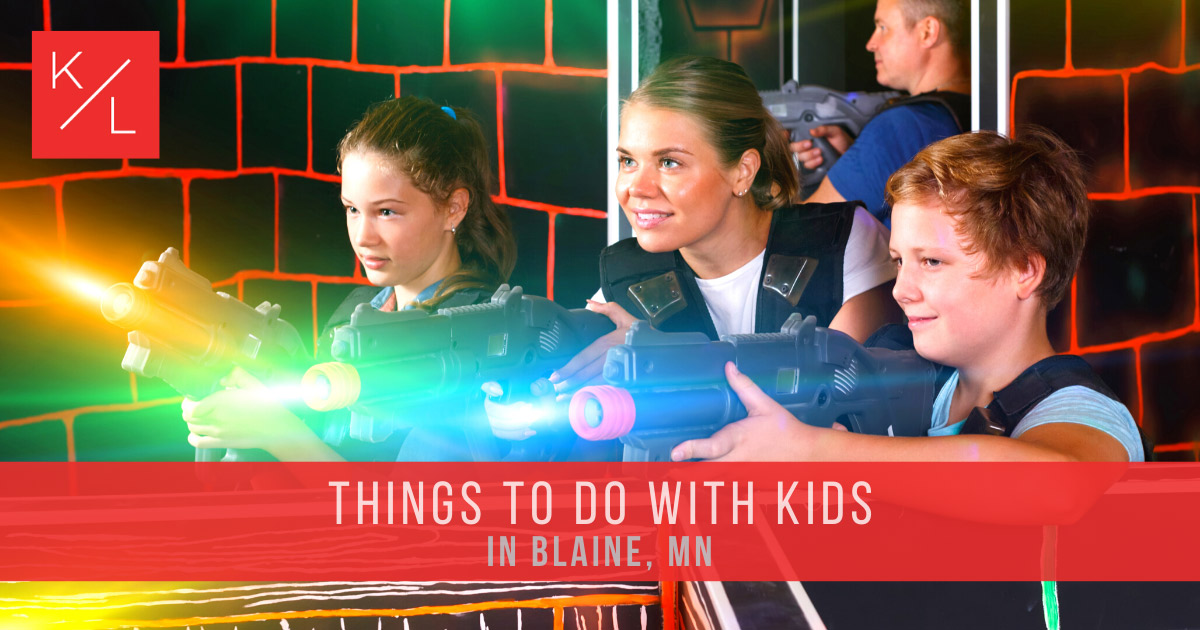 Blaine, Minnesota is full of great activities that can entertain both children and adults. Whether it's on a weekend off from school, summer vacation, or just a fun day on the town, there's always something for everyone. The next time it's time to plan an itinerary that needs to occupy both children and adults, try checking out some of these great attractions for all ages in the Blaine area.
Springbrook Nature Center
Springbrook Nature Center Attractions
Nature camps
Educational classes
Hiking trails
Wildlife
The Springbrook Nature Center is one of the most popular outdoor activities in Blaine to do with children. It's located in Fridley, near the Northtown Shopping Center, making it a convenient stop when out running errands. The Center is over 50 years old and was transformed first from undeveloped land to a park in the city, then into the area resource it is now known as today. About 200,000 visitors pass through the Center every year, proving its popularity.
Programs and exhibits at the Springbrook Nature Center vary depending on available captive animals, staff, and season. Youth programs at the center include Breakfast Nature Santa in the winter and Nature Camps during the summer months, as well as recurring events like Playful Polliwogs, or multi-session series like Nature Buddies ECFE. Or, sign up for a private program for up to 9 people for only $50. Visitors can select the activities they are most interested in, such as archery, insect discovery, pond exploration, and survival. The nature center is also open to suggestions—for options not on the list, contact them to see if it would be possible to make something custom.
Springbrook Nature Center Additional Information
Hours: 9 a.m.–5 p.m. daily
Ticket fee: Free
Recommended ages: All ages
Bunker Beach Water Park
Bunker Beach Water Park Attractions
Lazy river
Wave pool
Splash Cove
Plunge Pool
Adventure Pool
Volleyball courts
Bunker Beach Water Park is the perfect place to head to with kids during the long, hot days of summer. Located in Coon Rapids, Bunker Beach is just a few minutes away from both St. Paul and Minneapolis. Featured water activities at Bunker Beach Water Park include the Wave Pool, The Lazy Loop, Splash Cove, Twisted Towers, The Plunge Pool, The Adventure Pool, The Volleyball Court, Rocky Bay, and the Sand Box.
The Volleyball Court and the Sand Box are dry activities that are a great way to start the day before the weather gets too warm. The kids can take advantage of sand tables with working water and play equipment while you enjoy a round of beach volleyball. Then, head over to Rocky Bay for some water basketball or to climb one of the two 10-foot Aqua Climb walls!
The Wave Pool produces whopping 3-foot waves for 15 minutes after every 10 minutes of calm waters, while the Lazy Loop is just smooth sailing for as long as you want round the 900-foot loop. Splash Cove and Twisted Towers offer six waterslides for riders over 48 inches tall. The Adventure Pool is perfect for small children with its zero-depth entry and max depth of just two feet. The Plunge Pool features an athletic obstacle course that requires participants to leap between lily pads while using only a cargo net hanging above for assistance.
Whether visitors want to relax and take it slow or hit the waters hard, Bunker Beach Water Park has it all. Those who love the water may even want to look into a lakefront home in Blaine.
Bunker Beach Water Park Additional Information
Hours: 11 a.m.–7 p.m. during designated months. Hours may vary due to weather.
Ticket fee: Regular admission tickets start at $12
Recommended ages: Three and up
Elm Creek Park Reserve
Elm Creek Park Reserve Attractions
Natural wildlife
Hiking and biking trails
Swimming pool
Archery range
Dog area
Ski slope
The Elm Creek Park Reserve is one of the largest parks in the area at a stunning 4,900 acres. Located in Maple Grove, Elm Creek is a great place to take children when they need to run their energy out. No matter what outdoor activity you're interested in and no matter the season, you'll find plenty of things to do.
The park includes its own nature center and is home to a plethora of wildlife to observe, including deer, eagles, hawks, swans, sandhill cranes, loons, beavers, wild turkey, and more. For those who enjoy cycling, mountain biking, and hiking, there are miles of trails that wind their way throughout the park, creating plenty of opportunities to spot wildlife along the way.
Other amenities found at the Elm Creek Park Reserve include an 18-hole disc golf course, a 30-acre walkthrough archery range, a man-made chlorinated swimming pond, a 29-acre fenced-in area for dogs to roam off-leash, and a winter recreation area. The winter recreation area features plenty of cross-country ski trails, a snowboard area, a beginner's ski slope, lighted lifts, and a snowmaking machine. Don't forget to stop by the Historic Pierre Bottineau House, a restored relic from 1854.
Elm Creek Park Reserve Additional Information
Grand Slam Family Fun Center
Grand Slam Family Fun Center Attractions
Mini golf
Laser tag
Ninja course
Bumper cars
Batting cages
Birthday parties
When the weather isn't suitable for outdoor activities, head indoors to the Grand Slam Family Fun Center, located in Coon Rapids. Grand Slam has been proud to be the top birthday party headquarters in Minnesota since 1997 and offers a wide variety of activities, fun, and games for kids of all ages.
Activities at the Center include mini golf, laser tag, batting cages, bumper cars, an arcade, a ninja course, and a play zone. Mini golf is a traditional 18-hole small course with unique challenges like a moat and a fire-breathing dragon. The laser tag experience created by Grand Slam is second-to-none and features both an upper and lower level with 3800 sq. feet of arena. There are five batting cages with pitches ranging from 30 to 60 mph, allowing for both baseball and softball practice. The ninja course is similar in style to those seen on the popular television show Ninja Warrior and features hard-to-beat obstacles that will challenge even the most athletic players.
Food and drinks are available at the Grand Slam Family Fun Center and include traditional fare like pizza, hot dogs, chicken wings, cheeseburgers, fries, nachos, and Dippin' Dots Ice Cream.
Grand Slam Family Fun Center Additional Information
Hours: Monday–Thursday, 4–8 p.m.; Friday, 4–10 p.m.; Saturday, 10 a.m.–10 p.m.; Sunday, 11 a.m.–7 p.m.
Ticket fee: Free admission, individual activity costs vary
Recommended ages: Four and up
Zero Gravity Trampoline Park
Zero Gravity Trampoline Park Attractions
Foam pit
Birthday parties
Open jump times
Climbing wall
Trampoline dodgeball
Laser tag
Another great indoor activity for kids in Blaine is the Zero Gravity Trampoline Park, located in Mounds View. There's no doubt that children will be good and tired after a trip to Zero Gravity. In addition to the Open Jump Arena and the trampoline foam pit where kids of all ages can jump to their hearts' content and land in on soft foam cubes, there are many other attractions at the Park.
Grab some coins to play at the Arcade and try your luck at winning enough tickets to buy a special prize. Or, head over to the laser tag area for 3,000 square feet of galaxy-themed laser shooting and dodging fun. There's also an indoor climbing wall with a soft foam pit below for safety and trampoline dodgeball courts for larger groups. If that's not enough exercise, try out the Ninja Obstacle Course, where challengers can test their athletic skill and perseverance, or stop by the Aeroball or Slam Dunk Court for even more excitement.
The Zero Gravity Trampoline Park hosts birthday parties and has a variety of party packages available for purchase. Outside food and drinks are allowed to be brought into the arena.
Zero Gravity Trampoline Park Additional Information
Address: Zero Gravity Trampoline Park 2292 Woodale Dr, Mounds View, MN 55112
Hours: Tuesday–Sunday, 11 a.m.–8 p.m.
Ticket fee: Tickets start at $11.99
Recommended ages: All children who can walk
Fun for All Ages in Blaine
These are just some of the great places in the Blaine area to take kids. Whether it's a walk through the park to look for natural flora and fauna or an afternoon of laser tag, Blaine is a fantastic place to make memories that will last a lifetime. For those who end up falling in love with Blaine and its surrounding areas, there are also many opportunities to purchase new construction homes that can be built to fit any needs.
If you'd like to learn more about homes in Blaine, contact Kris Lindahl Real Estate at 1-(855) 967-7653 to get in touch with a local real estate agent and discover your ideal home in Blaine today.