Top 5 Kids Activities in St. Paul: Best Things to Do With Kids
Posted by Kris Lindahl on Monday, December 19, 2022 at 7:05:37 PM
By Kris Lindahl / December 19, 2022
Comment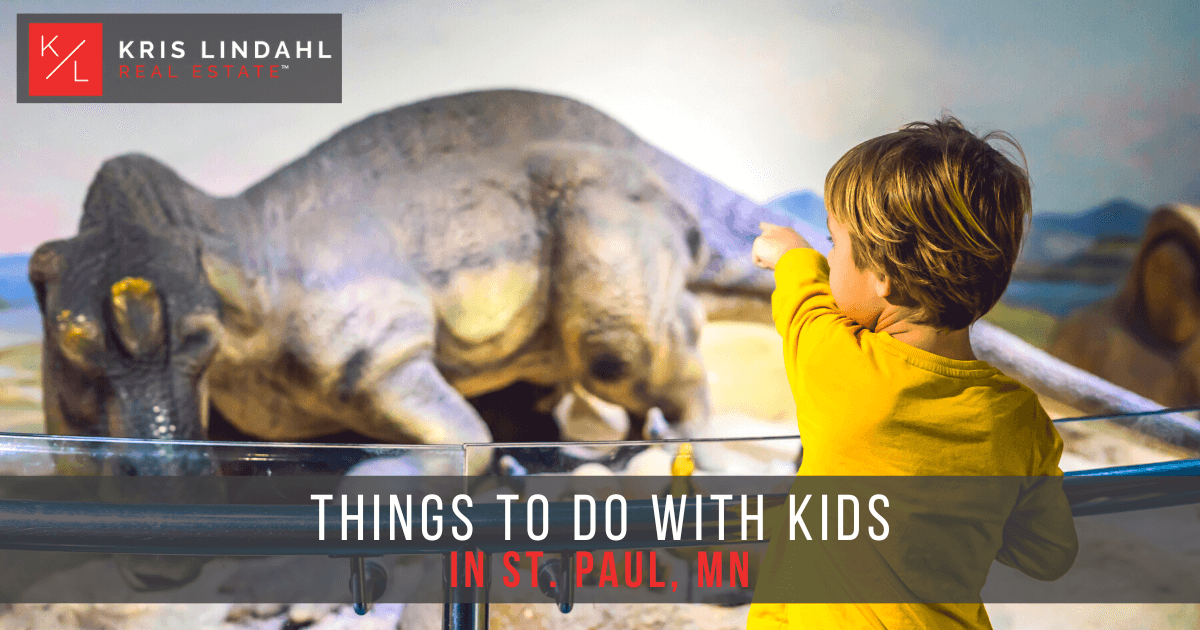 There's no shortage of fun things to do with kids in the
city of St. Paul
! The Minnesota Children's Museum and the Science Museum of Minnesota both excel at sparking curiosity and learning, while the Como Park Zoo & Conservatory and the Tamarack Nature Center help to foster an appreciation of nature. After a long day of educational fun, kids can let loose on the arcade games, mini golf, and more at Can Can Wonderland.
Before deciding to move to St. Paul, it's a good idea to learn about the city's wealth of activities and entertainment for kids.
Here are some of the best things to do with kids in the St. Paul area.
Minnesota Children's Museum
Created in 1981, the Minnesota Children's Museum has a long history as a children's destination in St. Paul.
Beginning as the AwareHouse in downtown Minneapolis, the organization grew beyond its initial surroundings reasonably quickly. Within about four years, the group relocated to Bandana Square before moving to the
downtown St. Paul neighborhood
in 1995. A $30 million renovation in 2016 added ten new exhibits along with a café and coffee bar. The facility includes several fascinating exhibits and galleries. Our World allows young people to play grown-up roles in a kid-sized world; World Works encourages kids to develop understanding through investigation and problem-solving; Earth World uses artificial habitats to inspire curiosity about the natural world. In addition, the organization offers many traveling exhibits and several interactive programs. Tickets are $15 per person for everyone over the age of 1. Admission includes access to the entire facility. It is also possible to purchase household passes for the whole year, starting at just $139.
Como Park Zoo & Conservatory
With nearly 2 million visitors each year, the Como Park Zoo & Conservatory is the ultimate destination for kid-friendly fun.
Not only are both the Zoo and Conservatory free of charge, but the facility is full of enough activities to come back and visit again and again. The organization suggests per-person donations for those able to contribute. Provided as a public service by the St. Paul Parks and Recreation Department, the grounds have been in operation since 1873. Como Park comprises 384 acres of green space with 2.3 miles of trails, complete with on-site park facilities that allow hourly rentals of paddleboats, paddleboards, bikes, and canoes. Como Town Amusement Park has about 20 rides and various other attractions. Season passes are around $73, but a day of unlimited rides is only $28. The Como Zoo includes facilities for many exotic animals, including the Large Cat Exhibit, Aquatic Animal Building, and Seal Island. The grounds also feature bronze, stone, and fiberglass statues of famous animals. For children more interested in the flora than the fauna, the Conservatory features galleries and gardens honoring vegetation from around the world. Visit the Japanese Garden, Fern Room, and a unique butterfly garden.
Science Museum of Minnesota
Parents and caregivers with young aspiring scientists will love the Science Museum of Minnesota.
Created in 1907, the facility boasts exhibits on several topics, including technology, natural history, mathematics, and physical science. The group is supported by around 300 employees and hundreds of community volunteers. They are focused on inspiring learning and promoting science to improve lives. While the museum caters to both adults and children, a number of displays are tailored to the interests of younger minds. For example, previous exhibits include the Science Behind Pixar and Star Wars: Where Science Meets Imagination. Like most museums, the offerings frequently change to keep things interesting. However, some of the museum's central displays are always present. Many kids enjoy the dinosaur and fossil displays, including original and replicated skeletons. Little athletes in the making may be drawn to the Sportsology presentations, which provide fascinating information on the science behind bodies in motion. The Kitty Andersen Youth Science Center is an informal learning facility that empowers change through science. Tickets for general exhibits are $15 for kids aged 4–12 and $20 for everyone else.
Can Can Wonderland
Can Can Wonderland, essentially an indoor amusement park, is a local favorite among children and adults alike.
The business, located on the western edge of the
Hamline-Midway neighborhood
, is open Thursdays from 4:00–10:00 p.m. and Friday, Saturday, and Sunday beginning at 11:00 a.m. The facility offers mini-golf, arcade games, and vintage pinball machines. Check the website for special events like a Star Wars-themed night on May 4th and a full-service kitchen and concession stand. The 18-hole indoor mini-golf course includes features like the Squirrel Scrambler and Grand Slam. Designed by local artists, engineers, and architects, the course was the dream of more than 200 enthusiasts that submitted proposals for the perfect mini-golf experience. Tickets for everyone over 12 are $15, and children under 12 are only $13. The arcade and pinball areas were specifically designed to highlight some of the rarest and most obscure games created. Three separate game rooms feature the best in video gaming, with some dating back as far as the early 1970s. There is also an on-site museum of gaming for those curious about the history behind video games. An entrance fee of $10 per person provides access to every game in the facility. Visitors should note that Can Can Wonderland is only open to adults 21 and older on Fridays and Saturdays after 9 p.m.
Tamarack Nature Center
Operated by the County, Tamarack Nature Center comprises more than 300 acres of the Bald Eagle-Otter Lakes Regional Park.
The facility, which is a 20-minute drive from Downtown and located just north of the
neighborhood of White Bear Lake
, is designed to help promote the value of nature through informal exploration and play. That makes it perfect for entertaining younger minds. Discovery Hollow Nature Play Area is the highlight, featuring tree forts, a Hobbit House, and participation gardens. The Nature Center Building is open Friday and Saturday from 9:00 a.m. to 4:00 p.m. and Sunday from noon to 4:00 p.m. The play area is open every day from 9:00 a.m. to sunset. The grounds include a garden, which is only closed during the winter, and trails that are open every day. In addition to the general play area, the center offers multiple paid and free programs for schools and individuals. Nature Preschool provides early childhood learning that is focused on the environment. This program features joint instruction from a White Bear Lake Area School teacher and a naturalist from Tamarack Nature Center.
Playing in St. Paul
Boredom is tough to come by for kids in Minnesota's capital city.
St. Paul's public school system is supplemented by the city's wonderful variety of free or low-cost attractions designed to entertain and educate young minds. Ready for some kid-friendly fun? Explore St. Paul today!