Minneapolis, MN 5 Best Gated Communities [2022 Guide]
Posted by Kris Lindahl on Saturday, September 4, 2021 at 2:35 AM
By Kris Lindahl / September 4, 2021
Comment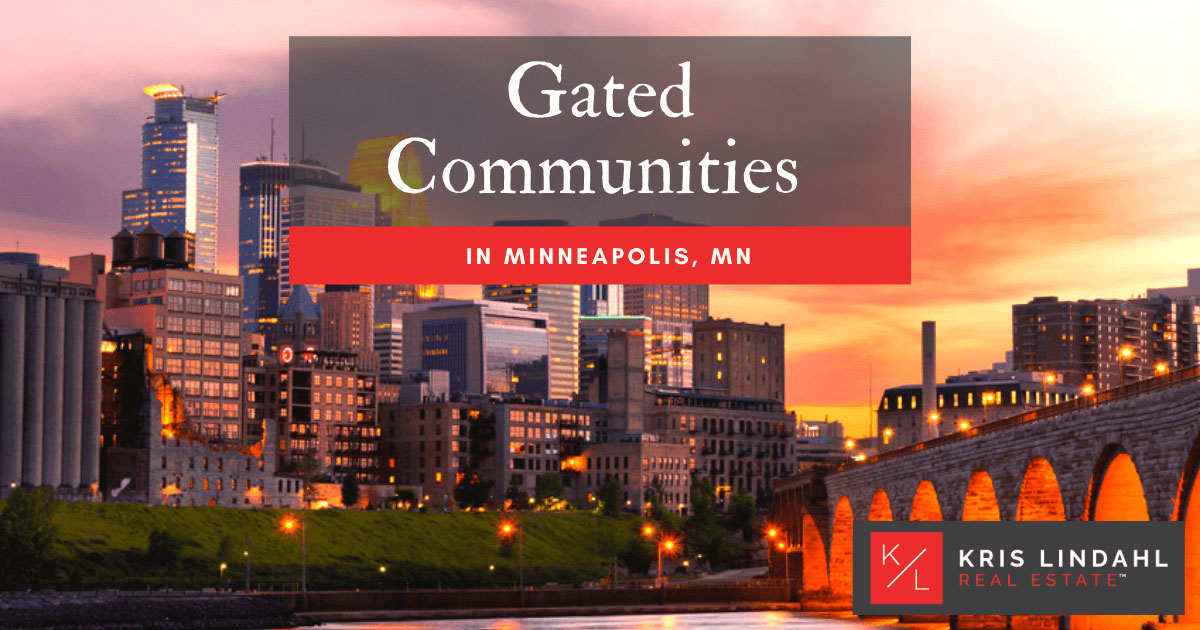 Throughout recent years, gated community homes in Minneapolis have increased in popularity. Gated communities create homes with more privacy. Though each one is a bit different with various amenities and styles of homes, most gated communities offer a laid-back suburban setting. Most gated communities are strictly residential, featuring shared community spaces and amenities such as clubhouses, pools, and fitness centers. In addition to extra privacy and community perks, many of the gated communities in Minneapolis are also located just a matter of minutes from city amenities.
Keep reading to take a closer look at the top gated communities in the city of Minneapolis.
Bearpath
Bearpath Amenities
48,000 square foot clubhouse and recreational complex
Banquet and wedding hall (with meeting facilities possible)
Fireside dining room
Nicklaus boardroom
18-hole Jack Nicklaus Signature Golf Course
Homes in the Bearpath Golf & Country Club enjoy access to a championship-level golf course designed by Jack Nicklaus. This gated community is a haven for sports lovers with its 25-meter pool, Olympic-style diving board, five clay tennis courts, and a full fitness center with specific training provided.
This gated community was designed alongside a top Minneapolis golf course and has served as a cornerstone in the Eden Prairie community. There are five different dining areas here, ranging from casual to fine dining, with frequently changing menus. It's possible to host an event with up to 400 people within the clubhouse accommodations or relax away a long Saturday on the garden patios, all of which are open to residents within the community.
Homebuyers benefit from direct access to this serene area with options for golf course memberships and access clubhouse amenities. As a private community, there are no commercial establishments within the area. Shops and restaurants can be found along nearby Highway 212. Lake Riley and the Riley Lake Park Pavilion are also located minutes from the community for walking and hiking trails and boating.
Clay Cliffe
Clay Cliffe Amenities
Lord Fletcher's Restaurant
Maynard's Restaurant
Al and Alma's Supper Club and Charter Cruises
Three Rivers Park District
Excelsior Commons
The homes for sale in Clay Cliffe are some of the most sought-after in the city. This was the first gated community in the state, selling its first homes in 1976. Tucked into a wooded area, many homes here feature wooded lots and beautiful, quiet backyards. They sit on Locke Point on Lake Minnetonka, providing residents with ample water fun, including kayaking, paddle boating, canoeing, and fishing.
Residents within Clay Cliffe benefit from 24-hour security, community tennis courts, and a gazebo they can use for events and gatherings. Within a short drive of the community are several amenities, including Lafayette Club and Big Island Nature Park. Those hoping to find a Minneapolis lakefront home should be sure to check the Clay Cliffe community.
Homebuyers in Clay Cliffe enjoy a fully residential area open to nature. The winter months present new options for outdoor fun. Others may find the summer the best time to do some stand-up paddleboarding or go fishing. Residents enjoy convenient proximity to the best shopping in Minneapolis, which is just 15 miles away.
St. Andrews Village
St. Andrews Village Amenities
Located on the edges of Lochness Park
9-hole disc golf course
Bluegill and black crappie fishing
Hupp Street NE offers access to some commercial areas
Fishing dock
An active lifestyle community in the town of Blaine, St. Andrews Village is a master-planned, gated community with numerous amenities on-site and nearby. An all-inclusive residential area, this community sits along the edges of Lochness Park, an 89-acre park recognized for its numerous lakes and natural habitats. Residents living in St. Andrews Village enjoy homes of various sizes and styles, thanks in part to its slower development over the years.
A smaller and quaint area, St. Andrews Village focuses heavily on a modern, relaxed lifestyle where residents spend time enjoying the outdoors most days. This area is mostly homes and wilderness but has some area for available development as well. Its proximity to I-35W is a convenient perk.
St. Andrews Village has a vibrant community life with various activities offered throughout the year. There is a community swimming pool as well as several walking trails through the area. It's common to see people stopping and chatting with each other or spending their weekends enjoying the area's open spaces and parks.
Bellerieve
Bellerieve Amenities
On the Minnesota River
Eden Prairie Center is located nearby
Near Scheels, a sporting goods store
Hyland Lake Park Reserve and Recreation Area
From the lush trees to the stunning views, the Bellerieve gated community in Eden Prairie emphasizes an appreciation of nature. The area is secluded, with nothing more than nature and a few homes dotting the landscape — and that's often the way residents want it. With just 10 estates on this 22-acre property, there is ample room between each of the beautifully designed homes. Each one features timeless architecture.
Although the homes here feel isolated, Bellerieve is located just 3 miles from I-494 and Highway 169, making it easy for residents to get around the region. That provides access to area amenities, including an international and regional airport, numerous parks, hiking trails, and golf courses. There's nothing quite like pulling into the community and driving through the tunnel-like passages created from the old-growth river trees that canopy over the roads.
With proximity to the center of town in Eden Prairie, Bellerieve offers a unique combination of natural beauty and privacy with access to community amenities, shops, and restaurants. This includes Staring Lake Park, Olympic Hills Golf Course, and Flying Cloud Airport. Bellerieve is recognized for its luxurious homes in Eden Prairie.
Riverside
Riverside Amenities
Rivers Bend Park is minutes from the area
Anoka Nature Preserve located 5 miles away
Anoka Area Ice Arena is located nearby
Rum River follows along the neighborhood's boundaries
Rum River Trail
Riverside is a community built by Central Living by David Weekley Homes, one of the many popular home builders in Minneapolis. These homes in Anoka are designed for low-maintenance living, making them the ideal gated community for those who want an updated quality of life. The homes themselves are open-concept styles, with a strong focus on craftsmanship. This is evident in the architecture and styling throughout the area. The community, located near numerous area amenities, provides residents with higher quality but lower maintenance homes.
Another nice benefit of Riverside homes is their focus on energy efficiency home upgrades. Designed for modern buyers who want a home that's better for the environment, Riverside properties are more affordable to live in as a result.
The Riverside community home sites sit along Rum River, with many homes featuring sweeping views and direct access to the water. The community has direct access to the Rum River Trail, a frequently used walking area. It is possible to walk from the neighborhood to Downtown Anoka, which provides access to Riversbend Bar & Grill and the Rum River Library.
Find the Perfect Gated Community in the Minneapolis Area
Minnesota's numerous gated communities and tucked away areas create an ideal place to live for those who want architecture and amenities that rival even the most expensive neighborhoods in Minneapolis. From stunning homes on golf courses to secluded homes in wooded areas, these gated communities have something for everyone.
If Minneapolis is the city for you, contact Kris Lindahl Real Estate at 1-(855) 967-7653 to get in touch with a local real estate agent who can help you find your dream home today.